Gobierno Constitucionalista de Yucatán cartones
Eleuterio Avila
On 25 November 1914 the new Carrancista governor, Eleuterio Avila, told the Jefe de Hacienda to pay the Tesorero General $1,000 for the costs involved with an issue of cartones. The Tesorería had received 23 boxes of 5c and 10c cartones, registered them, stamped them and delivered them to the Comisión ReguladoraAY, Fondo Poder Ejecutivo, Sección Comisión Reguladora del Mercado de Henequén; expedientes 1912-1972, Serie Correspondencia, caja 7, vol 7, exp. 10.
These will have been Gobierno Constitucionalista de México cartones. Did they have any distinctive characteristics?
Salvador Alvarado
On 20 September 1915 Governor Salvador Alvarado told Carranza that the lack of small change was causing more and more difficulties. He asked Carranza, if he could not send cartonicitos from Mexico City, for permission to issue two or three million pesosCEHM, Fondo XXI-4 telegram Alvarado, Merida to Carranza, 20 September 1915. On 10 November Alvarado in decree núm. 337 authorised an issue of cartones. There were three values (5c, 10c and 20c) with the printed signatures of Salvador Alvarado as Gobernador and Dario B Serna as Tesorero General.
Salvador Alvarado

Dario B. Serna

In December 1915 in order to control the rate of exchange the government of Yucatán decided to set up a banking operation of the Comisíon Reguladora in Mexico City with a capital of twelve million pesos. Dario B. Serna was put in charge as apoderado and general representativeEl Pueblo, Año III, Tomo I, Núm. 430, 1 January 1916. The office was in the Banco de Londres buildingEl Pueblo, Año III, Tomo I, Núm. 530, 10 April 1916.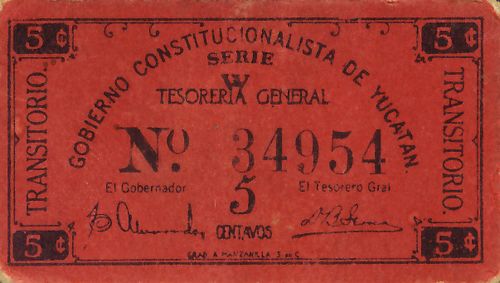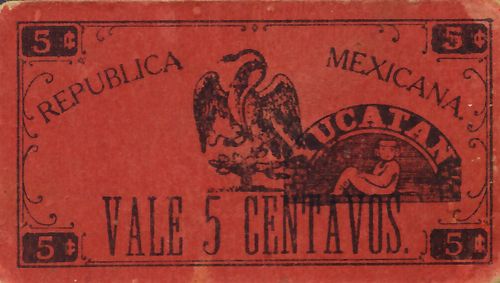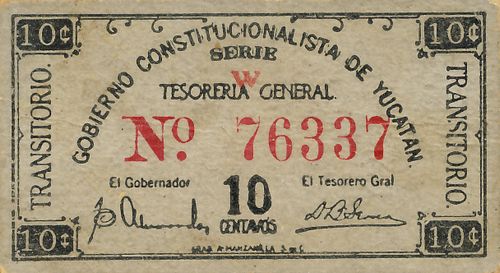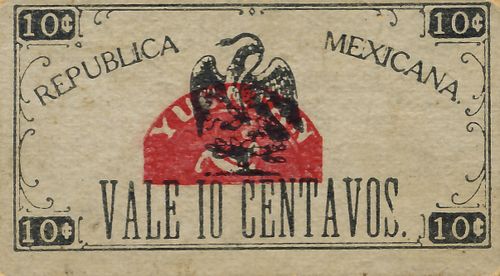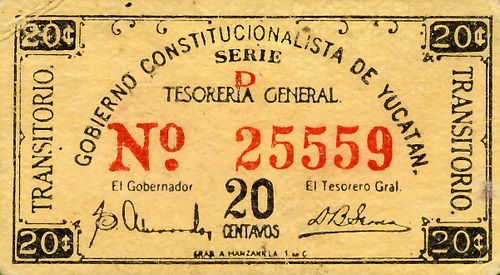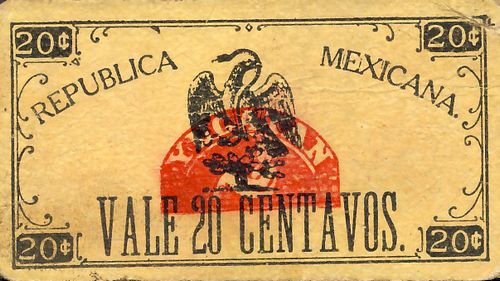 Series
from
to
total
number
total
value
5c
O
includes number 27263

CNBanxico #6557

W
includes number 34954
Z
includes number 47437

CNBanxico #12388

10c
G
includes number 66014

CNBanxico #6565

N
includes number 57719

CNBanxico #6564

Q
includes number 9707

CNBanxico #6563

W
includes number 76337
A1
includes number 63101

CNBanxico #12389

20c
D
includes number 25559
K
includes number 3390

CNBanxico #12390

W
includes number 14485

CNBanxico #6566
Withdrawal
On 26 May 1916 Salvarado Alvarado decreed (decree núm. 552) that because the cartones had depreciated so much that they made transactions difficult and embarrassing, and that the new notes in oro nacional would soon be circulating, until 30 June the Tesorería General del Estado and the Comisión Reguladora del Mercado de Henequén would exchange the cartones, after which date they would be null and voidDiario Oficial del Gobierno Constitucionalista del Estado de Yucatán, Año XIX, Núm. 5693, 29 May 1916.
On 5 March 1919 it was reported, in an item on Luis Cabrera's visit to Yucatán in connection with the Comisión Reguladora del Henequén, that these cartones had been completely withdrawn, making use of a debt that the government held with the ComisiónEl Correo del Norte, Núm. 32, 5 March 1919. The article refers to 5c, 10c and 25c (sic) cartones so probably refers to this issue, but might be confused.
Second series
A later series was issued, designated in Oro Nacional. Though a one centavo design is known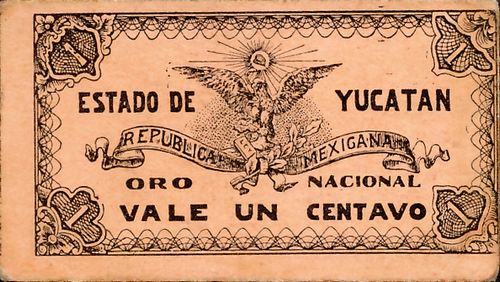 it seems that only the 5c and 10c values were issued.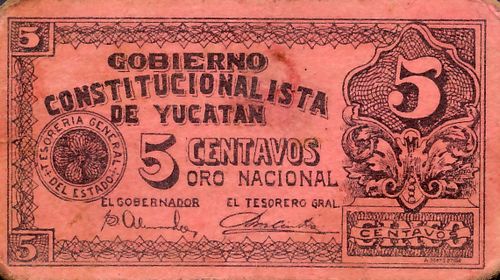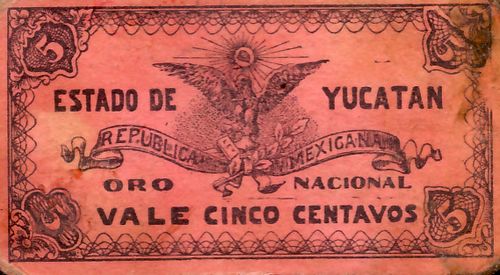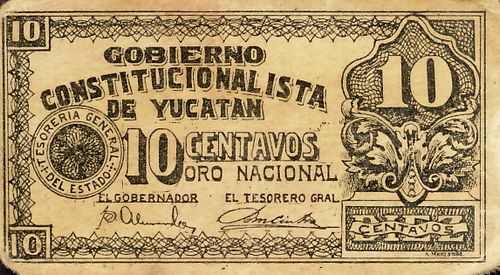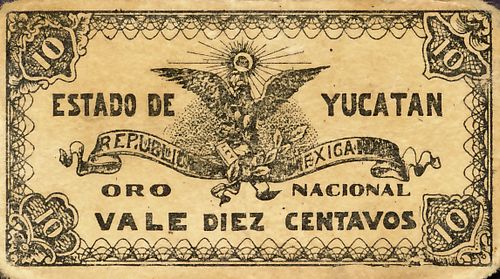 These had the printed signatures of S. Alvarado as Gobernador and V. M. Cintra as Tesorero.
Alvarado reported that he had made an issue of $2,500,000, oro nacional, in cartones[text needed] Informe que el Gral. Salvador Alvarado, Gobernador y Comandante militar del Estado de Yucatán, rinde al Primer Jefe del Ejército Constitucionalista, encargado del Poder Ejecutivo de la Nación, C. Venustiano Carranza: comprende su gestión administrativa desde el 19 de marzo de 1915 al 28 de febrero de 1917.
Withdrawals and incinerations
In January 1919 the Notario Público Pedro Arjona Espinosa was paid $98.70 for work in connection with the incineration of $100,000 in 5c and 10c cartonesDiario Oficial, 18 January 1919. Then in March 1919 another Notario Público, Gonzalo F. González, was paid $707.00 for work on the second issue of cartones (los trabajos de recuento y certificación de la emisión de cartones de cinco y diez centavos oro nacional, que hizo la Tesorería General del Estado)Diario Oficial, Año XXII, No. 6557, 15 March 1919.
On 31 June 1919 $172,500 in 5c and 10c cartones were incineratedDiario Oficial, Año XXII, No. 6660, 16 July 1919. Further incinerations were made in November and DecemberDiario Oficial, Año XXIII, No. 6835, 10 February 1920