Haciendas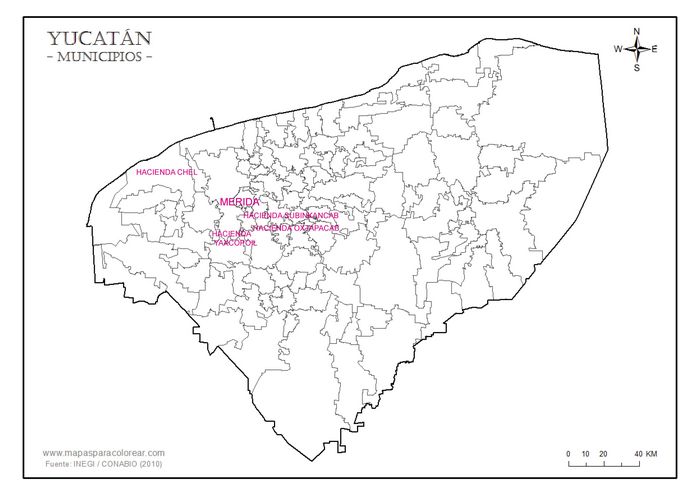 Hacienda Subinkancab
Virginia Castillo de Carrillo

The hacienda is in the municipio of Timucuy, some 25 kilometres southeast of Mérida.
Hacienda Chel
Hacienda Chel (since 1940 Hacienda San Antonio Chel) is located in the municipio of Hunucmá, in the northwest of the state. The hacienda was constructed in the 19th century.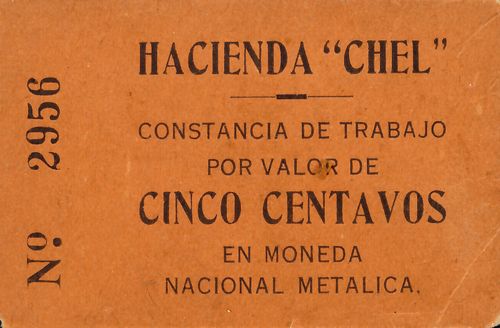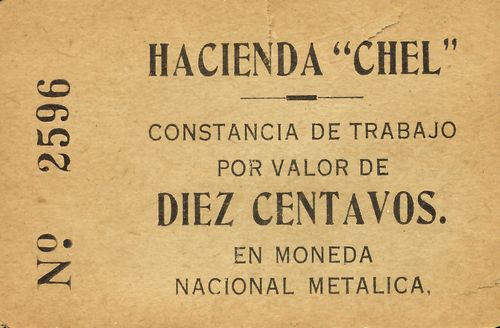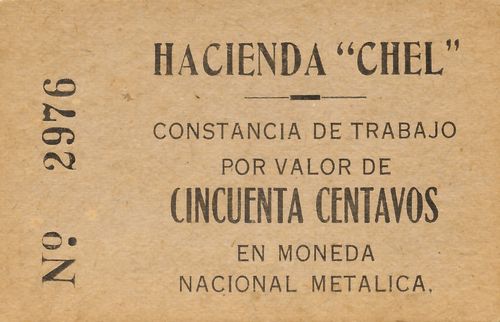 from
to
total
number
total
value
5c
includes numbers 2596 to 2840
10c
includes numbers 1464

CNBanxico #12392

to 2999
50c
includes numbers 2928

CNBanxico #12393

to 2976
Hacienda Yaxcopoil
Hacienda Yaxcopoil is located near Merida in the municipio of Umán. It dates back to the 17th century and was once considered one of the most important rural estates in the Yucatán, operating first as a cattle ranch and later as a henequén plantation. Hacienda Yaxcopoil was purchased by Donaciano García Rejón and his wife Mónica Galera in 1864 and has been owned by members of the same family since that time. The entire property at its largest covered 22,000 acres (89 km2) but over time, due to continuous political, social and economic changes, the estate has been reduced to less than 3% of its original size.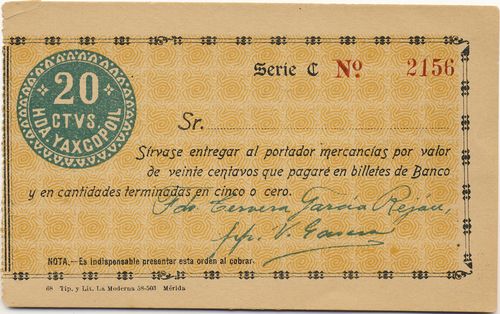 series
from
to
total
number
total
value
20c
C
includes numbers 2156 to 2198
Signed by [ ] García Rejón pp. V. [ ]
Hacienda Oxtapacab
Oxtapacab is situated in the municipo of Tecoh, about 26 kilometres south-east of Mérida.
This henequén hacienda was established by the Berzunza brothers in 1887.
We know of 5c and 10c vouchers, dated 1 December 1919, entitling the bearer to that amount of merchandise from the tienda de raya.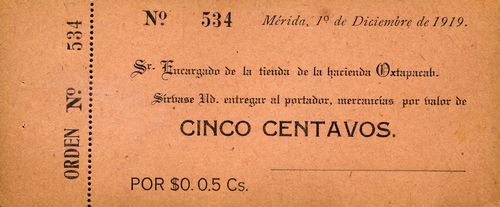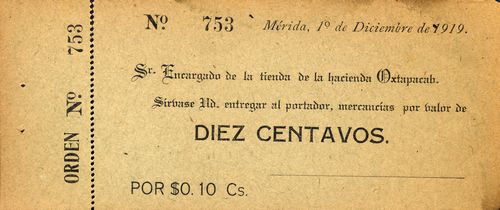 from
to
total
number
total
value
5c
includes numbers 522 to 539

CNBanxico #12410

10c
includes numbers 717 to 767

CNBanxico #12411