Urbano Angulo, Comandante Militar, that Gobierno Provisional and Brigada de Sinaloa of forced circulation, La Paz, 8 June 1915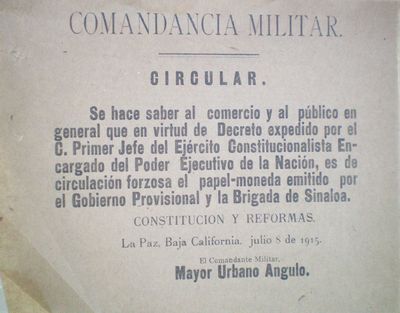 COMANDANCIA MILITAR
CIRCULAR
Se hace saber al comercio y al público en general que en virtud de Decreto expedido por el C. Primer Jefe del Ejército Constitucionalista Encargado del Poder Ejecutivo de la Nación, es de circulación forzosa el papel-moneda emitido por el Gobierno Provisional y la Brigada de Sinaloa.
CONSTITUCION Y REFORMAS.
La Paz, Baja California. Julio 8 de 1915.
El Comandante Militar,
Mayor Urbano Angulo.