José L. Yagomín, Comandante Militar, that Ejército Constitucionalista notes are of forced circulation, La Paz, 5 October 1915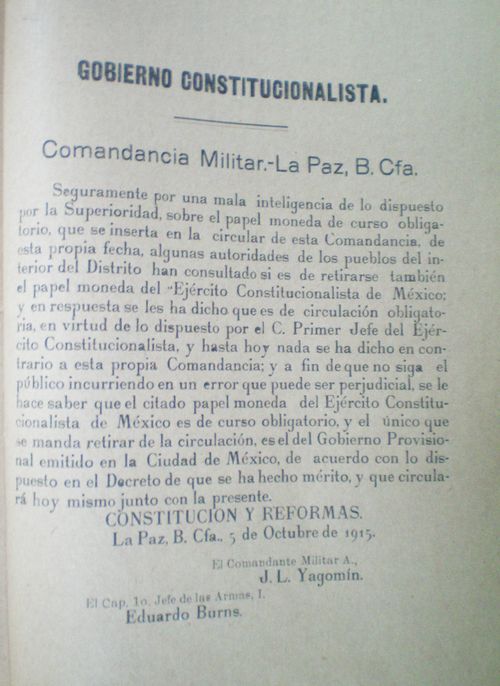 GOBIERNO CONSTITUCIONALISTA.
Comandancia Militar. – La Paz, B. Cfa.
Seguramente por una mala inteligencia de lo dispuesto por la Superioridad sobre el papel moneda de curso obligatorio, que se inserta en la circular de esta Comandancia, de esta fecha, algunas autoridades de los pueblos del interior del Distrito han consultado sí es de retirarse también el papel moneda del "Ejército Constitucionalista de México: y en respuesta se les ha dicho que es de circulación obligatoria en virtud de lo dispuesto por el Primer Jefe del Ejército Constitucionalista, y hasta hoy nada se ha dicho en contrario a esta propia Comandancia; y a fin de que no siga el público incurriendo en un error que puede ser perjudicial, se le hace saber que el citado papel moneda del Ejército Constitucionalista de México es de curso obligatorio, y el único que se manda retirar de la circulación es el del Gobierno Provisional emitido en la Ciudad de México, de acuerdo con lo dispuesto en el Decreto de que se ha hecho mérito, y que circulará hoy mismo junto con la presente.
CONSTITUCION Y REFORMAS.
La Paz, B. Cfa., 5 de Octubre de 1915.
El Comandante Militar A.,
J. L. Yagomín.
El Cap. 1o. Jefe de las Armas, I.
Eduardo Burns.