The Comisión Monetaria invites the public to witness an incineration, Mexico City, 12 May 1916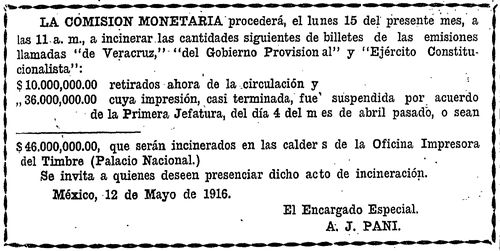 LA COMISION MONETARIA procederá, el lunes 15 del presente mes, a las 11 a.m., a incinerar las cantidades siguientes de billetes de las emisiones llamadas "de Veracruz", "del Gobierno Provisional" y "Ejército Constitucionalista":
$10,000,000.00 retirados ahora de la circulación y
"36,000,000,00 cuya impresión, casi terminada, fue suspendida por acuerdo de la Primera Jefatura, del día 4 del mes de abril pasado, o sean
$46,000,000.00 que serán incinerados en las calderas de la Oficina Impresora del Timbre (Palacio Nacional).
Se invita a quienes deseen presenciar dicho acto de incineración.
México, 12 de Mayo de 1916.
El Encargado Especial
A. J. PANI.