Secretaría de Hacienda y Crédito Público invites the public to view notes about to be incinerated, Mexico City, 22 July 1916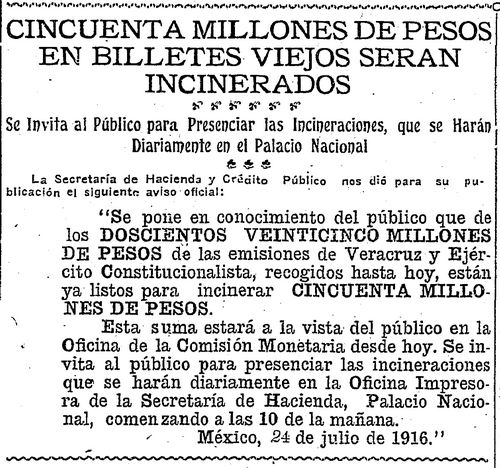 Se pone en conocimiento del público que de los DOSCIENTOS VEINTICINCO MILLONES DE PESOS de las emisiones de Veracruz y Ejército Constitucionalista, recogidos hasta hoy, están ya listos para incinerar CINCUENTA MILLONES DE PESOS.
Esta suma estará a la vista del público en la Oficina de la Comisión Monetaria desde el próximo lunes. Se invita al público para presenciar las incineraciones que se harán diariamente en la Oficina Impresora de la Secretaría de Hacienda, Palacio Nacional, comenzando a las 10 de la mañana.
México, 22 de julio de 1916.