Notice on the use of 1c Compañía de Tranvías de México notes, Mexico City, 23 December 1914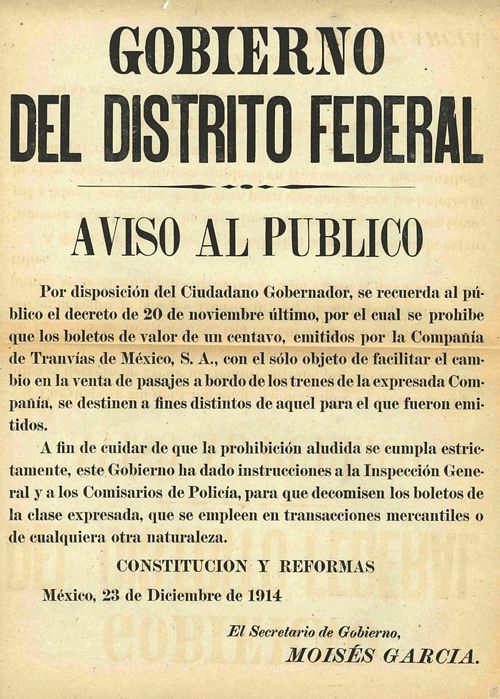 GOBIERNO DEL DISTRITO FEDERAL
AVISO AL PUBLICO
Por disposición del Ciudadano Gobernador, se recuerda al público el decreto de 20 de noviembre último, por el cual se prohíbe que los boletos de valor de un centavo, emitidos por la Compañía de Tranvías de México, S. A., con el sólo objeto de facilitar el cambio en la venta de pasajes a bordo de los trenes de la expresada Compañía, se destinen a fines distintos de aquel para el que fueron emitidos.
A fin de cuidar de que la prohibición aludida se cumpla estrictamente, este Gobierno ha dado instrucciones a la Inspección General y a los Comisarios de Policía, para que decomisen los boletos de la clase expresada, que se empleen en transacciones mercantiles o de cualquiera otra naturaleza.
CONSTITUCION Y REFORMAS
México, 23 de Diciembre de 1914
El Secretario de Gobierno,
MOISÉS GARCIA.