Presidente Municipal on $5 and $10 Veracruz and Ejército Constitucionalista notes, Morelia, 13 June 1916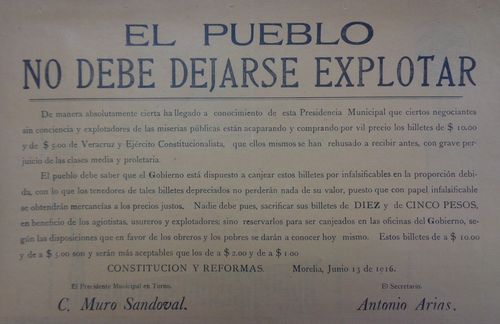 EL PUEBLO
NO DEBE DEJARSE EXPLOTAR
De manera absolutamente cierta ha llegado a conocimiento de esta Presidencia Municipal que ciertos negociantes sin conciencia y explotadores de las miserias públicas están acaparando y comprando por vil precio los billetes de $10.00 y de $5.00 de Veracruz y Ejército Constitucionalista, que ellos mismos se han rehusado a recibir antes, con grave perjuicio de las clases media y proletaria.
El pueblo debe saber que el Gobierno está dispuesto a canjear estos billetes por infalsificables en la proporción debida, con lo que los tenedores de tales billetes depreciados no perderán nada de su valor, puesto que con papel infalsificable se obtendrán mercancías a los precios justos. Nadie debe pues, sacrificar sus billetes de DIEZ y de CINCO PESOS, en beneficio de los agiotistas, usureros y explotadores; sino reservarlos para ser canjeados en las oficinas del Gobierno, según las disposiciones que a favor de los obreros y los pobres se darán a conocer hoy mismo. Estos billetes de a $10.00 y de a $5.00 son y serán más aceptables que los de a $2.00 y de a $1.00.
CONSTITUCION Y REFORMAS. Morelia, Junio 13 de 1916.
El Presidente Municipal en Turno. El Secretario.
C. Muro Sandoval. Antonio Arias.