J. Consejo, Oficial Mayor, relays Cabrera's pronouncement on the validity of old issues, Orizaba, 8 May 1916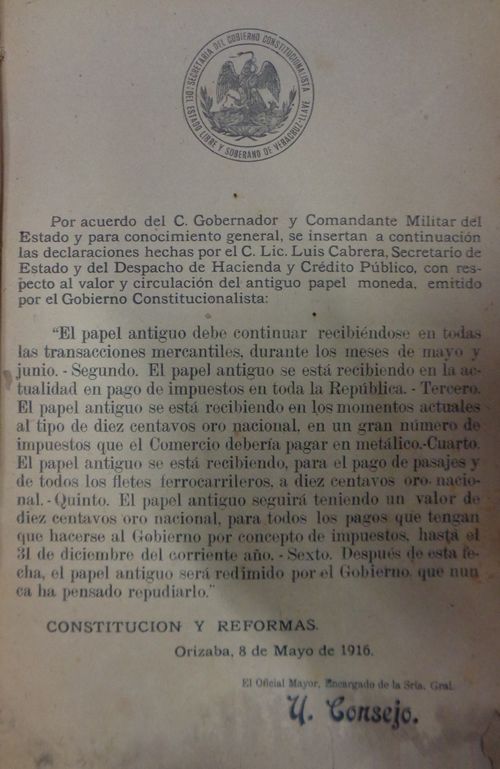 SECRETARIA DEL GOBIERNO CONSTITUCIONALISTA DEL ESTADO LIBRE Y SOBERANO DE VERACRUZ-LLAVE
Por acuerdo del C. Gobernador y Comandante Militar del Estado y para conocimiento general se insertan a continuación declaraciones hechas por el C. Lic. Luis Cabrera, Secretario de Estado y del Despacho de Hacienda y Crédito Público, con respecto al valor y circulación del antiguo papel moneda, emitido por el Gobierno Constitucionalista:
"El papel antiguo debe continuar recibiéndose en todas sus transacciones mercantiles, durante los meses de mayo y junio. – Segundo. El papel antiguo está recibiéndose en la actualidad en pago de impuestos en toda la República. – Tercero. El papel antiguo se está recibiendo en los momentos actuales al tipo de diez centavos oro nacional en un gran número de impuestos que el Comercio debería pagar en metálico. – Quarto. El papel antiguo se está recibiendo para el pago pasajes y todos fletes ferrocarrileros, a diez centavos oro nacional. – Quinto. El papel antiguo seguirá teniendo un valor de diez centavos oro nacional para todos los pagos que tengan que hacerse al Gobierno por concepto de impuestos hasta 31 de diciembre del corriente año. – Sexto. Después esta fecha papel antiguo será redimido por el Gobierno que nunca ha pensado repudiarlo."
CONSTITUCION Y REFORMAS.
Orizaba, 8 de Mayo de 1916.
El Oficial Mayor, Encargado de la Sría. Gral.
J. Consejo.