ASARCO
In 1889 the Guggenheim family founded the Philadelphia Smelting and Refining Company in Pueblo, Colorado. The next year Mexican president Porfirio Díaz granted the Guggenheims the right to create the "Great National Mexican Smelting Company" which established a lead smelter in Monterrey and a lead/copper smelter in Aguascalientes. Over time the Guggenheims purchased more mines and constructed or purchased railways to open northern Mexico to development.
In 1898 Henry Rogers, instrumental in forming the Standard Oil Company trust, organized the Amalgamated Copper Company to acquire "all the principal smelting works in the U.S. with the exception of the Guggenheims". Later, needing capital, Rogers approached the Guggenheims, who demanded control of the developing trust. In 1899 Rodgers and his partners created the American Smelting and Refining Company (ASARCO), organized under the laws of New Jersey (laws known to be particularly favorable to industrial monopolies), with ownership of refineries in Nebraska, Illinois, Colorado, and Kansas; mines in Colorado and Mexico; and smelters in Colorado, El Paso, Texas, El Carmen, Mexico, Montana, Pennsylvania, and Utah. In 1901 ASARCO averted a catastrophic war with the Guggenheims, who took control of the company, acquiring 50% of ASARCO's stock.
In 1902 ASARCO built the lead smelter at Chihuahua, Mexico.
In 1907 ASARCO became a publicly held company.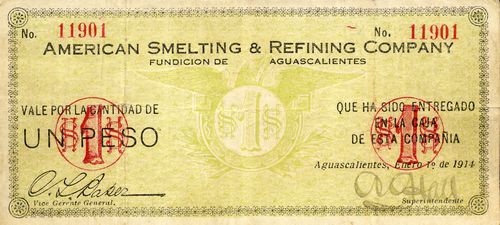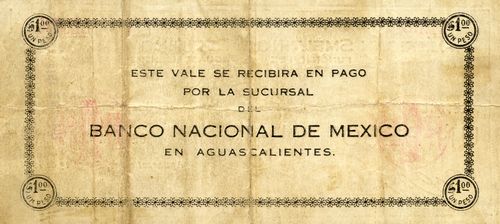 By January 1914 all the various branches of the ASARCO in Mexico were already using script. In Aguascalientes, we have a $1 note, dated 1 January 1914, with the printed signature of C. L. Baker, Vice Gerente General, and hand signature of A. C. Hall, Superintendente. This was redeemable in cash at the local branch of the Banco Nacional de MéxicoThe Mexican Herald, 9 February 1914.
Permission to issue this paper was requested from the government but was refused because of the federal law against such issues. However, the company was advised verbally that in case such issues were made, nothing would be done towards their prosecution. The Secretaría de Hacienda further stated that if arrangements could be made making paper money issued by the mining companies legal, a great obstacle would be that each vale would necessarily carry four centavos revenue stamps. On vales of five centavos, therefore, 80% would be charged in stampsAHMM, Fondo Norteamericano, vol. 41, exp. 15, Dirección General, Correspondencia, Mar 1913 – Nov 1914 Weekly gossip letter 26 January 1914. The insistence of the state government that these notes carried revenue stamps led to them quickly being discontinued.
By March 1914 it was reported that at ASARCO nothing smaller than $5 notes was being paid out. The men were paid in groups which, while possible, was the source of an infinite amount of troubleAHMM, Fondo Norteamericano, vol. 41, exp. 15, Dirección General, Correspondencia, Mar 1913 – Nov 1914 Weekly gossip letter 23 March 1914.
In May it was reported that as the Mexican government had decided to place a tax of four centavos on each one peso note the Smelting Company was withdrawing its notes from circulationThe Brooklyn Daily Eagle, New York, 11 May 1914.