Tomás Aznar Barbachano's billetes of 1863
On 3 December 1863 because of the desperate need for funds due to the war with Maximilian the vice governor Tomás Aznar Barbachano, decreed that $12,000 that would be due to the Aduana Marítima in import taxes should be prepaid. Payment should be made in two instalments, half on 10 December and the second half on 20 December. Contributors would receive receipts in the form of printed billetes, that would note the original sum and also a 15% premium, so that the whole issue would total $13,800. The billetes were to be in five denomination from $5 ($5.75) to $100 ($115).
The notes would be redeemed with 25% of the import duties currently destined for payment of a previous loan, requested on 17 November 1863, and holders of those loan notes could exchange them for these new billetes. The manner of the redemption was to be regular auctions, at which holders would bid to redeem their notes and the ones willing to accept the least amount of hard cash for their notes would win the right to redemptionEl Espirtu Público, Períodico Oficial del Estado de Campeche, Año VII, Núm. 473, 4 December 1863.
As the notes state on their face that they are payable to the bearer and can be passed from one holder to another without the need for any endorsement, they can be considered paper money.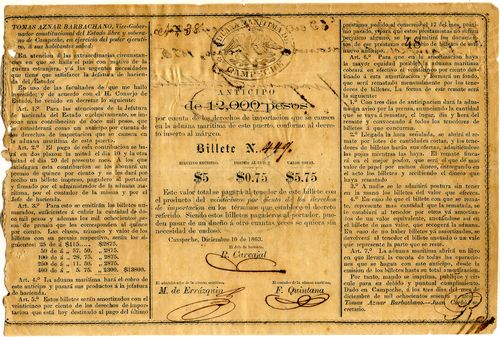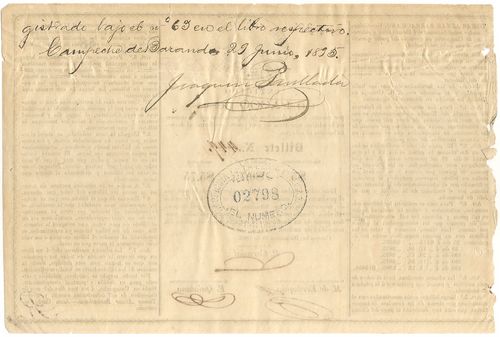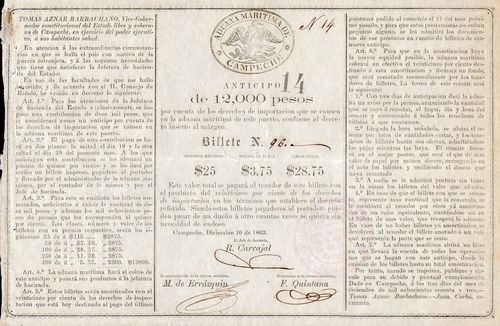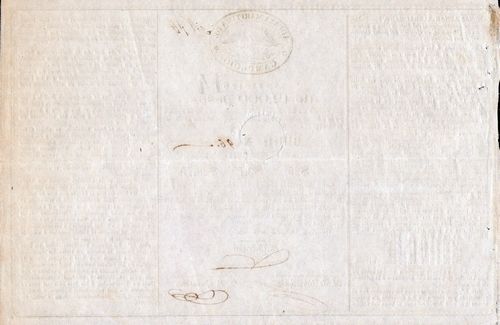 Value
Premium
Total
from
to
total
number
total
value
$5
$0.75
$5.75

426

825

400
$2,300
includes number 447
$10
$1.50
$11.50

176

425

250
2,875
$25
$3.75
$28.75

76

175

100
2,875
includes number 96
$50
$7.50
$57.50

26

75

50
2,875
$100
$15.00
$115.00

1

25

25
2,875
$13,800
The notes are dated 10 December 1863 and carry the signatures of Rafael Carvajal as jefe de Hacienda; Miguel de Errázquin as customs administrator (administrador de la aduana marítima) and Francisco Quintana as customs accountant (contador de la aduana marítima).
Rafael Carvajal Iturralde was the son of José Segundo Carvajal Cavero, three times governor of Yucatán, and the older brother of Francisco Carvajal who served as Secretario de Gobierno. Rafael himself served as Jefe de Hacienda but was banished by the French captain Cloué, when he took Campeche. He never served the Empire but at its fall was again Jefe de Hacienda under García. As a federal employee, he remained in his post at the beginning of Baranda's government but was soon branded a Porfirista conspirator, dismissed and imprisoned, as later were also two of his sons. "He distinguished himself by his independent and dignified character, by his demeanour and by his honesty."A la memoria del C. Pablo García, Mérida, 1896
Miguel Errázquin belonged to a group of young people who prepared and helped the revolution of 1857 when Campeche broke away from Yucatán. He was Administrator of the Maritime Customs of Campeche from 1857 until 1863, when the Interventionists triumphed. He never served the Empire but when the Republic was restored, he was appointed General Treasurer of the state, a job he held until August 1870, when the legitimate government was overthrown. He performed both jobs "with intelligence, scrupulosity, purity, extreme dedication and fine manners, qualities in which he was a true prototype"ibid.. His Customs accounts were all approved without any difficulty, but the General Treasury accounts for his last year (to September 1870) were delayed in the state legislature for more than six years during the Lerdista government of Joaquín Baranda, out of sheer rancour, until the first legislature elected after the triumph of Tuxtepec hastened to vindicate Errázquin by approving his accounts on 13 November 1877.
Francisco Quintana Pastrana was contador of the Maritime Customs. When Cloué took Campeche he replaced Erráquin but kept Quintana in his post

order of 27 January

. Quitana was also a regidor of the ayuntamiento of Campeche in 1864.
On 22 January 1864 the French frigate L'Eclair under the command of French captain Georges Cloué bombarded Campeche and governor Pablo García had to capitulate. Four days later Cloué issued a statement that considering that the debts of a Government compromise the one that succeeds it, the obligations contracted by the administration of the former governor García, were recognized by the present government. The proportion fixed for the reimbursement was set at 37½% of the total duties on foreign imports Considerando que las deudas de un Gobierno comprometen el que le sucede, las obligaciones contraídas por la administración del exgobernador García, son reconocidas por el el reembolso se fija en la del 37½% sobre el total de los derechos de importación de efectos extranjeros que se causen.
Dado en Campeche, el 26 de enero de 1864.—El Capitán de navio, Comandante de las fuerzas navales francesas y de la ciudad de Campeche,—G. Cloué..