Advertisements on Chihuahua movie money
Some movie money (see Movie money) was also used as advertisements.
BBB Curios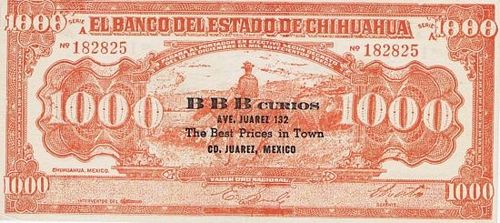 'B B B CURIOS / AVE. JUAREZ 132 / The Best Prices in Town / CD. JUAREZ, MEXICO.' known on the $1000 red/green.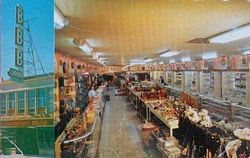 The postcard shows a view of B B B Curios, when it was located Avenida Juárez 141, managed by Felipe Sidransky and offered "the best selection in GOLD, STERLING SILVER, COPPER, BRASS WARE, and any other kind of curios and shoes."
Miraflores Curios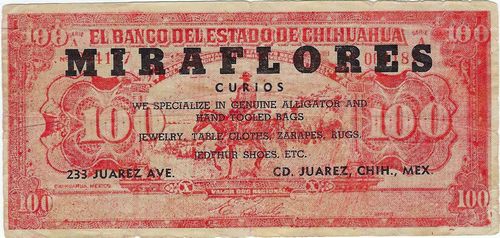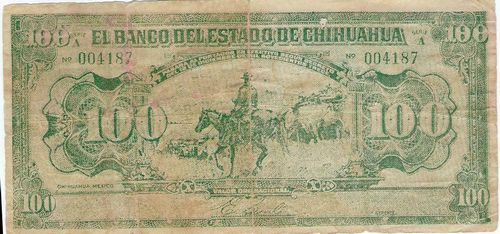 MIRAFLORES / CURIOS / WE SPECIALIZE IN GENUINE ALLIGATOR AND / HAND TOOLED BAGS / JEWLRY, TABLE CLOTHES, ZARAPES, RUGS, / JEDTHUR SHOES, ETC. / 233 JUAREZ AVE. CD. JUAREZ, CHIH., MEX.
John Hyder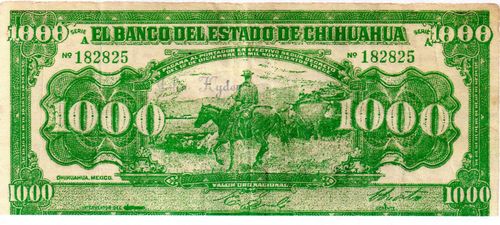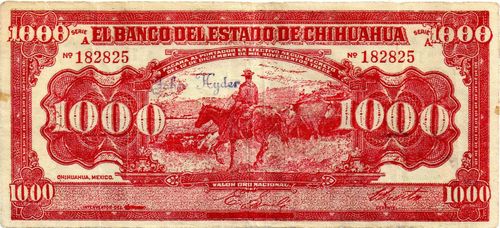 'John Hyder' known on the $1000 red/green.
Stall no 4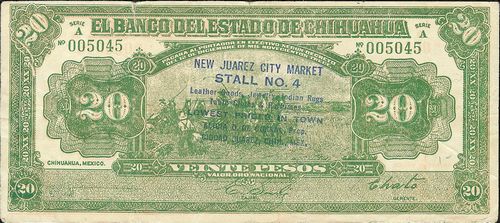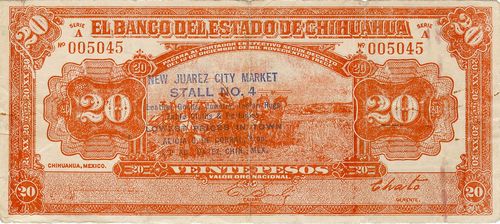 'NEW JUAREZ CITY MARKET/STALL NO. 4/Leather Goods Jewelry Indian Rugs/Table Cloths & Perfumes/LOWEST PRICES IN TOWN/ ALICIA D. DE CORRAL, Prop./CIUDAD JUAREZ, CHIH., MEX.', known on the $20 red/green
Pete Leyva's Cafe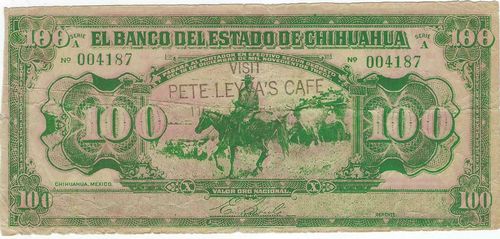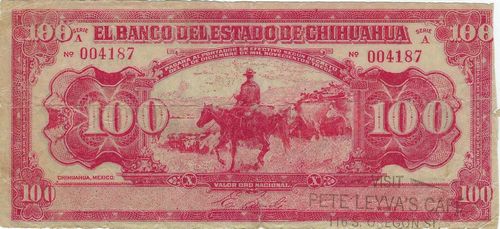 VISIT / PETE LEYVA'S CAFÉ / 116 S. OREGON ST.
A cafe in El Paso.
Leonor's Place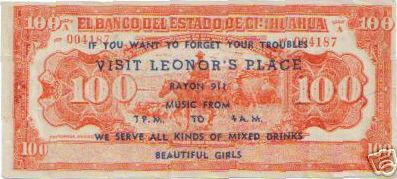 'IF YOU WANT TO FORGET YOUR TROUBLES/VISIT LEONOR'S PLACE/RAYON 911/MUSIC FROM/7 P.M. TO 4 A.M./WE SERVE ALL KINDS OF MIXED DRINKS/BEAUTIFUL GIRLS', known on the $100 red/green
The Casa Blanca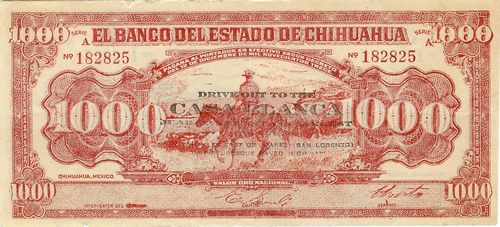 'DRIVE OUT TO THE/CASA BLANCA/JUAREZ NEWEST AND LARGEST/NITE CLUB/ONLY 2.4 MILES EAST OF JUAREZ (SAN LORENZO)/ON PICTURESQUE PAVED HIGHWAY', known on the $1000 red/blue
The Roadside Inn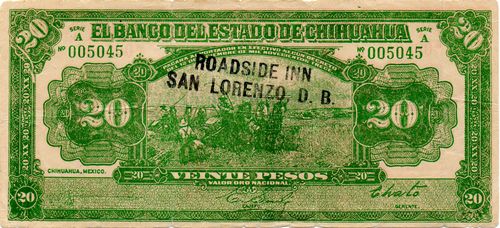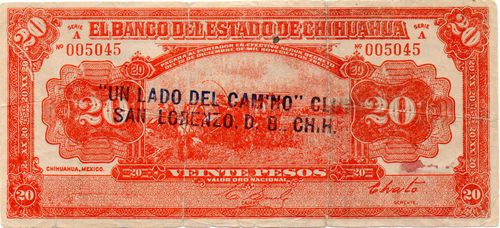 'ROADSIDE INN / SAN LORENZO, D. B.' and '"UN LADO DEL CAMINO" CLUB / SAN LORENZO, D. B. CHIH.' known on $20 green/red.
San Lorenzo is in the district of Doctor Belisario Domínguez, Chihuahua.