Facsimiles of Chihuahua notes
There are also at least two types of reproductions with ornamental-bordered blank reverses.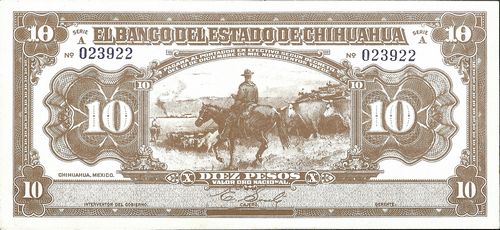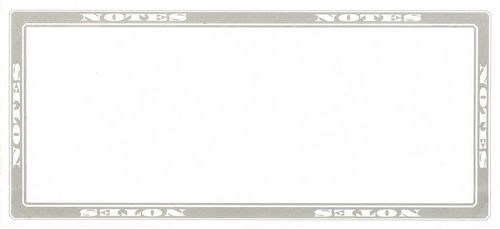 One type is the $10 Banco del Estado in brown.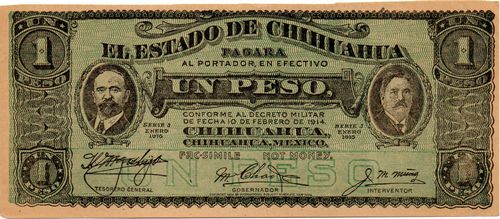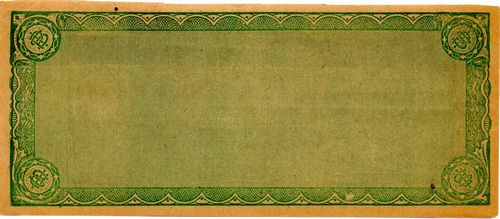 Another type is a $1 dos caritas marked on the face 'Facsimile - not Money'. These were common commercial replicas, sold in quantities during the 1920s to merchants who would have their advertising messages printed on the blank backs. These were printed by the International Publicity Syndicate and have the imprint 'Copyright 1924 by International Publicity Syndicate New York'Similar Confederate States facsimiles were printed by the National Publicity Company, Chicago. Note that the latter have an entwined 'NPC' in the corners on the reverse whilst these have an entwined 'IPS'.
John Benjamin
'Rifles, Shotguns/and Clothing', 'We Buy, Sell and Exchange/Diamonds and Jewelry/Cameos and Antiques/at less than Wholesale/Antique Revolvers', 'COINS, GOLD AND SILVER, INDIAN RELICS, ELECTRIC/RAZORS, SWEEPER, RADIO, FANS, CASH REGISTER/BICYCLE SADDLES, DR. MICROSCOPE, ANTIQUE GLASS,/FURNITURE, '36 CHEVROLET CHEAP, SPINDLE WHEEL./WE BUY, SELL AND EXCHANGE' and 'JOHN BENJAMIN/235 EAST BROADWAY/EXCELSIOR SPRINGS, MO.'
235 E. Broadway, Excelsior Springs, was constructed between 1909 and 1913. It is a good representative of the simpler design of small-town commercial buildings in the twentieth century and retains its original storefront configuration, and rare (for Excelsior Springs) original transom lights. The east storefront housed the pawn shop of John Benjamin in 1917 until at least 1924.
J C Cheney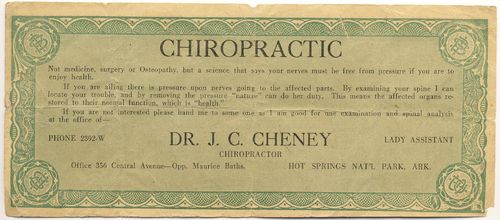 H .D. Ferguson
Hot Springs, Arkansas H. D. Ferguson (Chiropractor)
R. L. (Bob) Morris & Co.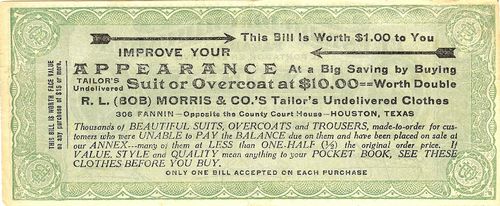 This was a men's outfitters in Houston, Texas.
Jim Furlong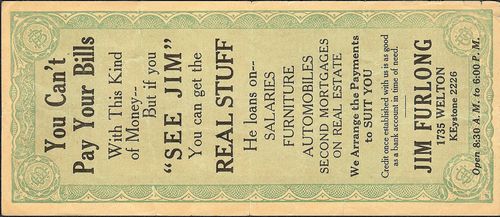 'You Can't Pay Your Bills With This Kind of Money—But if you "SEE JIM" You can get the REAL STUFF/He loans on – SALARIES/FURNITURE/AUTIMOBILES/SECOND MORTGAGES/ON REAL ESTATE/We Arrange the Payments to SUIT YOU/Credit once established with us is as good as a bank account in time of need./JIM FURLONG/1735 WELTON/Keystone 2226/Open 8.30 A. M. to 6.00 P.M.'
This was a business in Denver, Colorado.
Walter Reed Gage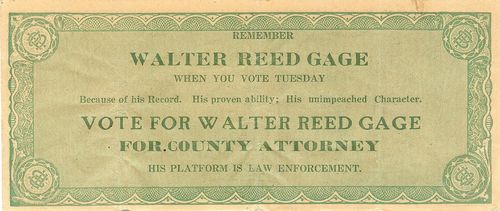 'REMEMBER/WALTER REED GAGE WHEN YOU VOTE TUESDAY/Because of his Record. His proven ability. His unimpeached Character./VOTE FOR WALTER REED GAGE/ FOR COUNTY ATTORNEY/HIS PLATFORM IS LAW ENFORCEMENT'
Gage graduated from the Washburn University school of law and served three terms as county attorney of Riley County, Kansas (county seat Manhattan), from 1925 to 1931. He later worked for the National Board of Fire Underwriters for 30 years and in 1961 was appointed as Alcoholic Beverage Control director for the state of KansasThe Manhattan Mercury, 5 January 1961.
G. I. Van Dall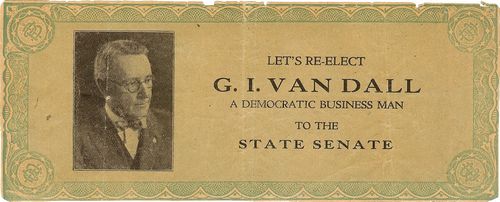 'LET's RE-ELECT / G. I. VAN DALL / A DEMOCRATIC BUSINESS MAN / TO THE / STATE SENATE'
G. I Van Dall represented the 34th district in the Oklahoma State Senate in the 1925-1926 and 1927-1928 sessions, so this dates from 1927.
W. M. McKeighan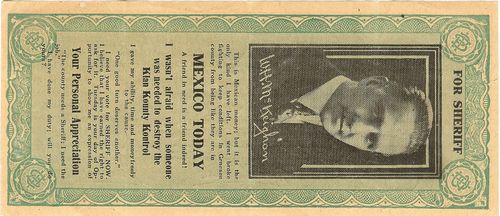 'FOR SHERIFF/This is Mexican money; but it is the only kind I have left. I went broke fighting to keep conditions in Genesee county from being like they are in/MEXICO TODAY/A friend in need is a friend indeed!/I wasn't afraid when someone was needed to destroy the Klan Kounty Kontrol/I gave my ability, time and money freely to the cause./"One good turn deserves another."/I need your vote for SHERIFF NOW./ I believe that I have earned the right to ask for it. Tuesday is your day of Opportunity to show me an expression of/Your Personal Appreciation/"The county needs a Sheriff; I need the job."/I have done my duty; will you do yours?'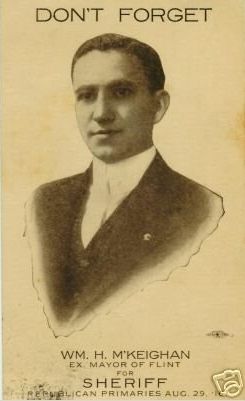 William H. McKeighan had a checkered political career, marked by sleaze and remarkable comebacks. He came to Flint, Michigan, in 1908 and worked as a pharmacist in a downtown drug store before opening his own drug store. He served as a alderman for 1913-1914 and 1914-1915 and was a candidate for the Republican nomination for state senator in the 1914 primaries but lost. He was arrested in July 1914 for violating a local option law at his drug store by selling a pint of liquor to someone on bail but acquitted in January 1915. Also in 1915 he was elected mayor of Flint.
In August 1916 he stood in the Republican primaries for sheriff and demanded a recount because of errors after losing by 55 votesThe Flint Daily Journal, 6 September 1916 but failed to secure the nomination. In November 1918 he was arrested for helping to assault and rob someone who had taken part in an all-night dice game over his garage, convicted and sentence to two to fifteen yearsThe Flint Daily Journal, 6 May 1918 but was back as mayor in April 1922.
This piece of ephemera must date from some other attempt to secure the nomination for sheriff, dated after 1924.
In April 1927 McKeighan made another strong comeback to be elected mayor but then faced an unsuccessful attempt at recall for alleged mismanagement of the city's affairs. The next year he was indicted for conspiracy to defraud after it was found that ballots in the September primary election had been stuffed, but acquitted. Seven of his eleven co-accused, all election officials, pleaded guilty and testified against him but he argued that they had framed him in an attempt to remove him from officeSan Francisco Chronicle, 24 December 1928.