$10 Banco Minero note (1913-1914)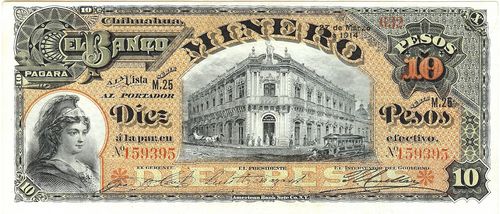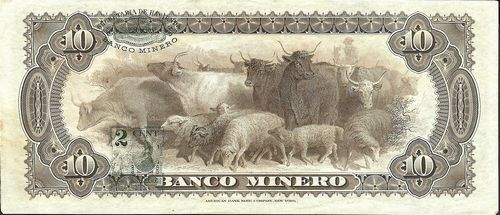 Date of issue
Date on note
Series
from
to
Gerente
Presidente
Interventor
code
Comment
6 January 1914
21 November 1912 / 1912
W4
100001
101000
J. A. Creel
L. Terrazas
Aguirre H.
279H
21 March 1911
X4
101001
102000
653B
6/10 January 1914
Y4
102001
103000
296C
Z4
103001
104000
437G
A5
104001
105000
385J
B5
105001
106000
761D
C5
106001
107000
812F
6 January 1914
D5
107001
108000
593K
E5
108001
109000
628N
F5
109001
110000
894V
19 February 1914
31 January 1914
G5
110001
111000
J. A. Creel
L. Terrazas
Cuellar
478J
These notes were delayed in transit (see paragraph infra)
12 January 1914 letter requesting authorisation: notes needed for Gómez Palacio and Torreón

CEHM, Fondo Creel, 85, 21986

;
authorised by Secretaría de Hacienda 31 January

CEHM, Fondo Creel, 92, 23577

H5
111001
112000
626U
I5
112001
113000
194L
J5
113001
114000
267I
K5
114001
115000
525A
L5
115001
116000
736M
M5
116001
117000
245N
N5
117001
118000
351O
O5
118001
119000
613Z
P5
119001
120000
872D
Q5
120001
121000
384E
R5
121001
122000
496C
S5
122001
123000
758R
T5
123001
124000
917F
U5
124001
125000
283G
V5
125001
126000
539K
W5
126001
127000
845B
X5
127001
128000
672H
Y5
128001
129000
163P
Z5
129001
130000
791S
27 March 1914
A25
130001
132500
J. A. Creel
L. Terrazas
Cuellar
875
dispatched by ABNC on 26 February 1914

CEHM, Fondo Creel, 92, 23566

;
authorised by Secretaría de Hacienda on 27 March, entrusted to Tesorería de la Federación por cuenta del contrato de $3,000,000 in 6% Bonos

CEHM, Fondo Creel, 85, 22000

B25
132501
135000
850
C25
135001
137500
832
D25
137501
140000
155
E25
140001
142500
237
F25
142501
145000
812
G25
145001
147500
715
H25
147501
150000
777
J25
150001
152500
775
K25
152501
155000
616
L25
155001
157500
642
M25
157501
160000
632
N25
160001
162500
120
O25
162501
165000
123
P25
165001
167500
141
Q25
167501
170000
152
R25
170001
172500
185
S25
172501
175000
201
T25
175001
177500
235
U25
177501
180000
282
12 August 1914
23 July 1914
A26
180001
182500
J. A. Creel
L. Terrazas
Martínez
903
dispatched by ABNC on 12 June 1914

CEHM, Fondo Creel, 92, 23566

; authorisation requested 6 July 1914

CEHM, Fondo Creel, 86, 22030

: authorised 7 July 1914

CEHM, Fondo Creel, 86, 22031

B26
182501
185000
804
C26
185001
187500
715
D26
187501
190000
620
E26
190001
192500
530
F26
192501
195000
425
G26
195001
197500
318
H26
197501
200000
222
J26
200001
202500
111
K26
202501
205000
231
L26
205001
207500
333
M26
207501
210000
475
1 August 1914
N26
210001
212500
J. A. Creel
L. Terrazas
Martínez
523
dispatched by ABNC on 12 June 191412 June 1914; authorised 7 July 1914

CEHM, Fondo Creel, 92, 23566

; authorised 1 August

CEHM, Fondo Creel, 86, 22042

O26
212501
215000
637
P26
215001
217500
715
Q26
217501
220000
888
R26
220001
222500
925
S26
222501
225000
222
T26
225001
227500
345
U26
227501
230000
488
A27
230001
232500
not issued
dispatched by ABNC on 8 July 1914

CEHM, Fondo Creel, 92, 23566

B27
232501
235000
C27
235001
237500
D27
237501
240000
E27
240001
242500
F27
242501
245000
G27
245001
247500
H27
247501
250000
J27
250001
252500
K27
252501
255000
L27
255001
257500
M27
257501
260000
N27
260001
262500
O27
262501
265000
P27
265001
267500
Q27
267501
270000
R27
270001
272500
S27
272501
275000
T27
275001
277500
U27
277501
280000
A28
280001
282500
not issued
dispatched by ABNC on 21 July 1914ibid.;
23 July 1914
These came in strongbox 31, and the consigment note had the comment "Despositados en Bco. Central Mexicano o con Wells Fargo y Ca. - Veracruz - Hay duda"ibid.
incinerated in Veracruz in June 1919

CEHM, Fondo Creel, 219, 56245

B28
282501
285000
C28
285001
287500
D28
287501
290000
E28
290001
292500
F28
292501
295000
G28
295001
297500
H28
297501
300000
J28
300001
302500
K28
302501
305000
L28
305001
307500
M28
307501
310000
N28
310001
312500
O28
312501
315000
P28
315001
317500
Q28
317501
320000
R28
320001
322500
S28
322501
325000
T28
325001
327500
U28
327501
330000
Twenty thousand $10 notes (G5-Z5, 110001-130000) were ordered on 18 December 1912 and shipped complete on 5 April 1913, by Wells Fargo Express, to the Banco Central Mexicano in Mexico City. On 9 May Wells Fargo advised the ABNC that they were holding the shipment on hand at Laredo and that there were standing against it accrued charges of $73. 05. The ABNC instructed them to hold it subject to our further orders and at the same time wrote to the Banco Minero in Chihuahua, asking what they should do. They had reply and wrote again on 6 August. On 11 August they sent a copy of our last letter to Charles T. Blackmore, their Agent in Mexico City, to see if he could send it through to the bank at Chihuahua. As of 15 September the shipment was still being held at LaredoABNC letter 15 September 1913. On 21 November the notes were returned from Laredo to New YorkABNC letter Wells Fargo to ABNC, 24 November 1913 and forwarded to the Banco Central Mexicano by the Ward Line steamer, S.S. Morro Castle, on 4 DecemberABNC letter Wells Fargo to ABNC, 29 November 1913.
On 4 June 1915 Ismael M. Ruiz wrote from Nogales that the Banco Occidental de México had $250 in unsigned $10 Banco Minero notes, which they wanted changed. One of these notes was 161062, so they must have been series N25. Ruiz had refusedCEHM, Fondo Creel, 121, 31229. Five of these unsigned N25 notes (160347CNBanxico #24419,160652CNBanxico #24420, 160697CNBanxico #24421,160698CNBanxico #24418 and161182CNBanxico #24417) appear in the Banco de México collection: others are known signed and dated so these must have slipped through unchecked.
Two tint plates (#1 and #2) made on 24 July 1888, one face plate (#6) made on order F4106, one back plate (#4) made on order F3526 and the centennial back plate made on order F2457 were all cancelled on 13 April 1932ABNC.