$10 dos caritas - unknown printer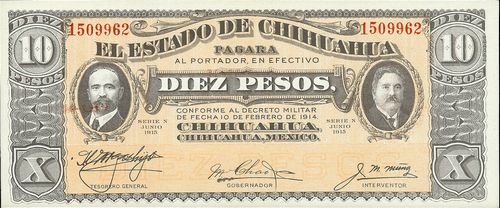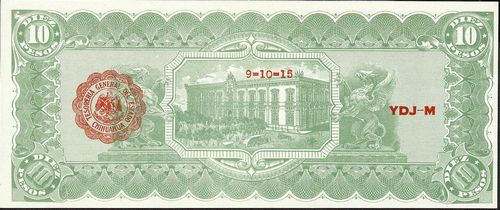 400,000 notes printed by an unidentified printer. These were series N, numbered 1 to 400000, and had red scalloped Tesorería seal and Type 7 and Type 8 horizontal sans-serif control letters and date. Later controls dispensed with the date, reverting to Type 6.
8-10-15
R-AFH
S-DOF
T-VHR
U-ADH
8-20-15
V-ZRI
W- (?)
X-BCE
9-10-15
YDJ-M
9-20-15
Z-BAS(?)
KNO-A
POW-B
JYA-C
SCA-D
10-1-15
SCA-D
LRP-E
LVB-F
no date
AVE-G
MIA-H
PRO-I
MOB-J
CAO-K
EAO-L
KRO-M
RUI-M
OKI-N
NEU-O
LNE-P
QRO-Q
GDY-R
OYC-S
JAV-T
ATE-U
ATE-V(?)
The February 1916 report to the Carrancista government, which only listed the Maverick-Clarke issues, states that the Villistas began to overstamp the $10 notes on 16 May 1915 and finished on 1 June 1915AGN, Fondo Gobernación Periodo Revolucionario, caja 61, exp 24.