$5 dos caritas - unknown printer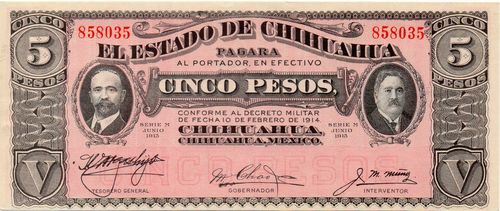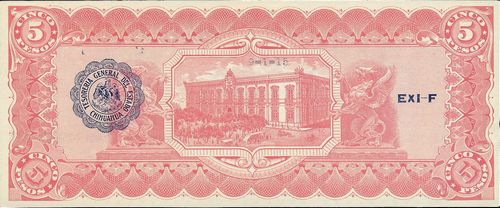 Finally, 3,000,000 notes printed by some unidentified printer. These are Series M, dated JUNIO 1915 and numbered 1 to 3000000. These have blue scalloped Tesorería seal and Type 8 and Type 12 sans-serif control letters and date on the back.
8-10-15
HBL-U
PRS-V
NIO-X
QNK-Y
8-20-15
Y-VCO
Z-MES
DUL-A
HMQ-B
EJT-C
9-1-15
PLS-D
NBV-E
EXI-F
FON-G
CAR-H
MUV-I
FHP-J(?)
CAX-J
GAX-J
10-20-15
ECO-LL
11-1-15
ADE-LA
ACH-V
XAS-Q also appears on counterfeit notes (see Counterfeit $5 Type 3).