$5 Ejército Constitucionalista notes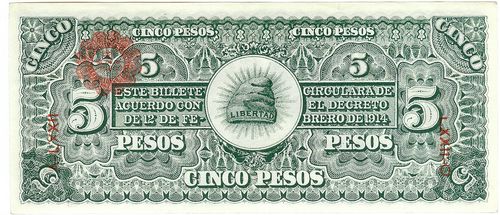 The letter and numbers appear vertically in red on both left and right hand sides, being a combination of Roman (occasionally Arabic) numbers and the letters 'A' and 'O'Alpha and Omega?, in two sequences, with A trailing and then A leading. These codes change every 20,000 notes so there are approximately a hundred different combinations.
The full text of the codes is given reading up the left side of the note, then down the right.
First sequence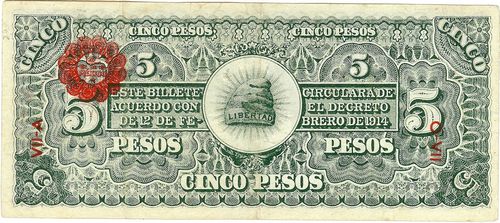 | Number | Full text | from | to | | Number | Full text | from | to |
| --- | --- | --- | --- | --- | --- | --- | --- | --- |
| I | | 1 | 20000 | | LI | | 1000001 | 1020000 |
| II | | 20001 | 40000 | | LII | | 1020001 | 1040000 |
| III | | 40001 | 60000 | | LIII | | 1040001 | 1060000 |
| IV | | 60001 | 80000 | | LIV | | 1060001 | 1080000 |
| V | | 80001 | 100000 | | LV | LV-A O-LV | 1080001 | 1100000 |
| VI | | 100001 | 120000 | | LVI | | 1100001 | 1120000 |
| VII | VII-A O-VII | 120001 | 140000 | | LVII | | 1120001 | 1140000 |
| VIII | VIII-A O-VIII | 140001 | 160000 | | LVIII | | 1140001 | 1160000 |
| IX | | 160001 | 180000 | | LIX | | 1160001 | 1180000 |
| X | | 180001 | 200000 | | LX | LX-A O-LX | 1180001 | 1200000 |
| XI | | 200001 | 220000 | | LXI | | 1200001 | 1220000 |
| XII | | 220001 | 240000 | | LXII | LXII-A O-LXII | 1220001 | 1240000 |
| XIII | | 240001 | 260000 | | LXIII | | 1240001 | 1260000 |
| XIV | | 260001 | 280000 | | LXIV | LXIV-A O-LXIV | 1260001 | 1280000 |
| XV | | 280001 | 300000 | | LXV | | 1280001 | 1300000 |
| XVI | | 300001 | 320000 | | LXVI | | 1300001 | 1320000 |
| XVII | | 320001 | 340000 | | LXVII | | 1320001 | 1340000 |
| XVIII | | 340001 | 360000 | | LXVIII | | 1340001 | 1360000 |
| XIX | | 360001 | 380000 | | LXIX | | 1360001 | 1380000 |
| XX | | 380001 | 400000 | | LXX | LXX-A O-LXX | 1380001 | 1400000 |
| XXI | | 400001 | 420000 | | LXXI | | 1400001 | 1420000 |
| XXII | | 420001 | 440000 | | LXXII | | 1420001 | 1440000 |
| XXIII | | 440001 | 460000 | | LXXIII | | 1440001 | 1460000 |
| XXIV | | 460001 | 480000 | | LXXIV | LXXXIV-A O-LXXIV | 1460001 | 1480000 |
| XXV | | 480001 | 500000 | | LXXV | | 1480001 | 1500000 |
| XXVI | | 500001 | 520000 | | LXXVI | LXXVI-A O-LXXVI | 1500001 | 1520000 |
| XXVII | | 520001 | 540000 | | LXXVII | | 1520001 | 1540000 |
| XXVIII | | 540001 | 560000 | | LXXVIII | LXXVIII-A O-LXXVIII | 1540001 | 1560000 |
| XXIX | | 560001 | 580000 | | LXXIX | LXXIX-A O-LXXIX | 1560001 | 1580000 |
| XXX | | 580001 | 600000 | | LXXX | LXXX-A O-LXXX | 1580001 | 1600000 |
| XXXI | | 600001 | 620000 | | LXXXI | | 1600001 | 1620000 |
| XXXII | XXXII-A O-XXXII | 620001 | 640000 | | LXXXII | | 1620001 | 1640000 |
| XXXIII | | 640001 | 660000 | | LXXXIII | | 1640001 | 1660000 |
| XXXIV | XXXIV-A O-XXXIV | 660001 | 680000 | | LXXXIV | LXXXIV-A O-LXXXIV | 1660001 | 1680000 |
| XXXV | 35-A O-35 | 680001 | 700000 | | LXXXV | | 1680001 | 1700000 |
| XXXVI | XXXVI-A O-XXXVI | 700001 | 720000 | | LXXXVI | | 1700001 | 1720000 |
| XXXVII | XXXVII-A O-XXXVII | 720001 | 740000 | | LXXXVII | | 1720001 | 1740000 |
| XXXVIII | | 740001 | 760000 | | LXXXVIII | | 1740001 | 1760000 |
| XXXIX | XXXIX-A O-XXXIX | 760001 | 780000 | | LXXXIX | | 1760001 | 1780000 |
| XL | | 780001 | 800000 | | XC | | 1780001 | 1800000 |
| XLI | | 800001 | 820000 | | XCI | | 1800001 | 1820000 |
| XLII | XLII-A O-XLII | 820001 | 840000 | | XCII | XCII-A O-XCII | 1820001 | 1840000 |
| XLIII | XLIII-A O-XLIII | 840001 | 860000 | | XCIII | | 1840001 | 1860000 |
| XLIV | | 860001 | 880000 | | XCIV | | 1860001 | 1880000 |
| XLV | | 880001 | 900000 | | XCV | | 1980001 | 1900000 |
| XLVI | | 900001 | 920000 | | XCVI | XCVI-A O-XCVI | 1900001 | 1920000 |
| XLVII | | 920001 | 940000 | | XCVII | XCVII-A O-XCVII | 1920001 | 1940000 |
| XLVIII | | 940001 | 960000 | | XCVIII | | 1940001 | 1960000 |
| XLIX | XLIX-A O-XLIX | 960001 | 980000 | | IC | IC-A O-IC | 1960001 | 1980000 |
| L | L-A O-L | 980001 | 1000000 | | C | | 1980001 | 2000000 |
Second sequence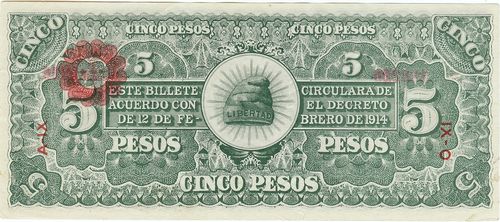 | Number | Full text | from | to | | Number | Full text | from | to |
| --- | --- | --- | --- | --- | --- | --- | --- | --- |
| I | | 20001 | 40000 | | LI | A-LI LI-O | 1020001 | 1040000 |
| II | | 40001 | 60000 | | LII | | 1040001 | 1060000 |
| III | | 60001 | 80000 | | LIII | | 1060001 | 1080000 |
| IV | | 80001 | 100000 | | LIV | A-LIV LIV-O | 1080001 | 1100000 |
| V | | 100001 | 120000 | | LV | A-LV LV-O | 1100001 | 1120000 |
| VI | | 120001 | 140000 | | LVI | | 1120001 | 1140000 |
| VII | | 140001 | 160000 | | LVII | | 1140001 | 1160000 |
| VIII | | 160001 | 180000 | | LVIII | | 1160001 | 1180000 |
| IX | A-IX IX-O | 180001 | 200000 | | LIX | A-LIX LIX-O | 1180001 | 1200000 |
| X | | 200001 | 220000 | | LX | | 1200001 | 1220000 |
| XI | | 220001 | 240000 | | LXI | A-LXI LXI-O | 1220001 | 1240000 |
| XII | | 240001 | 260000 | | LXII | A-LXII LXII-O | 1240001 | 1260000 |
| XIII | | 260001 | 280000 | | LXIII | | 1260001 | 1280000 |
| XIV | | 280001 | 300000 | | LXIV | | 1280001 | 1300000 |
| XV | | 300001 | 320000 | | LXV | | 1300001 | 1320000 |
| XVI | | 320001 | 340000 | | LXVI | | 1320001 | 1340000 |
| XVII | | 340001 | 360000 | | LXVII | | 1340001 | 1360000 |
| XVIII | | 360001 | 380000 | | LXVIII | | 1360001 | 1380000 |
| XIX | | 380001 | 400000 | | LXIX | A-LXIX LXIX-O | 1380001 | 1400000 |
| XX | | 400001 | 420000 | | LXX | | 1400001 | 1420000 |
| XXI | | 420001 | 440000 | | LXXI | | 1420001 | 1440000 |
| XXII | A-22 22-O | 440001 | 460000 | | LXXII | A-LXXII LXXII-O | 1440001 | 1460000 |
| XXIII | A-23 23-O | 460001 | 480000 | | LXXIII | A-LXXIII LXXIII-O | 1460001 | 1480000 |
| XXIV | | 480001 | 500000 | | LXXIV | A-LXXIV LXXIV-O | 1480001 | 1500000 |
| XXV | | 500001 | 520000 | | LXXV | | 1500001 | 1520000 |
| XXVI | | 520001 | 540000 | | LXXVI | | 1520001 | 1540000 |
| XXVII | A-XXVII XXVII-O | 540001 | 560000 | | LXXVII | | 1540001 | 1560000 |
| XXVIII | | 560001 | 580000 | | LXXVIII | | 1560001 | 1580000 |
| XXIX | | 580001 | 600000 | | LXXIX | A-LXXIX LXXIX-O | 1580001 | 1600000 |
| XXX | | 600001 | 620000 | | LXXX | A-LXXX LXXX-O | 1600001 | 1620000 |
| XXXI | A-XXXI XXXI-O | 620001 | 640000 | | LXXXI | A-LXXXI LXXXI-O | 1620001 | 1640000 |
| XXXII | A-32 32-O | 640001 | 660000 | | LXXXII | | 1640001 | 1660000 |
| XXXIII | | 660001 | 680000 | | LXXXIII | | 1660001 | 1680000 |
| XXXIV | | 680001 | 700000 | | LXXXIV | | 1680001 | 1700000 |
| XXXV | | 700001 | 720000 | | LXXXV | A-LXXXV LXXXV-O | 1700001 | 1720000 |
| XXXVI | A-36 36-O | 720001 | 740000 | | LXXXVI | A-LXXXVI LXXXVI-O | 1720001 | 1740000 |
| XXXVII | A-XXXVII XXXVII-O | 740001 | 760000 | | LXXXVII | | 1740001 | 1760000 |
| XXXVIII | | 760001 | 780000 | | LXXXVIII | A-LXXXVIII LXXXVIII-O | 1760001 | 1780000 |
| XXXIX | A-39 39-O | 780001 | 800000 | | LXXXIX | A-LXXXIX LXXXIX-O | 1780001 | 1800000 |
| XL | | 800001 | 820000 | | XC | | 1800001 | 1820000 |
| XLI | | 820001 | 840000 | | XCI | | 1820001 | 1840000 |
| XLII | | 840001 | 860000 | | XCII | | 1840001 | 1860000 |
| XLIII | | 860001 | 880000 | | XCIII | A-XCIII XCIII-O | 1860001 | 1880000 |
| XLIV | A-XLIV XLIV-O | 880001 | 900000 | | XCIV | A-XCIV XCIV-O | 1880001 | 1900000 |
| XLV | A-XLV XLV-O | 900001 | 920000 | | XCV | | 1900001 | 1920000 |
| XLVI | | 920001 | 940000 | | XCVI | A-XCVI XCVI-O | 1920001 | 1940000 |
| XLVII | A-XLVII XLVII-O | 920001 | 960000 | | XCVII | | 1940001 | 1960000 |
| XLVIII | A-XLVIII XLVIII-O | 960001 | 980000 | | XCVIII | | 1960001 | 1980000 |
| XLIX | | 980001 | 1000000 | | IC | | 1980001 | 2000000 |
| L | | 1000001 | 1020000 | | C | | 2000001 | 2020000 |
Varieties
The $5 was the most widely counterfeited but there also seems to be have variations in the genuine notes, arising either from different printings or different postions on the printed page. From study some of the major variations appear to be
expected
actual
shift
1430736
A-LXXI LXXI-O
A-IIXXL O-LXXII
+1
and reversed