Convention's decree of 17 December 1914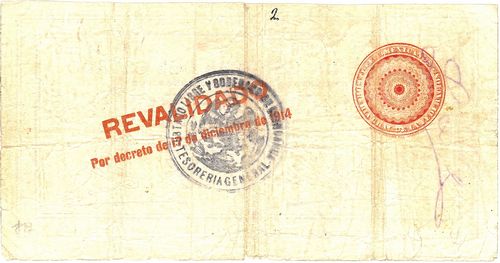 Constitutionalist forces under Obregón first entered Mexico City on 15 August 1914. After the break with Carranza Convention forces, basically the División del Norte, advanced from Aguascalientes and occupied the capital on 3 December 1914, with Villa and Zapata making a triumphal entrance three days later. Manual Chao was named governor of the Federal District.
REVALIDADO – Por decreto de 17 de diciembre de 1914
In December 1914 the Conventionist President, Eulalio Gutiérrez, decreed Carranza's Gobierno Provisional issues worthless, and holders were given ten days to exchange them for notes of the same issue that had been overprinted with 'REVALIDADO - Por decreto de 17 de diciembre de 1914' on the reverse in red inkThese revalidated notes were to be issued by the Tesorería de la Federación in the capital and the Jefaturas de Hacienda and Administraciones Principales y Subalternas de la Rentas del Timbre elsewhere. So many of the 'Jefatura de Hacienda' and 'Administración Principal' resellos were possibly as a consequence of this 17 December decree when it was extended to the sábanas.
The period for revalidation was extended on 30 December and then on 23 January 1915 President Roque González Garza modified the 17 December decree and announced that the period for restamping or revalidating the notes was extended to 15 March. At the same time he decreed that to make the Villista currency acceptable the Secretaría de Hacienda would also revalidate the sábanas. On 26 January the authorities began the exchanging of notes for REVALIDADO sábanas and Gobierno Provisional, giving preference to the sábanas as they were causing the greatest difficulties and large crowds gathered outside the Pagaduría de las Escuelas Normales para Profesores, in Mexico City, to change or validate their notesEl Sol, 25 January 1915: La Convención, 26 January 1915. The Tesorero General de la Federación said the exchange would take place not only at that Pagaduría but also at other pagadurías oficiales in the capital and Federal DistrictEl Radical, 25 January 1915. However, Obregon's forces arrived in Mexico City on 28 January and held it until 11 March.
When González Garza left for Cuernavaca on [ ], he left behind the revalidating machine.
On 12 February González Garza proroged the period for revalidation for three months, during which the notes would continue to be of forced circulation, even if not revalidatedThe previous day, 11 February, General Emiliano Zapata from Iguala had informed the military commanders under his command (in Chilpancingo, Tixtla, Chilapa, Tlapa, Huamuxtitlán, Ayutla, Teloloápam, Taxco, Coyuca de Catalán, Atzcapozalco and Huitzuco (Colección revolución, caja 3, exp 48, folleto 2). On 25 February he announced that holders of sábanas could take them to the Secretaría de Hacienda for restamping and that once restamped the notes would be considered genuine. Forged notes, and those in too poor a state to be restamped, would not be overprinted. The former would be perforated and the latter returned to their holders to keep until such time as the currency was unifiedMexican Herald, 17 March 1915. Nevertheless, the sábanas remained of forced circulation, whether or not they were revalidated.
González Garza tried to alleviate the Convention's financial problems whilst he was in Cuernavaca but he had with him less than 2,000,000 pesos in sábanas and dos caritas and to complicate matters, a large quantity of this paper, the so-called inconvenientes, did not have the authorised stamp.
On 11 March González Garza and the Conventionists left Cuernavaca and re-entered Mexico City. The Convention immediately declared the Carranza currency which had been in forced circulation null and without value. Now the revalidated sábanas and the dos caritas were of legal circulation. On 14 March the Governor of the Federal District, Gildaldo Magaña, announced that the sábanas were of forced circulation, provided that they had been revalidatedMexican Herald, 15 March 1915. The next day sub-secretary Manuel Padilla expanded on this notice, reminding people that the period for revalidation had been proroged for three months and pointing out that the sábanas needed to be revalidated within that periodMexican Herald, 16 March 1915.
On 17 March González Garza modified his 25 February decree. He said that he had originally forced businesses to take sábanas without revalidations so that the poor and the troops could buy goods as at the time of the original decree the government, in Cuernavaca, lacked the means for a quick revalidation. Now that the Conventionists had retaken Mexico City, they had the means to complete the revalidation. Besides, in Mexico City there was a mass of forgeries that only the government's experts could distinguish, so to avoid the trouble that could arise if the government forced people to accept notes of whose validity they could not be certain, he restricted forced circulation to those that had been restamped by the Secretaría de HaciendaMexican Herald, 18 March 1915.
On 22 March the Convention began the revalidation and exchange of notes, at the counters of the Tesorería de la Federacion, on the north side of the central patio of the Palacio Nacional. The first window was for quantities greater than ten pesos, where one received a receipt to collect the notes again in 48 hours. At the other window, amounts under ten pesos were changed immediatelyMexican Herald, 23 March 1915. On 23 March more than two thousand people gathered at the offices to get their notes validatedEl Radical, 23 March 1915. However, the innumerable counterfeits delayed the work of the expertsEl Radical, 29 March 1915.
As stated, the original decree of 17 December had been proroged for three months from 12 February 1915, during which period notes continued to be of forced circulation even if they did not have the revalidation and on 11 May González Garza extended the period until 12 July. All this tended to defeat the object of the exercise.
Between 18 March and 7 April 1915 the value of Villista notes revalidated in the Tesorería de la Federación was $254,647.75El Monitor, 9 April 1915 thus:
| | | |
| --- | --- | --- |
| | Number | Value |
| 25c | 1,791 | 447.75 |
| 50c | 241 | 120.50 |
| $1 | 3,985 | 3,985.00 |
| $5 | 3,619 | 18,095.00 |
| $10 | 2,353 | 23,530.00 |
| $20 | 1,026 | 20,520.00 |
| $50 | 2,488 | 124,400.00 |
| $100 | 260 | 26,000.00 |
| | 15,763 | $217,098.25 |
| miscellaneous value | | $37,549.50 |
| | | $254,647.75 |
On 18 April the Ministro de Hacienda y Crédito Publico, Luis Zubiría y Campa, reported that they had just installed four counters in the central patio of the Palacio Nacional, one for men, one for women, one for troops and the last for jefes and officials: in the Departamento de Caja there were three more counters, one for amounts up to $1,000, one for sums between $1,000 and $5,000, and a third for even larger sumsEl Monitor, 18 April 1915. On 28 April Zubiría y Campa ordered that people with small quantities of notes should be given preferential treatment as some banks and business houses had deposited between $70,000 and $300,000 and were monopolising the machines. If someone deposited $10,000 or more he had to prove it was his own money, to avoid nominees. Sums greater than $10,000 were not to be accepted, and a firm that handed in a larger quantity could only do so every ten days as the machines were working day and night, revalidating $100,000 every twenty-four hours, but still could not cope. Zubiría y Campa also arranged that each one of the expert checkers should use a seal or facsimile to mark the notes that they had checkedMexican Herald, 28 April 1915: La Convención, 3 May 1915. Such facsimile include



By 3 May 1915 the amount revalidated had grown to $820,112.25 thus:
| | | |
| --- | --- | --- |
| | Number | Value |
| 25c | 17,431 | 4,357.75 |
| 50c | 1,462 | 731.00 |
| $1 | 23,864 | 23,864.00 |
| $5 | 17,102 | 85,510.00 |
| $10 | 9,003 | 90,030.00 |
| $20 | 4,516 | 90,320.00 |
| $50 | 8,353 | 417,650.00 |
| $100 | 701 | 70,100.00 |
| | 82,432 | $783,062.75 |
| miscellaneous value | | $37,049.50 |
| | | $820,112.25 |
At the end of May 1915, because businesses were refusing to accept the large quantity of notes that were in poor condition, the Secretaría de Hacienda suggested replacing them with notes of the newer issue. As most of this money was in the hands of the poorer classes Convention President Gonzaléz Garza decided to exchange such sábanas, which, once handed in, would be incinerated. The Tesorería General, in its turn, announced that if this substitution took place, it would stop revalidating sábanas and continue revalidating just the Gobierno Provisional notesEl Radical, 28 May 1915: La Convención, 28 May 1915.
Known overprints
All denominations of sábanas except the 50c are known with the REVALIDADO overprint. Some are also known with other resellos, applied either before or after this revalidation.
Counterfeits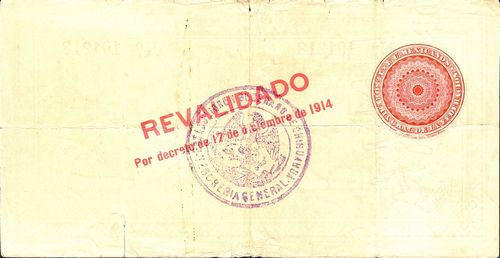 On 28 May 1915 El Monitor in Mexico City reported that numerous counterfeit REVALIDADO sábanas had appeared and that several counterfeiters had been arrested . The counterfeit seals could be recognised by their typeface and lack of facsimile signaturesEl Monitor, 28 May 1915.