The Monclova issue
Introduction
As soon as Carranza had taken the step of disowning Huerta, he realised that financing his revolution would be a problem. He could not simply requisition food, clothing and other military supplies as this action would have created social chaos and cash was needed to buy arms and ammunition from foreign sources. Carranza realised that he had to organise a fiscal system that would establish a means of payment acceptable to the people of Mexico and to obtain the gold for foreign expenditures. The banks would not help him, but anyway he was opposed to obtaining foreign loans or loans from individuals or banks because he felt this would put the revolution at the mercy of the lenders.
Officially, financing his revolution depended upon a combination of paper money, which created a public debt that did not directly affect a given group of Mexicans or foreigners, and export taxes used to obtain hard currency to spend on munitions. Roberto V. Pesqueira, on 31 March 1913, writing from Douglas, Arizona, had suggested to Carranza a common paper currency for the three northern states under Constitutionalist control for economic and propaganda purposesAIF, RM/II. I-015. Carranza's decree issued at Piedras Negras, Coahuila on 26 April 1913 'considering it the duty of all Mexicans to contribute proportionally towards the expenses of the army until the re-establishment of constitutional order, and considering finally that the best way to achieve these ends, without causing direct and material injury to the people of the country, lies in the creation of paper money' specified the creation of an internal debt of $5,000,000. All the inhabitants of the Republic were obliged to receive these notes as legal tender, and at their face value, in all civil and commercial transactions. As soon as order was re-established, laws would be promulgated on the redemption of the notes that had been issued.
The notes were printed by the Norris Peters Company who were based at 458-460 Pennsylvania Avenue, Washington, D.C. On 9 May Pesqueira, then in Washington and in charge of the issue, sent Carranza, via Félix Sommerfield, a proof for approvalAIF, RM/II. I-015 Roberto V. Pesqueira, Washington, D.C. to Carranza, Piedras Negras, 9 May 1913. Carranza, in Piedras Negras, agreed, if the paper, printing and signature were fine (en buen papel y bonita impresión y firma)AIF, RM/II. I-015 Carranza, Piedras Negras, 14 May 1913. It is strange that he mentions signature: obviously at this time he expected them to be printed on the notes.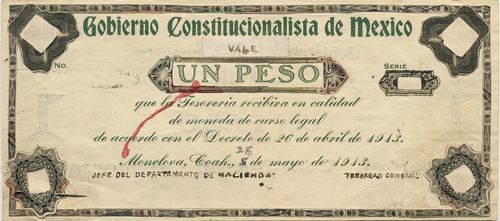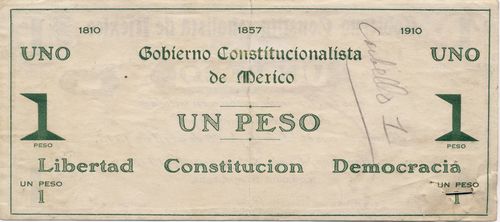 At the begining of June Manuel Pérez Romero, who worked with Pesqueira, asked Carranza, to send proofs of the signatures to be printed in facsimile on the notesAIF, RM/II. I-003 Manuel Pérez Romero, Washington, D.C., to Carranza, Piedras Negras, 11 June 19133. Carranza replied that the signatures had to be original and so told them to tell the printer to leave the spaces blank, then the notes would be validated with autograph signatures AIF, RM/II. I-003 Carranza, Piedras Negras, 17 June 1913. So the print was delayed.
On 28 December, while at Hermosillo, Sonora Carranza decreed (decreto núm. 14) a second issue of fifteen million pesos (in notes of $1, $5, $10 and $20). This decree also prohibited the use of scrip (fichas, tarjetas ó vales) as currency, with punishment for anyone who issued or used them. Finally, on 12 February 1914, while he was at Culiacán, Sinaloa, Carranza added a further issue of ten million pesos (decreto núm. 18), bringing the total at this time to thirty million pesos. By the end of March 1914 Carranza and his government had moved from Sonora to Ciudad Juárez, Chihuahua.
In his informe to Congress in 1917 Carranza said that the first five million pesos were the Monclova issue whilst the remaining twenty-five million pesos were the Ejército ConstitucionalistaInforme of Carranza, 15 April 1915. However, the Monclova issue was at least thirty million pesos, as there were at least two issues and the second order, for twenty-five million pesos, was made before the 12 February decree (see "Print runs")CEHM, Fondo XXI, carpeta 6, legajo 767.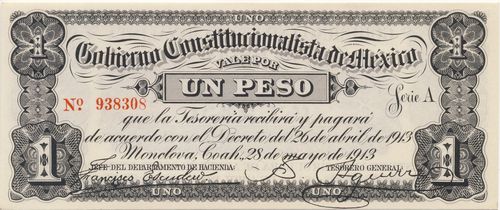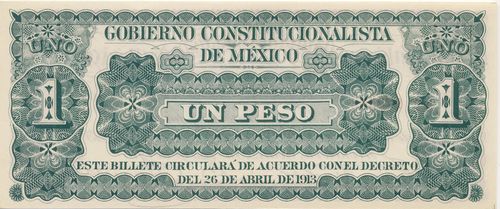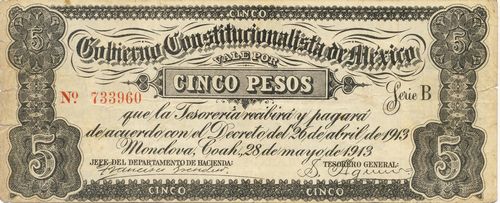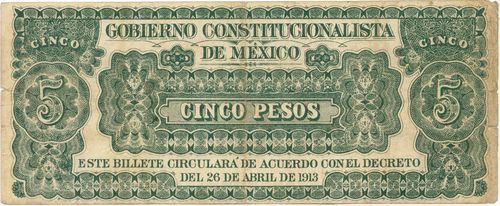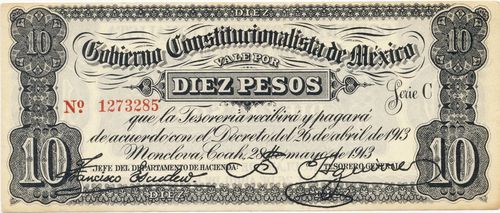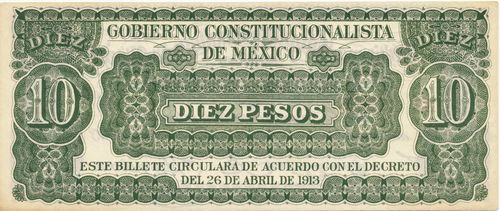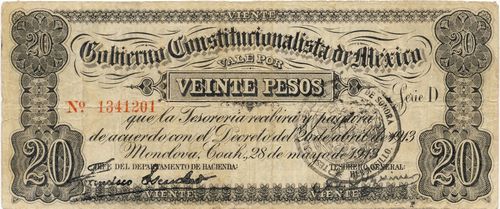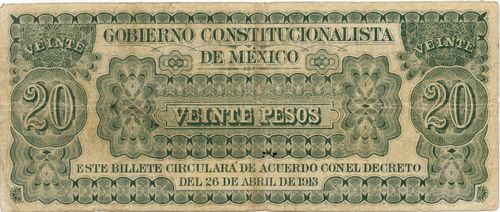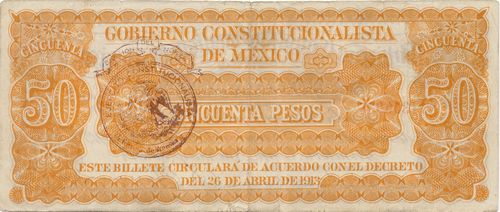 series
from
to
total
number
total
value
$1
A
1,000,000
$1,000,000
stamped signatures
includes numbers 312574 to 416974
printed signatures
includes numbers 938308
$5
B
200,000
1,000,000
small signatures
includes number 733960
larger signatures
includes number 1037511 to 1210111
$10
C
100,000
1,000.000
$20
D
50,000
1,000,000
$50
E

1350001

1359999

10,000
500,000
includes number 1350487

CNBanxico #10146

to 1358995

CNBanxico #63

$100
F

1360001

1364999

5,000
500,000
includes number 1361357

CNBanxico #10149

to 1363357

CNBanxico #59

$5,000,000
The notes were signed by Francisco Escudero, as Jefe del Departamento de Hacienda, and Serapio Aguirre, as Tesorero General.
Francisco Escudero:

In January 1914 Escudero was removed from his post for dishonourable conduct. It is said that he was given $125,000 pesos in banknotes to give to Francisco Villa as pay for his troops. $100,000 were said to have been perfectly good notes of the Banco Nacional de México and the Banco de Londres y México, while the rest were Sonoran notes. Escudero appropriated the good note for his own use and paid Villa in nothing but the Constitutionalist notesThe Mexican Herald, 7 January 1914: El Independiente, Año II, Núm. 319, 6 January 1914 tells a similar tale, but says that the sum concerned was $150,000.

Escudero returned to Washington and was replaced by Manuel Bonilla.

Serapio Aguirre was born in Ramos Arizpe, Coahuila, on 14 November 1868.

At the beginning of the 1910s he was Interventor (government-appointed auditor) of the Banco de Coahuila, and his signature appears on $20 notes dated 7 June 1910 and $10 notes dated 5 May 1912. He was the Maderista Presidente Municipal of Saltillo and then an early adherent to the Constitutionalist cause. He was appointed Tesorero General on 25 June 1913 when Carranza was in Sonora but removed from office in July 1914.

He was later director of the Oficina Reselladora in Veracruz and of the Oficina Impresora del Timbre. He served for two years and was then, in October 1917, appointed Administrator of the customs at Ciudad JuárezEl Pueblo, Año III, Núm. 1082, 29 October 1917.

He died on 13 April 1949, in Mexico City, at the age of 80.
Consignments to Sonora
On 23 August 1913 the first shipment of $1 Monclova money from Washington to Mexico was seized by the military authorities at Eagle Pass, Texas, as a contraband of war Dallas Morning News, 24 August 1913.The authorities had advance notice when the money would arrive and the Commanding Officer seized one box after a citation was issued against The Wells-Fargo Express Company by the District Court of Maverick County, Texas. He took steps to transfer the case to the United States Court by proceeding against Luis Meza Gutíerrez, the Constitutional consul in Eagle Pass, who was the consignee, and having the United States Commissioner issue a subpoena duces tecum to the Military Officer. Later, seven additional boxes, weighing 140 pounds each, arrived and were also seized Dallas Morning News, 27 August 1913. An affidavit was filed before the United States Commissioner against Gutíerrez, charging a violation of President Taft's proclamation under the Joint Resolution of 14 March 1912. A preliminary hearing was set for September 1SD papers, 812.5157/8 and 812.5157/9. The legal question at stake was whether the American government should confiscate the shipment as "munitions" or "contraband" (see "The legal status of the Monclova issue"). The case was referred to the Federal court at Del Rio, with a Mr. Belden representing the Constitutionalists. On the advice of the Acting Secretary of State, John Basset Moore, the Department of Justice did not argue that the money were "munitions of war" but, rather, that the United States had an international obligation to prevent its exportation and circulation in Mexico because of the great harm it could causeAIF, memorandum of S. G.Hopkins to Pérez Romero, Constitutionalist agent, Washington, 14 October 1913. However, the court ordered that the money be turned over to the Constitutionalists. The Department of Justice declined to appeal the decision, so on 10 January 1914 the military commander handed over the moneySD papers, 812.5157/40. On 2 September Francisco Escudero wrote from Washington to Alfredo Álvarez, at Piedras Negras. Referring to the notes he said that a decision on whether they were contraband was expected within the next week and so they should wait before deciding how to get them across the border. If they were deemed contraband, the difficulty would be at the bridge at Eagle Pass, and people taking them to Sonora would continually run the risk of arrest for violating the neutrality laws. The safest course would be to send them through the post in small packages addressed to different people (AIF, ).. On 18 January Carranza instructed Carlos M. Esquerro to pay Samuel Belden in San Antonio $216.77 (U.S. dollars) for freight charges for Constitutionalist notes CEHM, Fondo MVIII telegram Carranza, San Blas to Carlos M. Esquerro, Hermosillo, 18 January 1914; telegram Carranza San Blas to Samuel Belden, San Antonio, 18 January 1914, Belden as based in French Building, San Antonio, Texas, which were probably these notes.
In January 1914 Sonora received a consignment of Constitutionalist paper currency. This new issue was said to have been issued "primarily" by CarranzaEl Paso Morning Times, 2 February 1914, ranged in values from $1 to $1000, and was engraved and printed in New YorkDouglas Daily Dispatch, 18 January 1914 though other reports referred to "fiat money recently purchased in bales from an engraving company at Washington, D. C."The Bisbee Daily Review, 11 February 1914. The Albuquerque Journal, 19 January 1914, said that the money "was shipped from Washington". "The new issue is by far the best which has yet made its appearance in Sonora, being printed on an excellent grade of linen paper, handsomely engraved and bearing close resemblance to the currency of the United States. The issue is for the purpose of replacing the provisional issue now current in the state of Sonora, which is of extremely poor make and easily counterfeited"Douglas Daily Dispatch, 18 January 1914.
Given the fact that the Eagle Pass consignments had just been released, it might be thought that they were the notes sent to Sonora and this could be the first actual appearance of the Monclova issue in Mexico. However, this in turn raises serious questions such as why were the consignments shipped back to Washington (or New York) and, more importantly, what paper currency did the Constitutionalists use between August 1913 and January 1914. However, there is sufficient evidence that the Monclova notes were already in circulation, Thus, on 4 April 1914 J. Curtis of El Paso, "considered the most expert specialist in Mexican constitutionalist money in the United States" gave a newspaper interview, in which he mentioned that " the Carranza issue is what is known as the Monclova money and takes its name from the fact that it was issued under a decree signed at Monclova, Coahuila in May, 1913. This money has now been in circulation a year and for that reason, has always had a firmer and better established market than the fiat currency of the military genius, Francisco Villa of northern Mexico. This money has sold as high as 33 cents on the dollar, United States gold and as low as 15 cents, during the days of depression and doubt as to the success of the Carranza government in the north but its price has at all times remained firmer than that of the Villa money, and the thirty million now issued has probably been bought and sold at an average price of 25 cents or better, which has netted Carranza officials about seven and one-half million dollars, United States currency, for the sinews of war"Albuquerque Journal, 4 April 1914. Curtis was mistaken that the money had been in circulation for a year, but it must have been for more than a couple of months and another reference dates it to before November 1913. An American newspaper reported that on 27 November Villa posted orders in Ciudad Juárez demanding that merchants accept in payment for merchandise the "fiat money issued by the State Governments of the States of Coahuila, Sonora and Monclova". Merchants at first refused to take the bank notes, but when threatened with prosecution and confiscation of their stores many readily agreed to take the moneyDallas Morning News, 28 November 1913. The Huertista Correo de la Tarde in Mazatlán mentions the Monclova issue in use in Tepic in January 1914 (El Correo de la Tarde, 20 January 1914).
Several consignments seem to have come to grief, which suggests poor packaging or, possibly, the interest of the U.S. secret service. On 12 January one of two steamer trunks checked as the baggage of Pesqueira and shipped from Washington to New Orleans came open at Greensboro, North Carolina and was found to contain "Mexican Green Back Bills". The Southern Railway Company informed the government but the State Department and Department of Justice decided that, in view of the court decision on the money seized at Eagle Pass, there was no legal authority to interfereSD papers, 812.5157/41; 812.5157/42.
Two trunks containing $10,000,000 were checked in at New York as personal baggageThe Bisbee Daily Review, 20 January 1914. Poncho (sic) Elías of Douglas was in charge of escorting this new money from New York to Hermosillo (The Bisbee Daily Review, 21 January 1914). The money was in five, ten and twenty pesos notes and weighed 1,290 pounds (Rockford Morning Star, 18 January 1914). On 14 January the money was seized by secret service officials in Chicago, under the command of Captain Thomas I. Porter, but later released for shipment to Nogales. It had come to the government's attention when railroad officials opened the cases to see if the shipment had been billed properly. Capt. Porter said representatives of the United States District Attorney's office took the view that as the American government did not recognise any government in Mexico, the money could not be considered counterfeitWashington Times, 18 January 1914; Albuquerque Journal, 19 January 1914; Los Angeles Times, 19 January 1914.
At Houston, one of the trunks burst open and notes started to sift outThe Bisbee Daily Review, 20 January 1914. Reports from El Paso suggested that the trail of notes would reach a thousand miles or moreDouglas Daily Dispatch, 18 January 1914. Railroad officials, unwilling to bear the responsibility of carrying so much currency, and interstate laws providing only for the checking of personal effects as baggage, transferred both trunks to Wells Fargo. The consignees picked up the trunks at Douglas on 17 January 1914 The Bisbee Daily Review, 20 January 1914 and took them across the border for shipment to HermosilloThe Bisbee Daily Review, 21 January 1914. Again the currency was not seized at Douglas before crossing the border, because as the United States did not recognise any Mexican government, the notes could not be considered counterfeitThe Bisbee Daily Review, 20 January 1914.
The Bisbee Daily Review reported that there was no manner of knowing how much had been lost until the money had been received at the Hermosillo state treasury and checked with the original invoice. It was stated, however, that the loss had been greatly exaggerated, and the state of Sonora would only forfeit the cost of printing the money, as none of the currency had been signed and could not be passed in Sonora, or in the United States either before or after being signedThe Bisbee Daily Review, 21 January 1914. However, Associated Press reported that after a careful count Sonora officials said the shortage amounted to a little over $250,000Los Angeles Times, 19 January 1914. The lost notes were all of $1000 denomination (sic) (Tucson Daily Citizen, 20 January 1914).
Several thousand dollars in the new currency, minus the signatures, appeared in Douglas in the hands of Americans who were keeping them as souvenirsThe Bisbee Daily Review, 20 January 1914 and it was later reported that the currency had fallen into the hands of unscrupulous officials who had forged the signatures upon the paper and then sold it in bales at ten to twenty cents on the dollarSpokane Daily Chronicle, 28 January 1914. By 27 January the notes with forged signatures had made their appearances in Cananea in large amounts. One firm (no doubt the Cananea Consolidated Copper Company) reportedly took in $2,200 worth of the money in one day, $1,500 of which was condemned as forgedOn 24 January the various departments of the Cananea Consolidated Copper Company had taken in $1,500, of which $800 turned out to be false (AGHES, Fondo Oficialidad Mayor, tomo 3016). W. D. Gooch, the Cananea Consolidated Copper Company's manager, decided that the company could not continue receiving notes until the government took the necessary measures so that the counterfeits could be easily identified and on 26 January refused to accept it. Gooch and two of his clerks were arrested and imprisonedAGHES, Fondo Oficialidad Mayor, tomo 3016. An alternative version has just two Americans, Gooch and Arthur Clothier (SD papers,812.5157/46; 812.5157/47) , though they were released through the efforts of the U. S. consular agent, Charles L. MontagueSD papers, 812.5157/45 report of consul Simpich, Nogales, 30 January 1914.
The notes bearing forged signatures were also promptly repudiated by the large Chinese firms in Cananea. Within an hour more than fifty arrests were made, including Americans, on a charge of refusing to accept the legal tender of the Constitutionalists. Several more were thrown into jail for referring to the notes as "billambiques." Although attempts were made to keep these facts from the public, within a day it was known that something was wrong in all parts of the state and then trouble beganLos Angeles Times, 2 February 1914.
On 21 January 1914 Aguirre sent Carranza a list of the funds that he had, including $476, 662 in Gobierno Constitucionalista de México notesCEHM, Fondo MVIII Aguirre, Hermosillo to Carranza, Mocorito, 21 January 1914 and the next day he was reporting that P. Fontes, in Nogales, was asking to buy $50,000 in notes at 34 centavos goldCEHM, Fondo MVIII telegram Aguirre, Hermosillo to Carranza, Culiacán, 22 January 1914. On 23 January Carranza was asking Aguirre the total amount of notes that he had received from Washington CEHM, Fondo XXI-4 and Fondo MVIII Carranza, Culiacán to Aguirre, Hermosillo, 23 January 1914. On the same day Aguirre reported receiving a trunk (petaquilla) that Francisco S. Elias has brought from Washington containing $77,200 in $100 notes, $126,200 in $50.00, and around $40,000 in $1 notes CEHM, Fondo MVIII telegram S. Aguirre, Hermosillo to Carranza, Culiacán, 23 January 1914. On 24 January Aguirre reported that he had in total received $2,579,060 CEHM, Fondo MVIII telegram Aguirre, Hermosillo to Carranza, Culiacán, 24 January 1914.
On 25 January Aguirre reported that the notes he had included $305,220 in authorised 'billetes Constutucionalista' and $245,554 in unauthorised notesCEHM, Fondo MVIII telegram Aguirre, Hermosillo to Carranza, Culiacán, 25 January 1914. Presumably the authorization referred to stamping the notes with the two signatures.
On 27 January Ignacio L Pesqueira wrote to Carranza from Cananea that the number of counterfeit notes was causing alarm. He suggested as a remedy that Carranza forbid the use of a facsimile for the signaturesCEHM, Fondo MVIII telegram Ignacio L Pesqueira, Cananea to Carranza, Culiacán, 27 January 1914. Carranza replied that Pesqueira should investigate the source of the false notes since they could be part of the ones taken from the last consignmentCEHM, Fondo MVIII telegram Carranza, Culiacán to Ignacio L Pesqueira, Cananea, 27 January 1914.
The Los Angeles Times reported from Cananea that until the end of January 1914 Constitutionalist money circulated almost on a par with Mexican banknotes, using silver as a basis for circulation, but the fact that the Constitutionalists secretly had imported $10,000,000 more of their money and that several hundred thousand dollars of this amount had been stolen or lost whilst in transit, caused a slump in exchange which terrified businessmen and caused many of them to throw up their hands. More than forty large foreign commercial houses had closed their doors on the night of 31 January 1914, and filed schedules of their assets with American consular agentsLos Angeles Times, 2 February 1914.
Following the arrests of Gooch and his clerks advices were received in Cananea that the entire issue of the new currency had been declared null and void, the judges of the first instance notifying all firms and individuals that its circulation had been forbidden by the governmentTucson Daily Citizen, 29 January 1914. Since large sums of the new issue had been put into circulation by the government almost every individual and firm in Cananea was caught in the squeeze, having the script in their possession and forbidden by law to dispose of it. From a financial and business standpoint affairs in Cananea were in chaos, no one knowing what to accept as currency with the exception of the Bank of Bisbee's small denomination notes. Naco and Nogales were also advised of the new regulation prohibiting the circulation of the new issue and the effects were the same. Merchants in Naco, Arizona who had made arrangements with the authorities for the redemption of the fiat money on the Mexican side of the line were caught holding large amounts, which they were unable to exchangeTucson Daily Citizen, 29 January 1914.
Businessmen asserted that they were obliged to pay gold for imports from the United States and that the American jobbing houses would have nothing to do with the fiat notes in circulation in the territory controlled by the Constitutionalists. The American consulates at Nogales and Hermosillo, Sonora, were besieged with businessmen of all nations, asking advice, but the American representatives were at a loss, owing to the apparent absence of any well-defined policy on the part of the State Department at Washington. As a result, a large number of German concerns, as well as the majority of Spanish and American business houses, decided to close until there was some semblance of law and order and a basis of stability in the forced currencyLos Angeles Times, 2 February 1914.
There were numerous accusations of graft against Constitutionalist officials for this fiasco, they being charged with selling large amounts of the issue to speculators for 10 to 20 cents gold on the dollar and pocketing the money. The allegations even extended to Carranza and his cabinet, who were reported to have disposed of large sums before the issuing of the order prohibiting its further circulationDouglas Daily Dispatch, 28 January 1914.
However to disown the entire issue would have put the finances of the whole Constitutionalist movement in jeopardy and the judges' decree was quickly rescinded. On 31 January 1914 the Constitutionalist agent in Nogales, Ives G. Lelevier, received a telegram from Ysidro Tavela, minister of foreign affairs, that the state government has not repudiated the issue and that it must be accepted in accordance with decree núm. 1, in all the Constitutionalist territory. Lelevier said: "The government simply placed a ban on the money which was lost and which had been found and fraudulently signed by persons without authority. Every dollar of the script aside from this is good, according to the provisions of the decree which was officially issued when the issue was authorised. The report that the Carranza government has repudiated its own action has never had a scintilla of truth, and the only basis for such report that I can imagine is that the promulgator of the news was mistaken and took the fact that we had repudiated the money which was lost to mean that the whole issue was placed under ban."Douglas Daily International, 31 January 1914.
The notes with forged signatures continued to circulate. In late February Torres-Saldana of the treasury and stamp department inspected the money in circulation in Agua Prieta, and seized 4,000 pesos on which the signatures were forgeries. This was supposed to have been part of the shipment which was lost in transitsTorres-Saldana was called upon by a local businessman who was about to purchase $10,000 in the money from a Texas bank to judge the genuineness of a "sample" package of 400 pesos. The inspector declared that there were forged signatures and expressed the opinion that the notes were part of those lost in transit. The merchant therefore returned the sample and was going to look elsewhere for his proposed purchase (Douglas Daily Dispatch, 27 February 1914: El Paso Morning Times, 27 February 1914). It was reported, according to consul Levelier, that as the Constitutionalists were so worried over the recent discovery of many thousands of pesos of counterfeit currency, they had decided to recall the present issue and replace it with a new currency. This new currency had already been ordered in New York. Again, it was understood there would be $10,000,000 in the new issue of denominations ranging from $1 to $100, the design closely resembling United States paper currencyEl Paso Morning Times, 27 February 1914: Tucson Daily Citizen, 28 February 1914. This is a reference to the Ejército Constitucionalista issue.
On 31 January Frederick Simpich, the American consul in Nogales, was asking the Secretary of State to authorize him to advise Americans not to accept the currency. He also wanted to know what reply should be made to German, Chinese and other foreign merchants who faced prison on refusal to accept the currency and who had appealed to the American Consulate for advice and assistanceSD papers, 812.5157/46.
On 7 February Charles Montague, the American agent in Cananea,reported that the trouble was continuing and that American officers of the Cananea Copper Company and American merchants in Cananea would have been imprisoned if he had not insisted that they accept fiat money only until he could get a ruling from the State Department. Montague reported that were supposed to be no counterfeit notes, but that packages of printed money were lost or stolen before issued and signatures had been forged on such money. This resulted in circulation of many notes with forged signatures. The Constitutionalist government issued many notes with but one signature and enforced circulation when it was claimed that notes with but one signature were invalid. Holders of such notes forged the missing signatures. Many notes claimed by authorities in Cananea to be bad had since been validated by the prefect who affixed the official stamp of the prefectura on the back of notesSD papers 812.5157/47 report Simpich, Nogales, to Secretary of State, 12 February.
On 28 March Simpich was still asking for instructions, though by that time the situation had been exasperated by the appearance of counterfeit Villista notesSD papers 812.5157/50 report Simpich, Nogales, to Secretary of State, 28 March. On 30 March the State Department replied that in response to concerns raised by the U. S. consul in Hermosillo, Carranza stated that he regretted injury to foreigners caused by the edict regarding fiat money, but that he could not exempt foreigners and that if "foreigners feel it is impossible to comply with edicts issued due to conditions of actual war it might be best for them to close their business for the present". The Department felt it would be useless to make further protest and saw no other alternative for American merchants who did not want to accept the fiat money than to discontinue businessSD papers, 812.5157/50 telgram Bryan to Simpich, Nogales 30 March 1914.
On 8 February the Fort Worth Star-Telegram reported that a million dollars in $1 Constitutionalist notes was being held by United States officials in Brownsville, having been seized when about to be carried across the Rio Grande bridge. Mexicans were carrying the currency in two heavy suit casesFort Worth Star-Telegram, 8 February 1914.
On 14 February 1914 Carranza wrote from Culiacán acknowledging receipt of the last of the strongboxes of notes that Robert V. Pesqueira had sent care of Gabriel Corella, in NogalesAIF, F9-39-III, so RM/II. I-015 letter Carranza, Culiacán to Roberto V. Pesqueira, The Burlington, Washington, D. C., 14 February 1914.
Withdrawal
On 8 December 1914 Carranza decreed that from 1 April 1915 various issues would cease to be legal tender within the area dominated by his forces and would be exchanged by the Secretaría de Hacienda. These included the Monclova notes. However, a month later, on 16 January 1915 because of the large number of counterfeits that had appeared and the difficulty that the public had in recognising them Carranza decommissioned the Monclova issue. The Tesorería General de la Nación would exchange any genuine notes.
On 4 November 1915 the governor of Sinaloa, Manuel Rodríguez Gutiérrez told his Tesorero General that General Diéguez had said that as the circulation of the Monclova notes had been declared at an end, they should be exchanged at the earliest opportunityPeriódico Oficial, Sinaloa, Tomo VI, Núm. 104, 6 November 1915.