Nacogdoches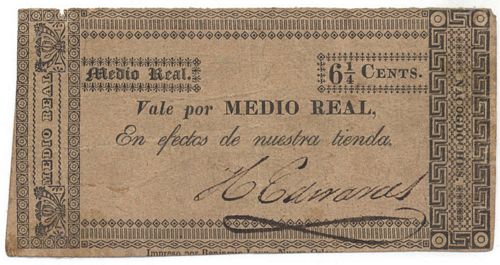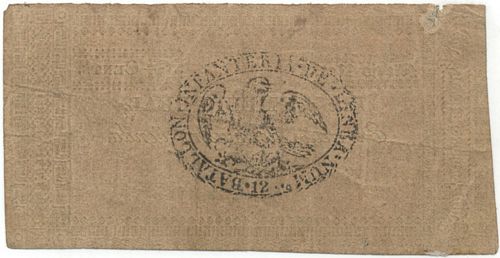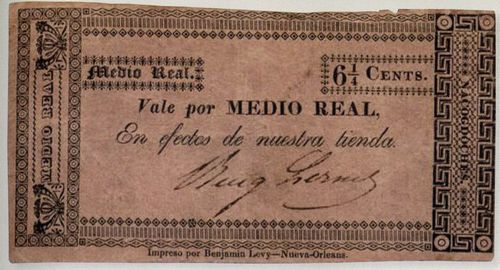 These notes were printed by Bejaimin Levy of New Orleans and used for trade in a store in Nacogdoches. The only known value is for ½ real or 6¼ centavos.
Following an abortive rebellion the Mexican government sent its 12th Battalion to reinforce Nacogdoches. Colonel José de las Piedras took command of the garrison shortly after his arrival in April 1827 and stayed until 1832 when he surrendered his command to his officers who declared their allegiance to Santa Ana. At least one of the notes bear a validation seal with a Mexican eagle and the legend 'BATALLON INFANTERIA DE LINEA NUM. 12'
The known signatories are Rueg Lenard and H. Edwards.
| | |
| --- | --- |
| Lenard Rueg was the father of Henry and Louis Rueg. These brothers were born in Switzerland and came to the United States in 1818. They traded horses and mules in East Texas before opening a store in Nacogdoches. | |
| Haden Edwards was a pioneer settler and prominent land speculator from Virginia who travelled to Mexico City in 1823 to seek an empresario contract with Stephen Austen and others. Following the passage of the colonisation laws Edwards received a grant in the vicinity of Nacogdoches to locate up to 800 families. After disputes with his neighbours, Edwards was expelled a couple of years later. With others he attempted to separate the area around Nacogdoches and declared independence on 26 December 1826. Less than a month later the rebels were forced across the Sabine river into Louisiana by Mexican troops. | |