The Lerdo to Torreón Tram Company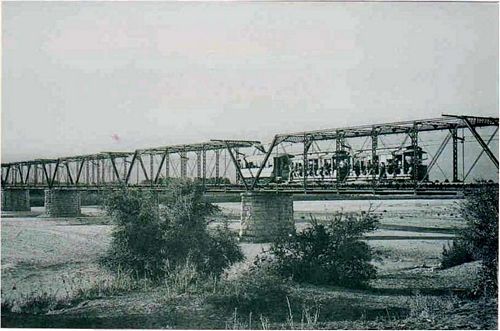 In 1889 a five kilometre horsedrawn street car route was established between the town of Lerdo and the Mexican Central Railroad station in Gómez Palacio, both in the state of Durango. A decade later, on 4 June 1898, a local poet named Manuel José Othón secured a franchise to electrify the Lerdo line and extend the tramway to Torreón. Construction began on 16 September 1899 and the Compañía de Tranvías de Lerdo a Torreón ordered four closed motor trams, four cross-bench trailers and five work cars from J. G. Brill in Philadelphia on 26 May 1900. The first five kilometres, from Lerdo to Gómez Palacio, began operation on 3 March 1901 and the track was extended across the Río Nazas to the railroad station in Torreón on 3 July 1901. The company ordered further passenger trams from Brill in 1901 and from the St. Louis Car Company in 1903. By 1904 it had a fleet of 23 vehicles.
A second organization, the Compañía de Electricidad y Tranvías de Torreón, purchased five passenger trams and four work trams from the American Car Company in St. Louis and opened a local streetcar system in Torreón in December 1904. This company merged with the Compañía de Electricidad y Tranvías de Torreón in 1905 and renamed itself Ferrocarril Eléctrico de Lerdo a Torreón.
In mid 1913 the company began to issue vales. We know of a 25c note[image needed], series H, number 25992, dated 22 August 1913, the same style as the Compañía Algonodera note with the same clause 4 printed on the reverseRichard A Long, Mail Auction Sale, November 30, 1974, p. 44, under Durango.
series
from
to
total
number
total
value
25c
H
includes number 25992
In view of the variety of paper money circulating in the Comarca Lagunera, on October 15 the military authorities in Torreón decided that the only ones with forced circulation would be bank-on-bank cheques and the issues of the Compañía Industrial Jabonera, the Compañía Algodonera and the Ferrocarriles Eléctricos. Unfortunately, they forgot to mention the state issue and so on 18 October had to issue a correctionEl Demócrata, Segunda Época, Tomo II, Núm. 22, 26 October 1913. Pastor Rouaix, the governor of Durango, issued a circular detailing all the issuesPeriódico Oficial, Durango, Tomo XXXVIII, Núm. 61, 6 November 1913.
On 10 February 1914 the Jefe Político of Cuencamé, Martín Martínez, wrote to the state government to ask about various issues circulating in his area (including the Cia. Industrial Jabonera de la Laguna, S. A., Ferrocarril Eléctrico de Lerdo a Torreón, S. A., Francisco Madero, Federico Ritter, and Guillermo Purcell y Cia.) and was told that only those of the Ferrocarril Eléctrico were of forced circulationADur, Fondo Secretaría General de Gobierno (Siglo XX), Sección 6 Gobierno, Serie 6.1 Acuerdos, caja 1, nombre 3.
Small pasteboard cartones are reported known in the values of 2[image needed], 5, 10, 12[image needed], 25[image needed] and 50 centavos.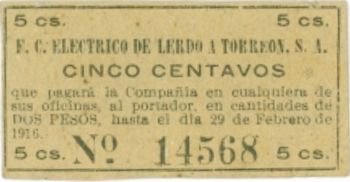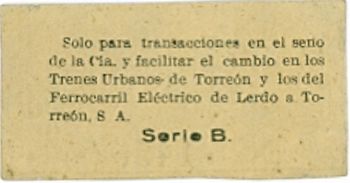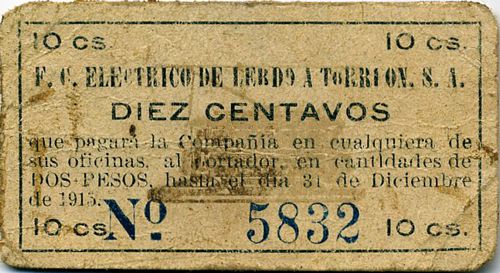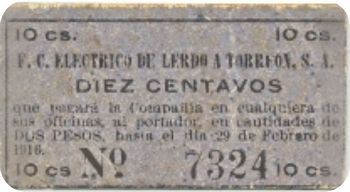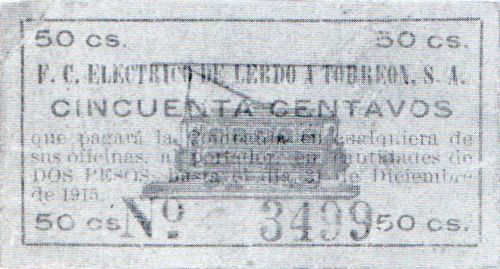 series
to
from
total
number
total
value

2c

5c
A
includes number 18681

CNBanxico #10218

B
includes number 14568

CNBanxico #140

10c
A
includes number 5832

CNBanxico #10219

B
includes number 7324

CNBanxico #141

12c

25c

50c
A
includes number 3499
Series A were redeemable in multiples of two pesos, up to 31 December 1915, Series B up to 29 February 1916.
On 9 May 1916, in response to a request from the company's manager, León Branger, the Presidente Municipal of Torreón authorised the Ferrocarril Eléctrico de Lerdo a Torreón to issue a series of vales with a total value of $10,000. The terms, which were no doubt similar to the terms in previous authorizations, were that the company had to deposit $10,000 in the Municipal Treasury; the vales were for use on the company's trams and nowhere else and the police were authorized to confiscate any that contravened this condition; the Presidente Municipal would decide for how long the vales would circulate, and the company would give the public a month's notice of their withdrawal. Finally, any of the $10,000 that was not redeemed would be used for the public goodAMTor, Copiador de Presidencia Municipal 3, pagina 518. On 11 May the Presidente Municipal. Ramón Méndez, named Antonio Gutiérrez interventor to oversee the production of the valesAMTor, Copiador de Presidencia Municipal 3, pagina 602 and the $10,000 surety was deposited by Isauro Martínez in the municipal treasuryAMTor, Copiador de Presidencia Municipal 3, pagina 603.
Was this later issue put into circulation?