Branches (Acapulco - Colima)
Acapulco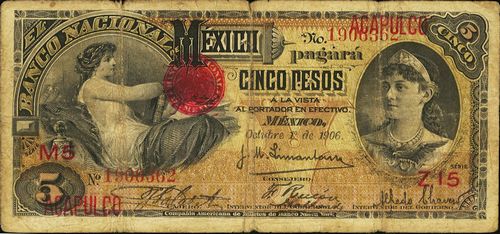 Aguascalientes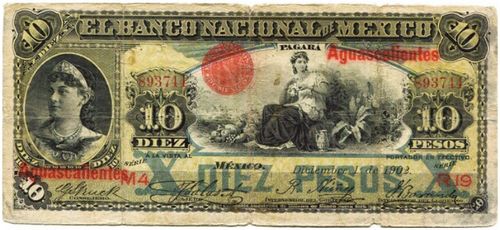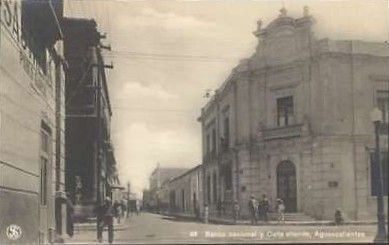 On 9 July 1904 the state legislature signed an agreement[text needed] with José Maria Castelló, apoderado of the bank, for the establishment of a branch in the city of Aguascalientescontract published in El Republicano, 7 August 1904. In return the bank promised to put its notes into circulation.
Autlan

The Banco Nacional de México opened a branch in Autlán in July 1906. The Consultor was Clemente González; Gerente Enrique Torres Pastor and Cajero-Contador José R. AvalosEl Tiempo, Año XXIV, Núm. 7714, 7 July 1906.
Bravos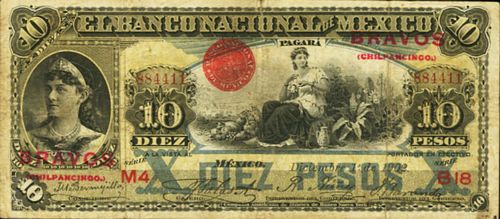 Campeche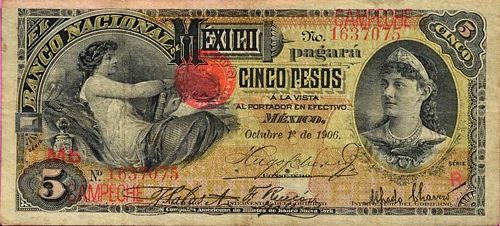 Chihuahua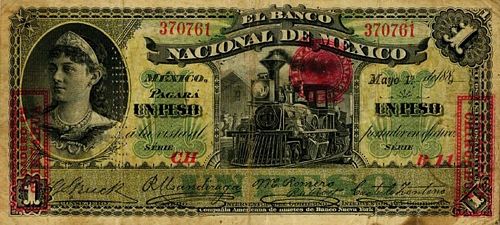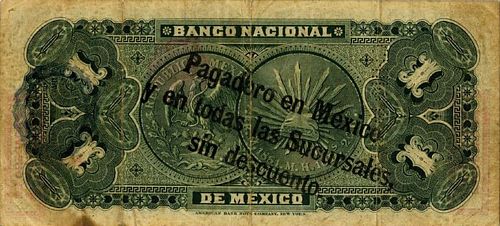 In 1883 the sole agents for the Banco Nacional were Ketelsen and Degetau, who were merchants, commission dealers, forwarders. importers and brokers. Their Chihuahua store was at Libertad and Guadalupe Victoria Emilio Ketelsen and Benjamin Detegau were Germans, who had been in Chihuahua since the 1870s. Emilio married Laura Müller, the daughter of Enrique Müller. The store had branches at Cusihuiriachic, Ciudad Juarez and El Paso (Nuevas Casas Grandes in 1905).
The Chihuahua branch was established in March 1885, with an Englishman, Santiago (James) Wastall, as manager, Pedro G. Valdés as cajero, and the Germans Enrique Müller and Emilio Ketelsen and the Frenchman, Ulises Bezaury, forming the board (Junta de Vigilancia). Federico Sisniega took over as manager in 1888Sisniega was a Spanish immigrant who came to Mexico in 1874 and had worked in the Guanajuato branch of the Banco Mercantil Mexicano and the Guadalajara branch of the Banco Nacional de México (first as cajero primero and then as gerente) before taking over the Chihuahua branch in 1888. Alongside his management of the bank, Sisniega soon extended his interests into cattle, agriculture, food production, textiles, transport and mining, helped by a marriage to Luis Terrazas' daughter, Amada Terrazas Cuilty. In 1900 he was Spanish vice-consul and from 1910 until December 1913 consul..
Ciudad Guzman

Ciudad Juárez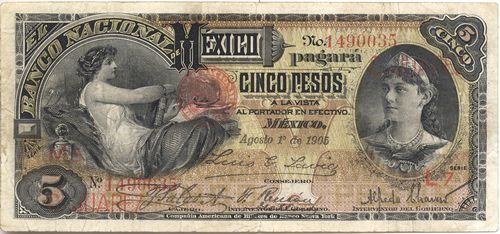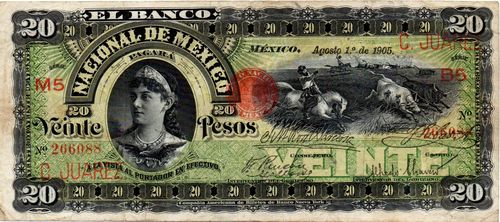 Ciudad Victoria

Colima