Branches (Cordoba - Hermosillo)
Cordoba
Cuernavaca
Durango
The branch opened its doors in November 1890, six months before the Banco de Durango
Guadalajara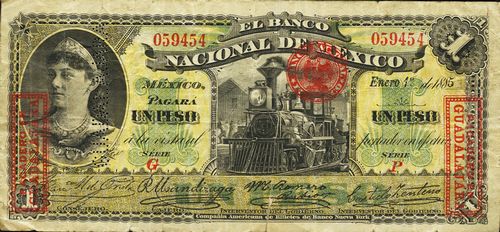 The branch opened on 18 September 1884, the first for the new Banco Nacional de México, with an initial consignment of $200,000 in notesEnrique Pomier was the branch manager until 1886 and then Federico Sisniega during 1887 and 1888.
Guanajuato
The bank inherited the existing branch of the Banco Nacional Mexicano that had opened in 1882.
Guaymas
The bank established a branch in Guaymas in 1895. The consultor was Guatimoc A. Iberri, manager Joaquín Naranjo, cajero Mariano Somoza and contador Francisco I. RamírezYet F. A. Aguilar Sucesores of calle del Muelle could advertise themselves as agents for the Banco Nacional in 1898 (El Correo de Sonora, 9 February 1898).
Hermosillo
In Hermosillo both Rafael Ruíz and F. Loaiza y Cia were agents for the Banco Nacional de MéxicoRafael Ruíz's 'La Fama' lost its agency for the Banco Nacional when his son, Rafael, supported Dionisio González against Ramón Corral in the 1901 elections. Ruíz pleaded to Corral that he was unable to control his son, but in vain..
The bank established a branch in Hermosillo in 1888. The consultor was Filomeno Loaiza, manager Enrique de la Peña and cajero-contador Emilio Clausen. By November 1905 the branch was managed by J. NaranjoEl Centinela, 18 November 1905.