$500 notes of the Banco de Londres y México
The stock vignette used for the back of the $500 note was entitled "Horse Fair".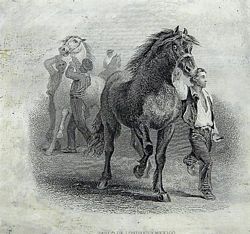 This engraving was taken from a painting of this title by French artist Rosa Bonheur (1822-1889). The painting debuted at the Paris Salon of 1853, and was gifted by Cornelius Vanderbilt in 1887 to the Metropolitan Museum of Art in New York, where it presently resides.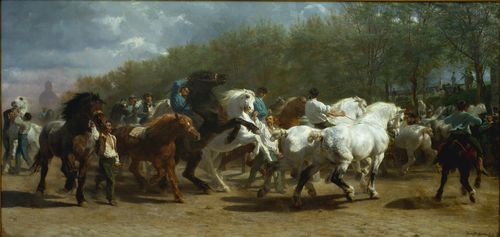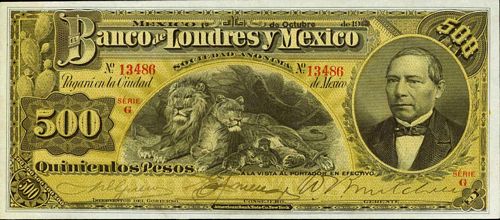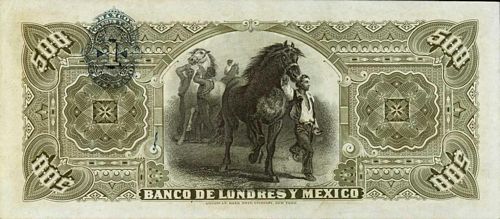 Date issued
Date on note
Series
from
to
Interventor
Cajero/
Consejero
Gerente
comment
1889/22 July 1896
A
0001
Landâzuri
Aspel
Waters
includes numbers 0078 and 0214
1 July 1889
Landâzuri
Herrera Zamora
Waters
includes numbers 2700 and 3702
5000
1 July - 1 December 1897informe of Interventor Landázuri, 27 February 1898 in Memoria de las Instituciones de Crédito, 1897-1899
1 July 1897
B
0001
2000
Landâzuri
Braniff
Waters
includes numbers 0050

CNBanxico #10441

to 1708

CNBanxico #57095

1 January - 30 June 1898informe of Interventor Landázuri, 30 June 1898 in Memoria de las Instituciones de Crédito, 1897-1899
2001
2500
includes number 2293

CNBanxico #57097

Authorised and signed January - June 1902informe of Interventor Chavero, 4 July 1902 in Memoria de las Instituciones de Crédito, 1900 but not issued by December 1902informe of Interventor Chavero, 10 January 1903 in Memoria de las Instituciones de Crédito, 1902
2501
3500
Chavero
Braniff
10 January 1903
C
Chavero
González Cosio
Mitchell
includes number 2595

CNBanxico #10444

overprinted DURANGO
includes number 2790

CNBanxico #57085

5 January 1909informe of Interventor F. Cortina, 20 July 1909
50 notes issued
15 March 1909
C
Cortina
González Cosio
Mitchell
includes numbers 3611 to 4416
1 April 1909informe of Interventor F. Cortina, 20 July 1909
400 notes issued
14 June 1909informe of Interventor F. Cortina, 20 July 1909
400 notes issued
18 June 1909informe of Interventor F. Cortina, 20 July 1909
200 notes issued
1 July 1909
E
Cortina
González Cosio
Mitchell
includes numbers 4537

CNBanxico #57117

to 6038
includes numbers 6177

CNBanxico #57093

to 6257

CNBanxico #57090

overprinted Veracruz
includes numbers 6444

CNBanxico #57124

to 7479

CNBanxico #57094

30 April 1910informe of Interventor F. Cortina, 20 July 1910
1,600 notes issued
30 April 1910informe of Interventor F. Cortina, 20 July 1910
E
200 notes issued for Veracruz
11 October 1910informe of Interventor F. Cortina, 25 January 1911
1 October 1910

includes number 13462
1,000 notes issued

16 January 1911informe of Interventor F. Cortina, 20 July 1911
200 notes issued
1 May 1911
F

8500

Cortina
Mitchell
includes numbers 7591

CNBanxico #57262

to 8437

CNBanxico #57277

8501

González Cosio
includes numbers 8516

CNBanxico #57268

to 9449

CNBanxico #57267

1 October 1912
G
Elguera
Sainz
Mitchell
includes numbers 11942

CNBanxico #57100

to 17934

CNBanxico #57103

Domenge
includes number 22040

CNBanxico #57101

1 October 1913
G
Elguera
Domenge
Mitchell
includes numbers 9528 to 9773
Domenge
includes numbers 10301 to 10367
Sainz
includes number 10437
Sainz
includes numbers 11379 to 12163
Domenge
includes numbers 12301 to 13098
Domenge
includes numbers 13209 to 13265
Domenge
includes numbers 13449 to 13556
Sainz
includes numbers 13613 to 13641
Domenge
includes numbers 13702 to 13775
Sainz
includes numbers 13803 to 14136
Domenge
includes numbers 14209 to 14289
Sainz
includes numbers 14358

CNBanxico #57005

Sainz
includes numbers 14919 to 14994
Domenge
includes numbers 15061 to 15295
Sainz
includes number 15326
Sainz
includes numbers 15704 to 15909
Domenge
includes numbers 16025 and 16176
Domenge
include numbers 16307
Domenge
includes numbers 16402 to 16499
Domenge
includes numbers 16673 to 16734
Domenge
includes number 16894
Sainz
includes numbers 16986 to 16975
Domenge
includes numbers 17359, 17437 to 17452
Sainz
includes numbers 17501

CNBanxico #10443

to 17740
Sainz
includes numbers 17917 to 18199
Sainz
includes numbers 18334 to 18484
Domenge
includes numbers 18509 and 18735
Sainz
includes number 18891

CNBanxico #57004

Domenge
includes numbers 18923 to 18977
Domenge
include numbers 19458
Domenge
includes numbers 20701 to 20856
Sainz
includes numbers 21149 to 21151
Domenge
includes number 21465
Domenge
includes numbers 22023 to 22076
Sainz
includes numbers 22765 to 23295
Domenge
Höpfner
includes numbers 24710 to 25444
Domenge
Mitchell
includes number 29273
Sainz
Höpfner
includes numbers 29954 to 30118
31501
35500
not delivered to the bank