Another Bradbury Wilkinson issue
$5 note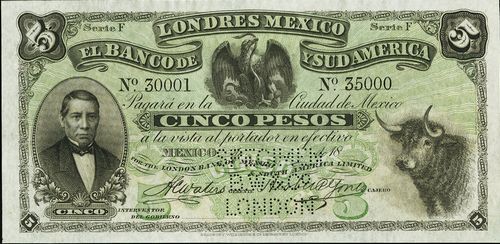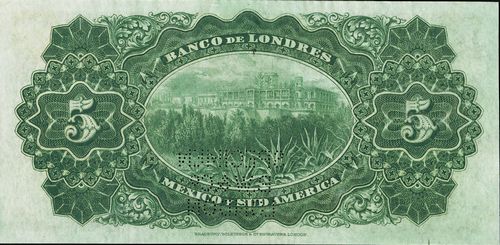 Date of issue
Date on note
Series
from
to
total
number
total
value
Gerente
Cajero
Interventor
comment
1 September 1887
F
Waters
Jones
Landázuri
includes number 12829

CNBanxico #10261

20001

30000

10,000

50,000

30001

35000

5.000

25,000
$10 note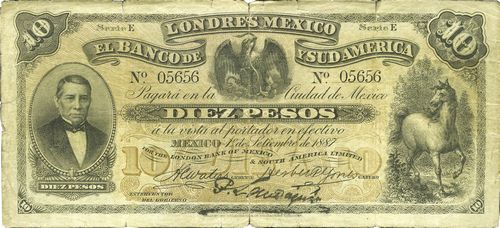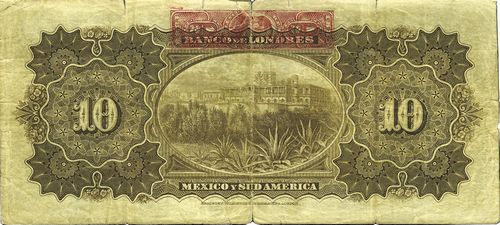 Date of issue
Date on note
Series
from
to
total
number
total
vale
Gerente
Cajero
Interventor
comment
1 September 1887
E
Waters
Jones
Landázuri
includes numbers 05656 to 08044

CNBanxico #10262
$20 note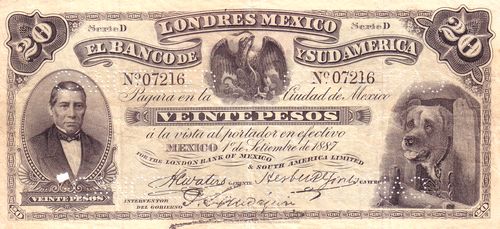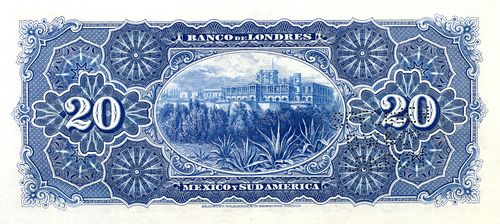 Date of issue
Date on note
Series
from
to
total
number
total
value
Gerente
Cajero
Interventor
comment
1 September 1887
D
Waters
Jones
Landázuri
includes number 07216
includes number 17468

CNBanxico #10263

overprinted PUEBLA

$50 note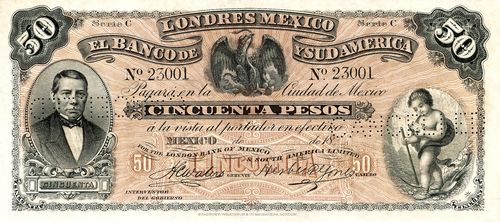 Date of issue
Date on note
Series
from
to
total
number
total
value
Gerente
Cajero
Interventor
comment
C
Waters
Jones

includes number 23001
$100 note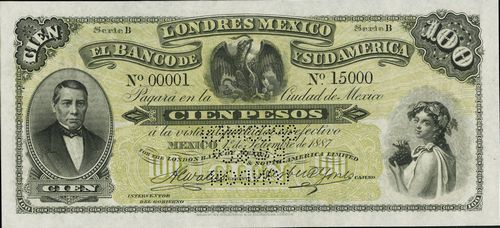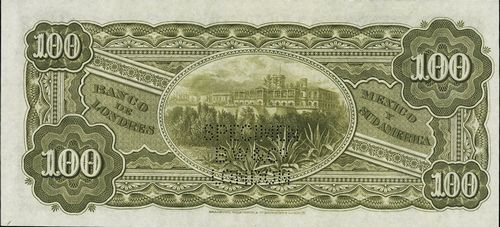 Date of issue
Date on note
Series
from
to
total
number
total
value
Gerente
Cajero
Interventor
comment
1 September 1887
B
00001
Waters
Jones

includes number 2001
15000
SPECIMEN
includes number 15000
$500 note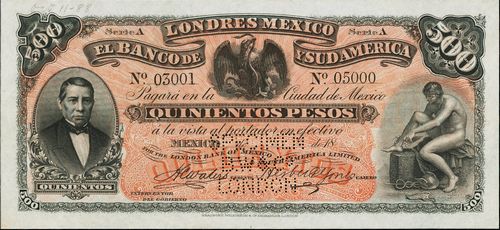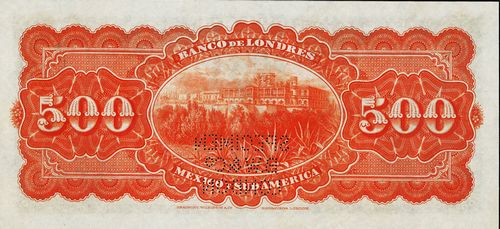 Date of issue
Date on note
Series
from
to
total
number
total
value
Gerente
Cajero
Interventor
comment
A

03001

Waters

Jones

includes number 03601

05000

SPECIMEN
includes number 05000
Signatories
Gerente
| | |
| --- | --- |
| Henry Campbell Waters | |
Cajero
Herbert Champion Jones was born in Croydon, England in 1864 to William Anastasius Jones, an early director of the Banco de Londres, México y Sud América, and Catherine Susanna Valentine Bates.

He passed away on 11 January 1910 in Mexico City.
Interventor
Pedro Landázuri was appointed Interventor on 13 October 1886informe of interventor Landázuri, 27 July 1897 in Memoria de las Instituciones de Crédito, correspondientes a los años 1897-1898-1899, tomo I.

Landázuri was born in Guadajalara, Jalisco on 28 January 1832. A member of the Liberal party, he fought against the French as a colonel and was President Lerdo de Tejada's private secretary. He joined the Consular Service in 1874 and served in Germany from 1874 to 1878.

He was a state deputy in Jalisco 1867–1868, federal deputy from Jalisco 1869-1871, federal deputy from San Luis Potosí 1878-1880 and from Jalisco 1886-1905.

He died on 29 November 1905.