Private issues (miscellaneous)
Casino de la Unión Filarmonica
This casino at 2a calle de Betlemitas núm. 15 was inaugurated with a soiree on 12 January 1914El Independiente, 12 January 1914. We know of a series of identical notes in three denominations (5c[image needed], 10c[image needed], 20c[images needed]).
Compañía Exportadora de Petróleo Mexicano, S. A.
(Mexican Petroleum Export Co. Ltd.)
This company's offices, in 1916, were at 3a Capuchinas, no. 63 in Mexico City.
Among the archives that were thrown into landfill by the new owners of the American Bank Note Company was correspondence from 1915-1916 on notes for the Mexican Petroleum Export Co. Ltd ABNC, 40241.00. This might have been for a proposed (and possibly effected) issue of notes, to be used to pay workers and suppliers, during the Revolution.
F. G. McCann y Cía.
[if correct person] Ferdinand G. McCann was one of three brothers, along with Frank and Warner McGann. He worked as assayer and chemist at various mines and smelters in Mexico and for several years was assayer and chemist in the office of McCann brothers. When McCann brothers sold out to the Mexican Metallurgical and Engineering company, he remained with the latter until May 1906, when he severed all connections with them and opened his own assay office and chemical laboratory at Gante No. 12The Mexican Herald, 2 September 1906. He was the author of Cyanide Practice in Mexico.
We need details of the 10c[image needed] and 20c notes[image needed] before we can decide why McGann's company felt the need to issue these vales.
The Jersey Dairy Association. S. A.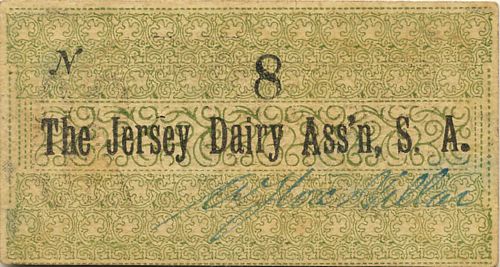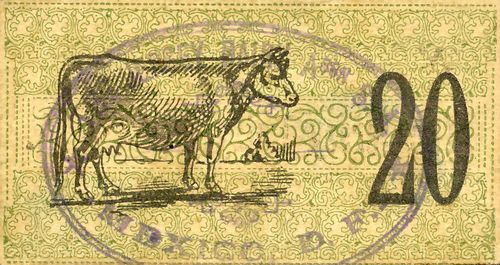 This company produced milk and dairy products for the Mexico City market. We know of 20c[image needed] and 50c notes with the signature of [ ] Villlar[identification needed].
| | |
| --- | --- |
| [ ] Villar | |
Y.M.C.A.

Although this one appears implausible, Gaytan records it, and states that the Y.M.C.A. was on the corner of Balderas and Morelos.