Vales de amortización and vales del alcance de sueldo
These pieces have appeared recently at auctions and so are worth mentioning. However, though they are printed on paper and have the dimensions of a banknote, and have specific denominations, they were not negotiable or circulated, and so they are not true paper money. Rather they belong to the category that Gaytan labelled "Similar - Connected - Related" and nowadays is referred to as Exonumia.
These vales arise from the financial problems that Mexico suffered in its early years. On 2 March 1835 the interim President, Miguel Barragán, decreed the creation of vales de amortización to be used to settle outstanding debts and vales del alcance de sueldo to pay salaries and pensions.
Vales de amortización
The decree specified that all the credits against the federal treasury from loans or contracts concluded with the Government from 1 January 1832 until 18 November 1834, which had not been amortised, should be presented to the General Treasury of the Federation, within two months, so that they could be revalidated. Vales de amortización in four different classes were to be created to amortise these credits The four classes were issued for different types of debt.
These vales were to be accepted by all state and federal offices for any payment that had to be made, though they were only accepted for part of the payment with the rest required in hard cash.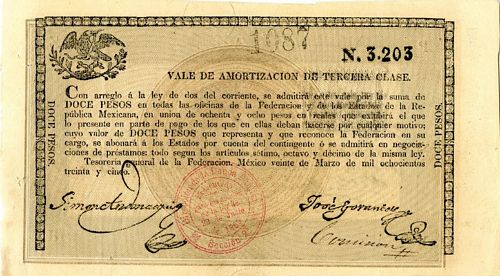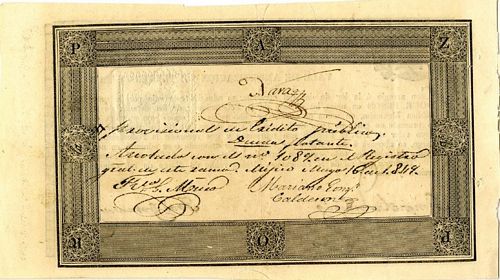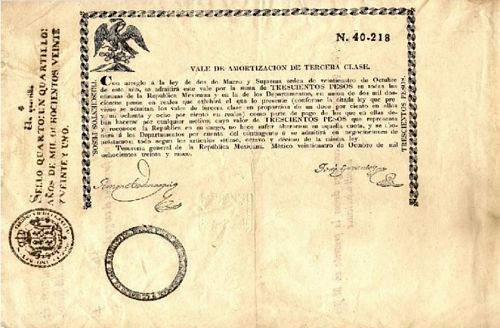 date on note
clase
from
to
total
number
total
value
20 March 1835
4
$12
3
includes numbers 3203 to 13837
$18
2
$30
1
24 October 1835

4

$300
3
includes number 40218

2

1
These certificates have the signatures of two Ministros de la Tesorería General, Simón Andonaegui and José Govantes.
Simón Andonaegui

Simón Andonaegui was a career civil servant. He was Ministro Contador Interino at the Caja de la Intendencia y Provincia in Puebla in 1821, and then Emperor Iturbide's Ministro Contador de las Cajas Nacionales.

José Govantes

Under Iturbide Govantes held the position of Intendente Propietario in Veracruz. By October 1835 he was still Intendente de Marina as well as Tesorero General.
Between 1 July 1835 and 30 June 1836 $2,724,517 2r 6g(ranos) in vales de amortización were issued: $89,280 of the primera clase, $690,054 of the segunda clase, $666,204 of the tercera clase and $1,278,979p 2r 6g of the quarta claseMemoria de la Secretaría de Hacienda, 1837.
On 20 January 1836 interim President Miguel Barragán assigned 15% of the receipts from the maritime Customs to pay off all government liabilities, including these vales de amortización.
Vales del alcance de sueldo
These vales were to be given as part payment of salaries to public servants, civil servants, those in military offices, retirees and pensioners, including those of Monte Pio, and of the Federation.
Article 12 of the decree states that the vales de alcance de sueldo issued by the managers of offices would carry the visa in the Federal District of the Ministros de la Tesorería general, in the states of the governors and in the territories of the jefes politicos.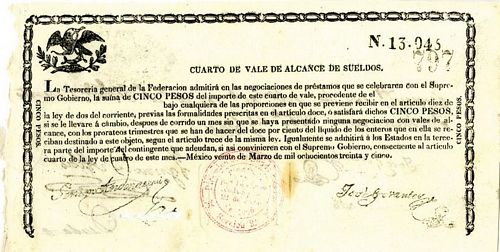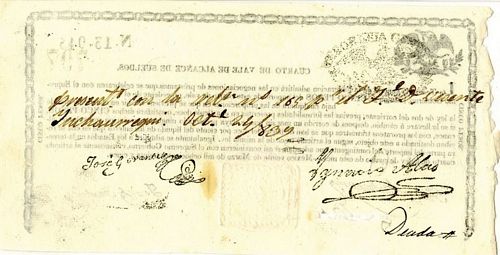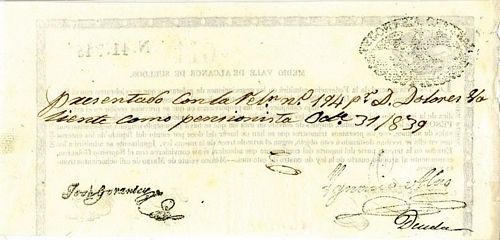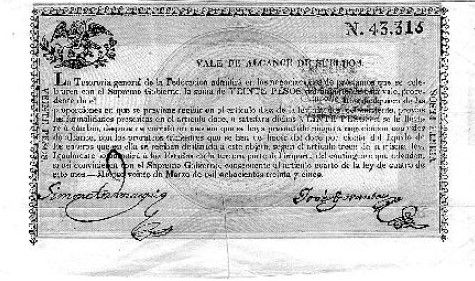 vale
from
to
total
number
total
value
20r
octavo
$5
cuarto
includes numbers 13045 to 31165
$10
medio
includes number 41725
$20
includes number 43315
These certificates also carry the signatures of Simón Andonaegui and José Govantes on the face and of José Govantes and Ignacio Alas on the reverse.
Ignacio Alas was born in Guanajuato, circa 1780 and studied at the Seminario Conciliar de México and at the Colegio de San Ildefonso where he obtained a law degree.

At the end of 1812 he joined the insurgent troops of Ignacio López Rayón and later he was active in the forces commanded by José María Morelos . He served as Morelos' secretary and contributed in the Congress of Chilpancingo by making various commissions and representing the province of Guanajuato. When Morelos was taken prisoner, Alas replaced him in the ruling triumvirate (with Manuel Mier y Terán and Antonio Cumplido) but since his authority was not recognized by all the insurgents, he decided to move to Michoacán, and later, having been captured and pardoned by the royalist commander Aguirre, temporarily stopped participating in the war of independence.

In April 1821 he joined the Plan of Iguala and was appointed Asesor and Auditor of the Trigarante Army by Agustín de Iturbide . He was a senior official in the Ministry of Finance. During the presidency of Guadalupe Victoria he was treasurer of the National Banks of Mexico. In 1824, he was appointed lieutenant governor of Guanajuato by the State Constituent Congress and in 1825 he was interim governor.
In 1831 he was commissioner general of the Federal District and the State of Mexico.

He was head of the Ministry of Finance on two occasions: from 20 August 1832 to 4 January 1833 during the interim government of President Melchor Múzquiz, and from 21 September to 18 December 1836 during the interim government of President José Justo Corro .

He died in Mexico City on 11 November 1843.
Various vales de alcance of different denominations were signed by Javier Aznares as $1,300 worth was stolen from a warehouseEl Mosquito Mexicano, 20 October 1837.
Between 1 July 1835 and 30 June 1836 $2,543,242 4r in vales de alcance were issuedMemoria de la Secretaría de Hacienda, 1837.
On 5 October 1835 interim President Miguel Barragán announced that these vales de alcance would be accepted by all government office in 15% payment of any liability. Two days later he added various conditions to ensure against deceit, including that they be endorsed on the reverse.
On 18 September 1839 President Anastasio Bustamante decreed that the fund that had been created by the law of 20 January 1836 could now be used to pay vales de alcance. Finally, on 16 January 1841 Bustamante declared that the vales would no longer be accepted. Any still outstanding could be exchanged for certificates, that would gradually be redeemed.