Mining companies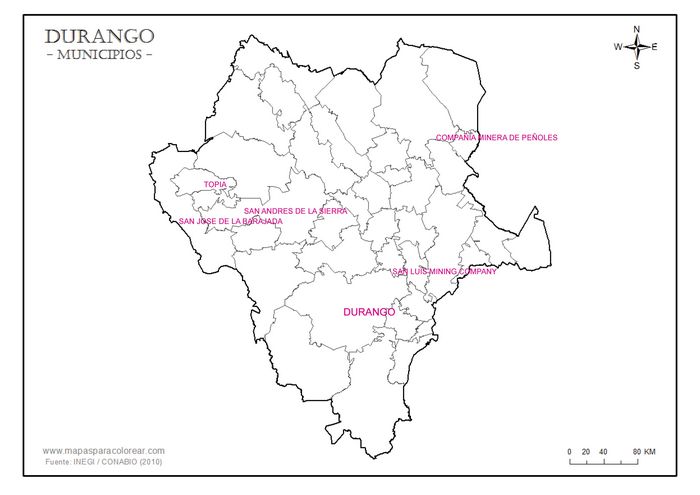 Mapimí
Compañía Minera de Peñoles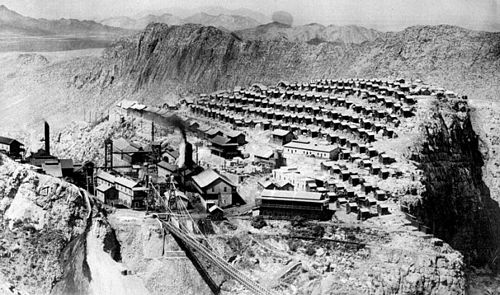 The Compañía Minera de Peñoles was reported to have been organized in March 1887. It later took over a small operation at Ojuela, which is located high on a mountain about six miles south of the town of Mapimí, itself about 30 miles north of Torreón. The company appeared to be well funded and development proceeded rapidly. They first built a 17 mile railroad from the main line of the Mexican Central at Bermejillo to a site just east of the village of Mapimí where a large smelter was constructed, and then a rack railroad to the mineGeorge E. Hoke, "The Railroads of the Compañía Minera de Peñoles".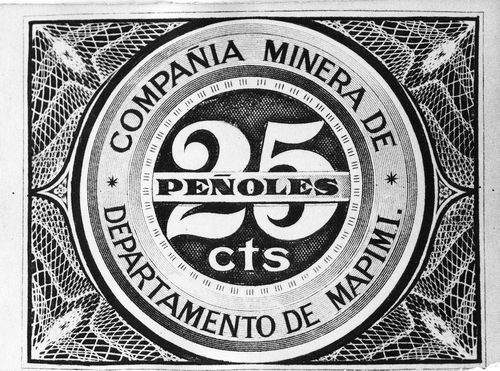 This 25c note might date from before the Revolution but the company also resorted to the use of vales during the Revolution.
Among the archives that were thrown into landfill by the new owners of the American Bank Note Company was correspondence from 1910-1921 on notes for the Compañía Minera de PeñolesABNC, 40331.00.
Topia
Negociación de Minas de Topia






As these notes are denominated in both the reales and decimal system they date from the 1870s or 1880s. This company also resorted to vales in 1913.
Santiago Papasquiero
Negociación Minera de San Andres de la Sierra




Again the 12c denomination hints towards a time when the reales system was still in use.
In October 1899 it was reported that people in San Andrés de la Sierra were complaining that this company made their payroll every six weeks with the object of forcing workers to take out credit with the tienda de raya. A Mexico City newspaper hoped that this terrible injustice would be remediedEl Popular, Mexico, 13 October 1899.
Tamazula
Negociación Minera de San José de la Bajada
The Negociación Minera de San José de la Bajada was in the municipality of Tamazula, Durango.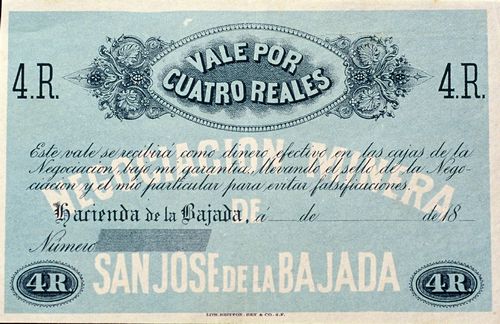 A vale for four reales with the text stating "Este vale recibirá como dinero efectivo en las cajas de la Negociación bajo mi garantia, llevando el sello de la Negociación y el mio particular para evitar falsificaciones".

These were printed by Britton, Rey & Co., a well-established lithography firm located in San Francisco, California.
San Dimas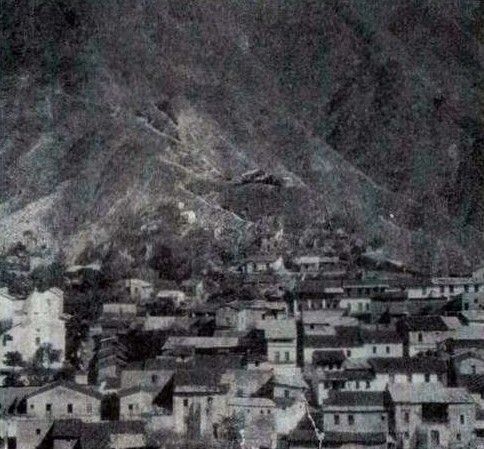 San Luis Mining Co.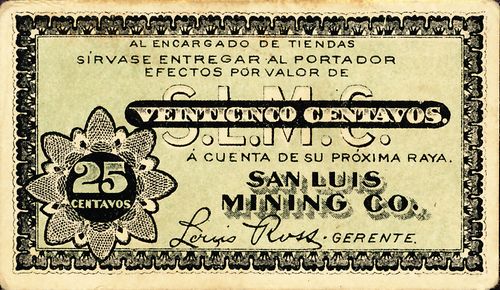 The San Luis Mining Company's mine was situated in Panucho del Coronado, north-east of the capital. This advance on wages, redeemable in the company's (?) stores, has the signature of Louis Ross as Gerente (manager). In 1905 the Mines Register records Louis Ross as the general manager: by 1906 he was managing director.