Carranza's withdrawal of Arrieta's issues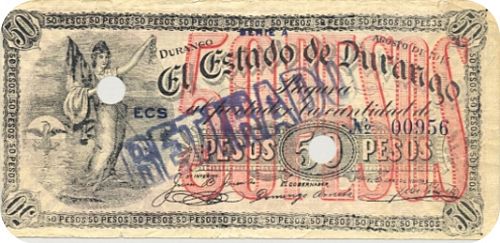 By November 1915 the Carrancistas were back in control of the capital. On 8 December 1914 Carranza had decreed that, as issues were being made without his authorization, it was convenient to unify the currency and determine precisely what obligations the government had undertaken. From 1 April 1915 certain issues would cease to be legal tender and would in time be exchanged by the Tesorería de la Federación. Carranza included in his list the notes issued in August 1914 and signed by Domingo Arrieta, José Clark and Juan B. Fuentes.
In November Carranza exchanged a few telegrams with Francisco Murguía, a general from the Constitutionalist Army fighting Francisco Villa in North-West Mexico, in which they discussed the exchange of General Arrieta's issues. According to General Murguía, the Secretario General of the State of Durango had told him that Arrieta in October authorized him to keep issuing notes up to two million pesos. Murguía claimed to have ordered it to be suspended immediatelyCEHM, Fondo XXI-4, telegram dated 5 November 1915. Carranza responded that same day, that the only Arrieta's issue authorized to be redeemed was the one for 150,000 pesosCEHM, Fondo XXI-4, telegram dated 5 November 1915.
On 10 November Murguía declared that all the paper money issued in the state was null and void, and therefore strictly forbidden, though an office set up in the Cuartel General de Operaciones would exchange the notes issued by Arrieta, as governor in October 1915Suplemento to Periódico Oficial, Durango, Tomo XLI, Núm. 1, 21 November 1915.
Two days later, Murguía reported that the October issue totalled 406,000 pesos; thus he needed additional resources to complete the exchange, because the $150,000 sent by Carranza were not enough CEHM, Fondo XXI-4, telegram dated 12 November 1915. Carranza responded that as soon as he got more funds, he would send themCEHM, Fondo XXI-4, telegram dated 15 November 1915.
On 26 November provisional governor Mariano Arrieta complained to Carranza that Murguía had suspended the Domingo Arrieta October 1915 currency before it had been exchanged and troops were desperate. He asked Carranza to send Domingo Arrieta with fundsADUR, Fondo Secretaria General de Gobierno (Siglo XX), Sección 6 Gobierno, Serie 6.7 Correspondencia, caja 7, nombre 57 and asked Murguía to allow Arrieta notes to circulate whilst he resolved the problemADUR, Libro Copiador 303, Telegramas 23 April 1915 - 10 April 1916, p364) and ADUR, Fondo Secretaria General de Gobierno (Siglo XX), Sección 6 Gobierno, Serie 6.7 Correspondencia, caja 7, nombre 57.
Carranza sent a similar reassuring message about funds half a month laterCEHM, Fondo XXI-4, telegram dated 1 December 1915, and later he informed that a representative from the Secretaría de Hacienda was on his way with orders to exchange such notesCEHM, Fondo XXI-4, telegram dated 21 December 1915.
Meanwhile, different communications reported problems with the exchange of such notes. The clerk of the Constitutionalist movement in Saltillo informed Carranza that a Teniente Coronel came to see him to request resources for both General Murgía and General Arrieta, as well as for money to exchange the latter's issue, asking to whom should he deliver the 150,000 pesos in Arrieta's issues that the Teniente Coronel brought with himCEHM, Fondo XXI-4, telegram dated 21 November 1915. Carranza responded to another request from the Jefe de Hacienda's office in Monterrey that if the notes presented by Arrieta's officials were legal, he could exchange them. A group of citizens from Durango requested Carranza's intervention from San Luis Potosí, saying that given that the exchange office was established there, they travelled to that city to exchange some Arrieta's issues, but the head of the office of the Secretaría de Hacienda refused to do so with no arguments, in spite of having previously exchanged through different agents more than 60,000 pesos at a 15% discount. Now he was requesting a 25% discountCEHM, Fondo XXI-4, telegram dated 24 December 1915. General Arnulfo González from Durango asked Carranza to exchange $1,587.50 of these issues held by his soldiers, the reply was affirmative, and he instructed the representative of the Secretaría de Hacienda to exchange such notesCEHM, Fondo XXI-4, telegrams dated 29 and 31 December 1915.
Once he had defeated most of his enemies, Carranza could be more specific. On 28 April 1916, as part of the move to introduce a unified currency, he listed various issues that would be accepted until 30 June on deposit by the Tesorería General de la Nación, Jefaturas de Hacienda and Administraciones Principales del Timbre. The list now included notes issued on 31 December 1914 signed by Juan B. Fuentes, Domingo Arrieta and José Clark. After that date they would be null and void. All other notes were declared null and void.
Thus, Carranza not only disowned all the Villista issues but also the earlier Arrieta notes.
On 24 July 1916 Carranza decreed that from 1 August they would exchange the notes listed in the decree of 28 April that had been deposited in the offices of Hacienda with infalsificables at a rate of 10 to 1. However, he exempted, among others, the 31 December 1914 Arrieta notes. Instead holders now had until 30 September to deposit them and they would be exchanged at some future time.
Incinerations
Several times quantities of notes were incinerated in formal proceedings at the former Secretaría del Tribunal de Justicia in front of dignitaries from the Dirección General de Rentas and other witnesses. The following incinerations were recorded in the Períodico Oficial.
$5
$50
Value
Total
value
E
A
1915
30 MarchPeriódico Oficial, 17 April 1915
443
$22,150
$22,150
31 MarchPeriódico Oficial, 18 April 1915
3,000
15,000
15,000
16 AprilPeriódico Oficial, 18 April 1915
2,000
10,000
10,000
17 AprilPeriódico Oficial, 25 April 1915; La Voz de la Revolución, Tomo 1, Núm. 77, 2 May 1915
300
15,000
15,000
27 AprilPeriódico Oficial, 9 May 1915
3,200
16,000
16,000
18 MayPeriódico Oficial, 30 May 1915
2,000
10,000
20,100
202
10,100
15 JunePeriódico Oficial, 27 June 1915
257
12,850
25,850
15 JunePeriódico Oficial, 1 July 1915
2,600
13,000
15 JunePeriódico Oficial, 11 July 1915
2,120
10,600
10,606
14,920
1,202
$134,700
$134,700