Huertista notes of the Tesorería General
In 1920 Crispín Espinosa produced the third volume of his Efemérides Guanajuatenses, which gave a day-to-day account of events in Guanajuato from 1911 until 1920. In this he detailed some history of the paper money that was issued in the city to complement the various issues of the competing Villista and Carrancista factions.
By late 1913 the Huerta government still held Guanajuato but because of the shortage of small change and difficulties with bank notes on 25 December the interim governor José de Jesús Peña authorized the General Treasury of the State (Tesorería General) to issue 25,000 pesos in 50c and $1 notes (bonos)Periódico Oficial, Tomo LXV, Núm. 52, 28 December 1913.
The bonos would carry the signature of the Tesorero General and visto bueno of the Administrador General de Rentas: the 50c would have a green face and red reverse, and the $1 a brown (café claro) face and pale blue reverse, and have a red Administración General de Rentas seal in the centre, and black arms of the city and text. They were to be of voluntary acceptance, except that public offices had to take them in payment of taxes or other debts. The Treasury also had to exchange them for notes of forced circulation when requested.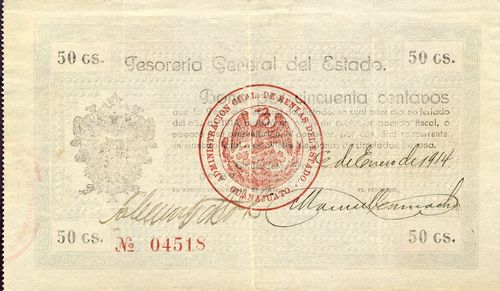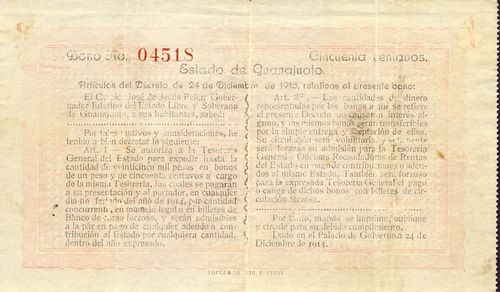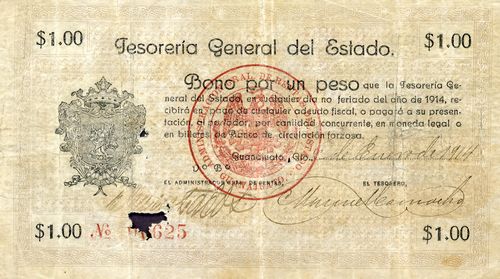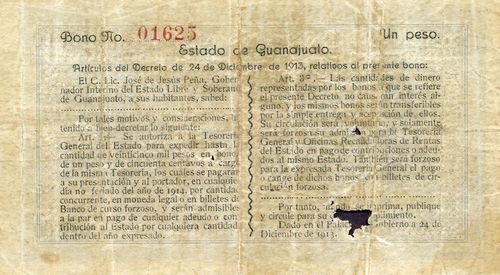 These were produced in booklets and so had one perforated edge and were signed by Administrador General de Rentas,[ ][identification needed], and Treasurer, Manuel Camacho. They began to circulate on Sunday, 11 January 1914El Observador, Guanajuato, Año X, Núm. 812, 15 January 1914.
| | |
| --- | --- |
| | |
| Manuel Camacho | |
However, the shortage of small change continued, so on 5 March 1914 the current interim governor, General Rómulo Cuéllar, authorized a further 100,000 pesos in notes of 25c, 50c and $1, in a similar formatPeriódico Oficial, Tomo LXVI, Núm. 21, 12 March 1914; El Observador, Guanajuato, Año X, Núm. 838, 15 March 1914. These were printed by the Mining Journal Press, of Mexico City.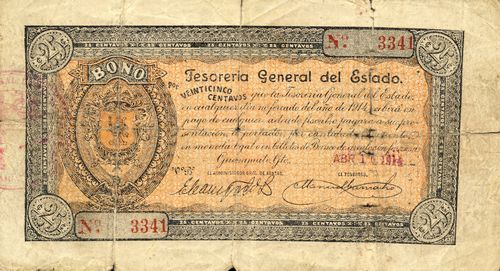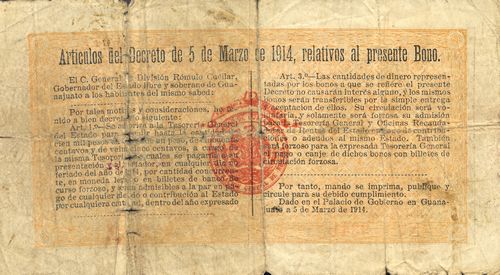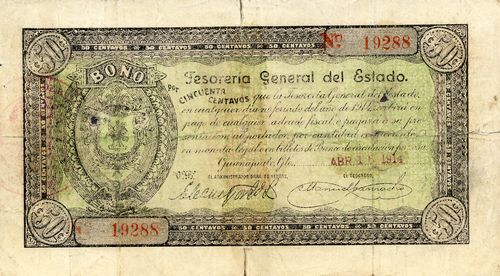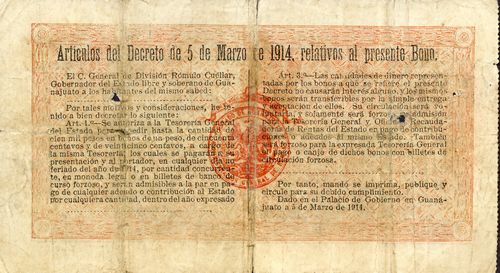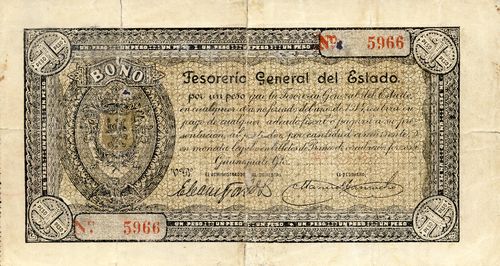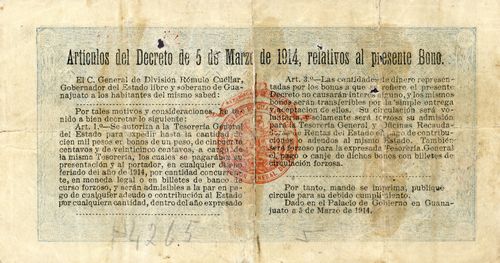 In summary:
Date of issue
Date on note
from
to
total
number
total
value
December 1913
6 January 1914
50c
includes number 04158
6 January 1914
$1
includes numbers 01625 to 06961

CNBanxico #11009

$ 25,000

March 1914
16 April 1914
25c
includes numbers 3341 to 130273

CNBanxico #11010

16 April 1914
50c
includes numbers 9155

CNBanxico #11011

to 19288
$1
includes numbers 1695

CNBanxico #4129

to 12081

CNBanxico #11012

100,000
A local newspaper reported the appearance of the 50c notes on 23 April 1914El Observador, Guanajuato, Año X, Núm. 848, 23 April 1914. However, by July the majority of businesses, especially grocers, were refusing to accept the bonos, hurting in particular the poorEl Observador, Guanajuato, Año X, Núm. 865, 2 July 1914. The reason for refusing was the traditional lack of changeEl Observador, Guanajuato, Año X, Núm. 866, 5 July 1914.
The notes will have lost any value when the revolutionary forces took Guanajuato on 29 July 1914.