El Banco Comercial de Occidente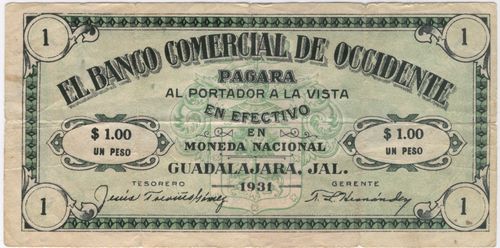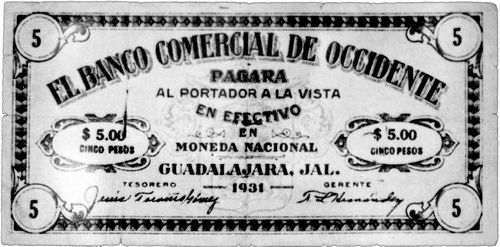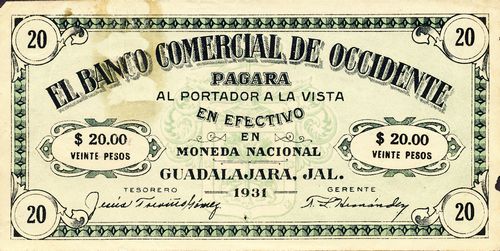 These are 'fantasy' notes, printed in 1931 for use in bookkeeping classes in the Academia Comercial de Occidente (hence there was no need for serial numbers). The signatures of the supposed Tesorero and Gerente are actually those of two of the school's founders.
Jesús Treviño Gómez was born in Santiago, Nuevo Leon, on 5 October 1903. He completed his primary studies in his home town and then moved to Monterrey where he entered the Preparatory College and the Civil College. Later he moved to Tampico where he held different jobs in the oil industry. He enrolled in the State Normal School, graduating in 1926.

He began as a teacher at the Guillermo Prieto School and was the director of several schools. Together with professors Ciro Treviño, Clotilde Sepúlveda and Timoteo L. Hernández he founded the Academia Comercial de Occidente in Guadalajara, one of the first institutions of its kind. He held different positions in the General Directorate of Public Education and in several states. In 1949 he moved back to Santiago as a head teacher and was later appointed principal and school inspector. He wrote five monographs on business teaching in the areas of typing, accounting, shorthand, and costing.

He died in Monterrey on 19 July 1996.

Timoteo L. Hernández Garza was born on the Hacienda de Santa Fe, in Villaldama, Nuevo León, on 27 June 1906. In 1926 he obtained the title of Teacher of Primary Education and he then taught himself in the area of Social Sciences. His teaching career covered all the levels from primary to higher education and he served as a School Inspector, Secretary and then Director of Public Education; Alderman, Senior Officer and Secretary of the Monterrey City Council from 1937 to 1938.

He was a founder and the first president, from 1942 until 1965, of the Sociedad Nuevoleonesa de Historia, Geografía y Estadística. He wrote articles on the history and geography of Nuevo León and a biography of Miguel Hidalgo. He was awarded the Altamirano Medal for 50 years service as a teacher and the Alonso de León Medal as an historian.

He died in Villaldama on 15 July 1984.