Private issues (San Marcos - Zapotlán)
San Marcos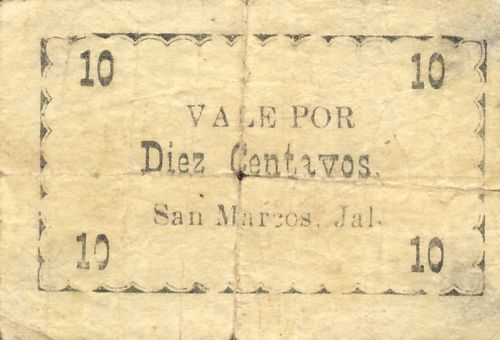 San Martín
Enrique Ureña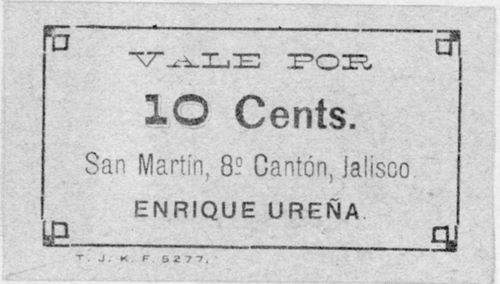 Juan Kaiser first produced a series of notes, modelo 5277, ordered on 3 August 1915 for a cost of $50.00.
total
number
total
value
5c
2,000
$100.00
oblong red cartón
10c
2,000
200.00
oblong white cartón
20c
1,000
200.00
oblong green cartón
5,000
$500.00
He produced a further issue on 9 December 1915.
total
number
total
value
5c
4,000
$200.00
oblong red cartón
10c
4,000
400.00
oblong white cartón
20c
2,000
400.00
10,000
$1,000.00
Santa Clara de la Sauceda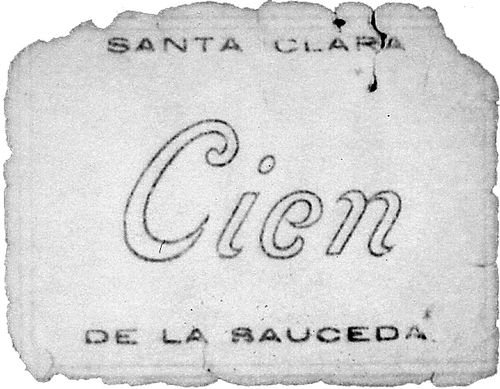 Sayula
Tranvias de Sayula, S. A.
Catalogues list a 6c note[image needed] fron this streetcar company. However, it is questionable whether such tickets were used as change and it is also likely that the '6' refers to the number in a strip of tickets rather that the value.
Tala
El Puerto Arturo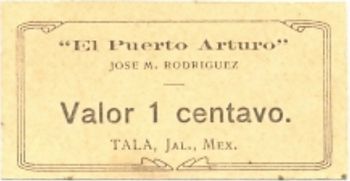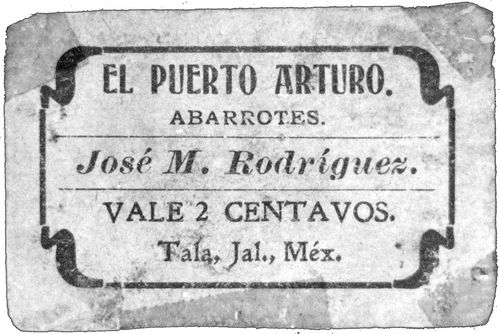 Pedro A. Zavala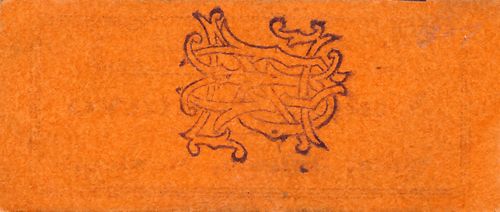 Tecalitlán
Leopoldo Ochoa
These were modelo 5095, produced on 27 October 1914, at a cost of $9.75 per thousand pieces.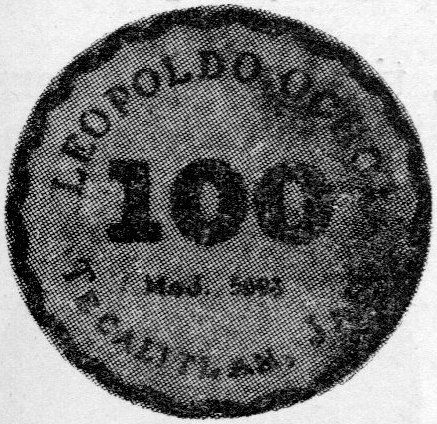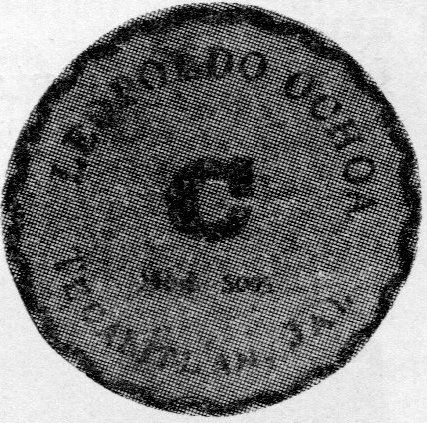 total
number
total
value
50c
1,000
$ 500.00
round cartón
10c
500
50.00
1,500
$550.00
Tecolotlân
Juan Cueva
We know of 4c and 10c notes[images needed].
Jesús Flores Villaseñor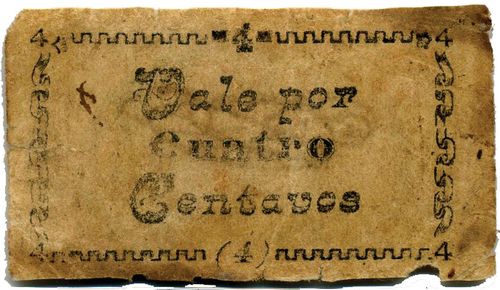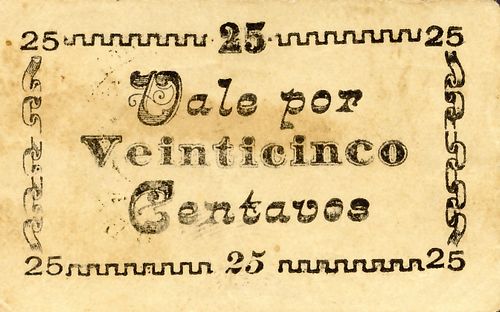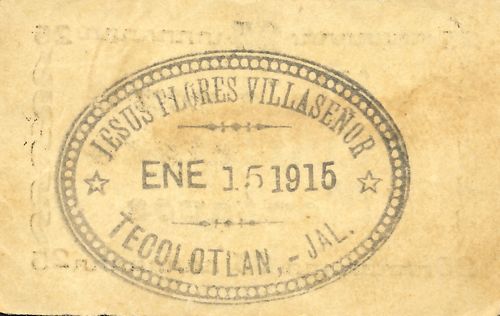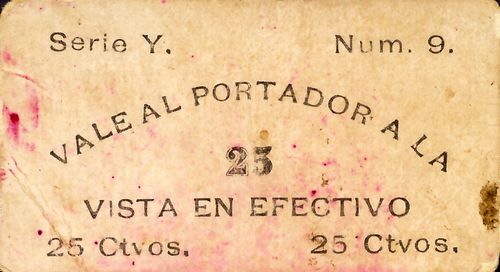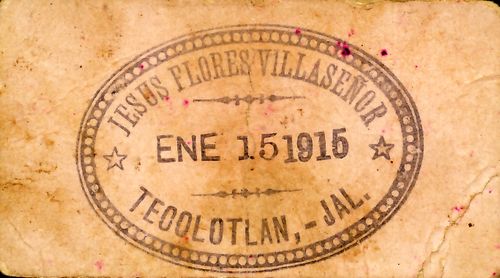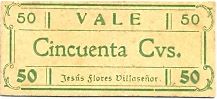 These were used throughout 1915 as some notes are dated 15 January 1915 but the 4c is known dated 15 November 1915CNBancico #11410.
Tenamastlán
José Enrique Agraz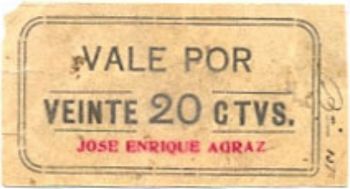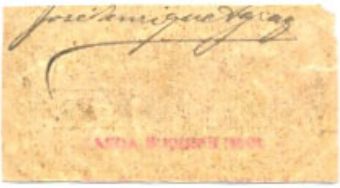 A 20c note.
Filemont Cobian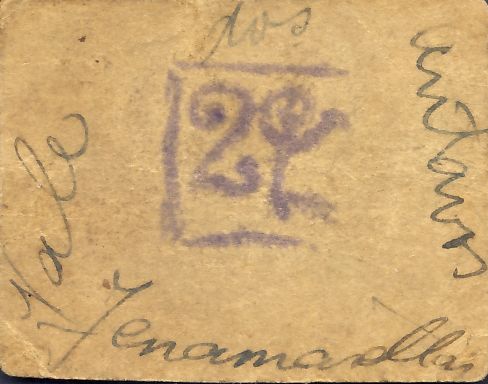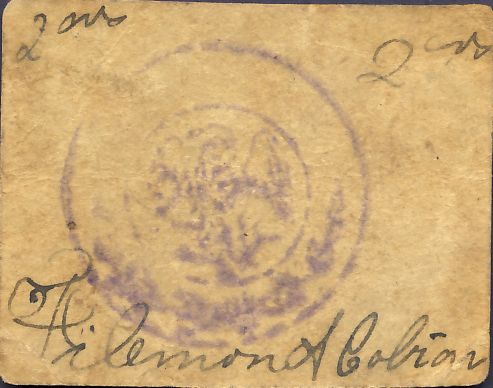 Tequila
Fabrica de San José de Refugio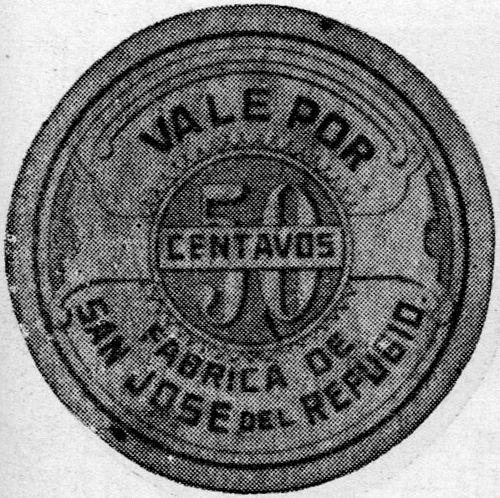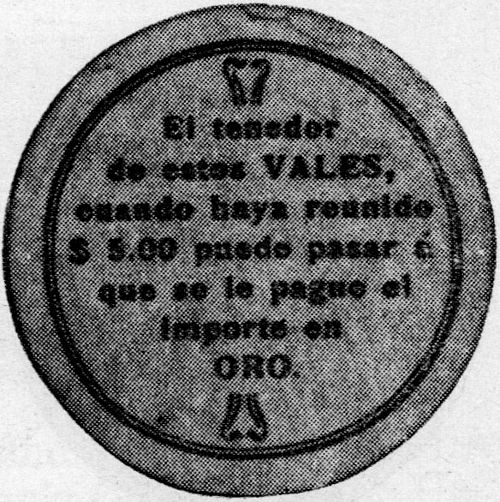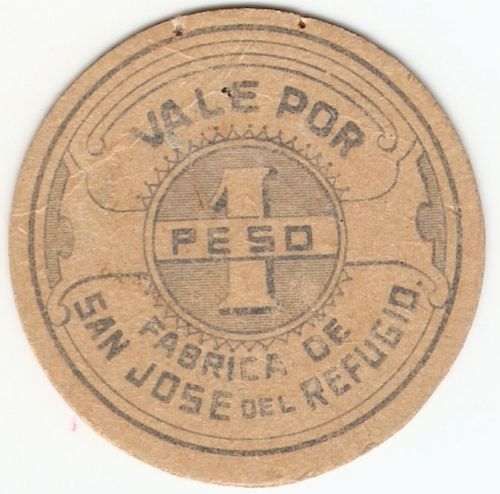 This tequila distillery was owned by Aurelio López. These cartones were produced by Iguíniz.
Fonda J. W
This was owned by José Wolf. These notes were modelo 4647, ordered in 1915.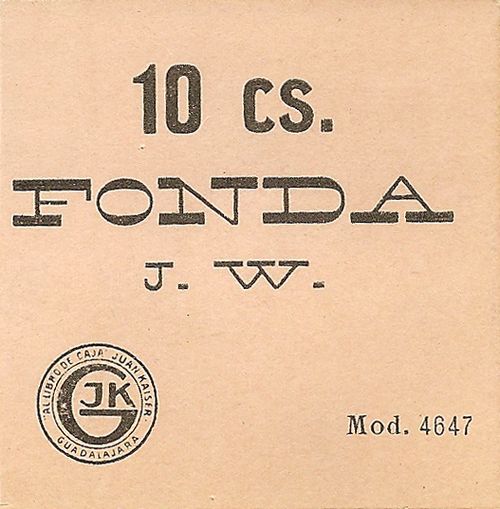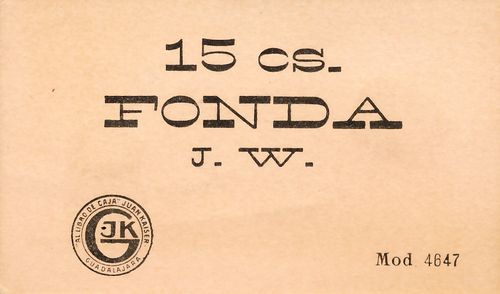 total
number
total
value
10c
1,000
$100.00
square cartón
15c
1,000
150.00
oblong cartón
2,000
$250.00
Tizapán
Chavéz Cisneros records that in 1917 (the Year of Famine) there was also a shortage of small change that was supplemented by fichas issued by businesses in the towns of Mazamitla, Tizapán, and QuitupanEsteban Chavéz Cisneros, Quitupán, Ensayo histórico y estadístico, Morelia, 1954, p. 152.
Tonaya
Everardo Ramos
Catalogues record a 1c note[images needed] on cream pasteboard.
Julio Cobian
Catalogues record a 5c note[images needed] on tan pasteboard.
Tuxpan
Angel Arch hijo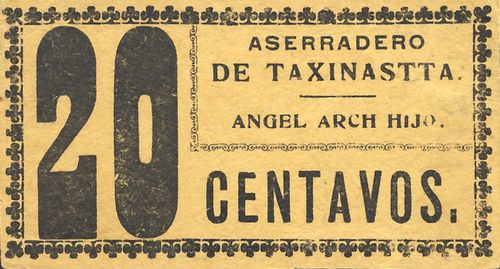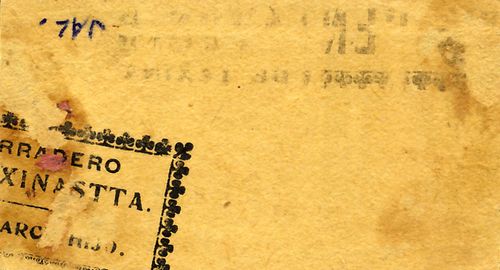 Red 5c and yellow 20c notes, printed by J. M. Iguíniz.
Zapotlán
P. H. Ramsden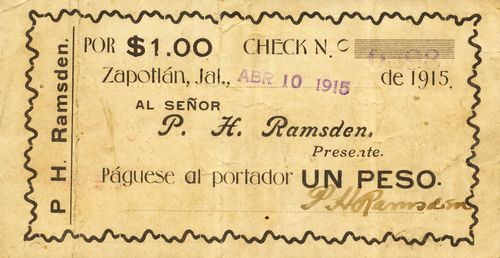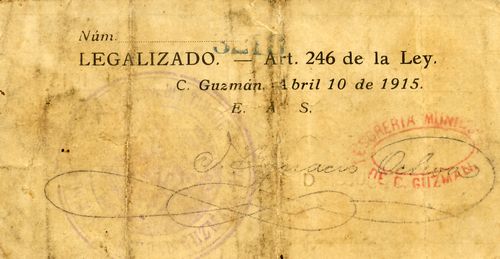 date on note
from
to
total
number
total
value
$1
10 April 1915
includes number 0398