Commercial issues from Zamora

There were several different issues.
"Rosendo Tamayo y Cia"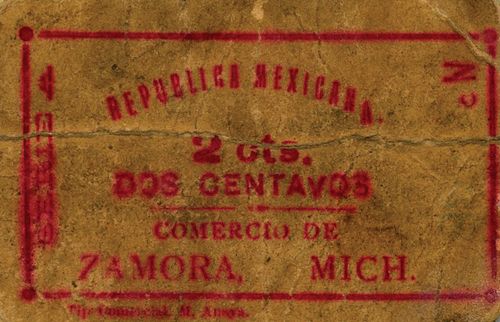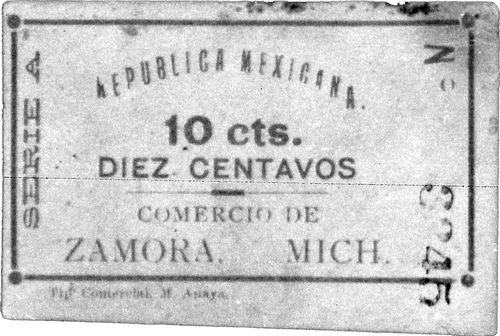 The "Rosendo Tamayo y Cia" issue was authorised by the Prefectura of the District and put into circulation in February and March 1915 by a group composed of José Pascalis, Pablo Armieux, Emilio and Miguel García López and Tamayo y García.
On 4 February 1915 Serafín Chávez, the District Prefect, met with Rosendo Tamayo (the manager of the firm "Tamayo y García"), Everardo S. Rios (representing the comercial house "R. Juillen sucesores", owned by José Pascalis), Antonio Armieux (representing Pablo Armieux) and Miguel and Emilio García López. The five told the Prefect that, in an earlier meeting, they had decided to issue up to $2,500 in cardboard fichas and it was agreed to issue
| | | |
| --- | --- | --- |
| | Number | Value |
| 2c | 25,000 | $ 500,00 |
| 5c | 10,000 | 500.00 |
| 10c | 5,000 | 500.00 |
| 20c | 2,500 | 500.00 |
| 50c | 1,000 | 500.00 |
| | 43,500 | $2,500.00 |
in notes entitled "República Mexicana. – Comercio de Zamora – Michoacán. Serie A." and stamped with the seal of the Prefectura. Acceptance would be of obligatory and the notes would circulate until such time as sufficent of the notes proposed by the state government on 22 December had arrived. They would then be given three months to be redeemed, in the offices of "Tamayo y García" and "R. Juillen sucesores". Importantly, as it turned out, the contractors agreed, jointly and severally, to guarantee the value of the notes.
On 2 March the company issued another series, SERIE B. These now had large numeral printed over the text.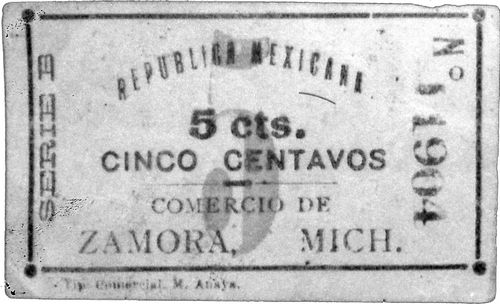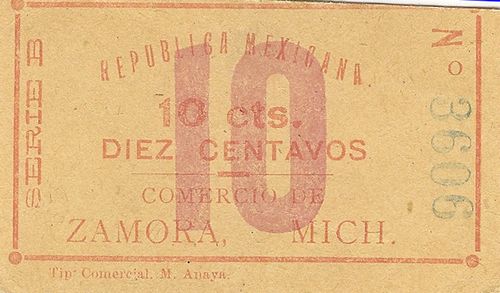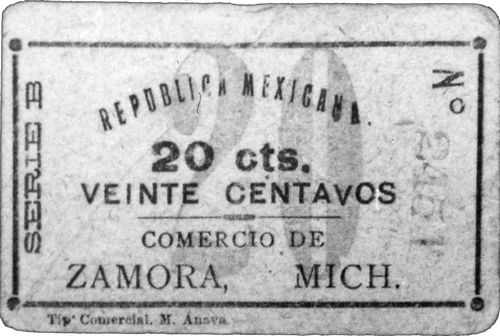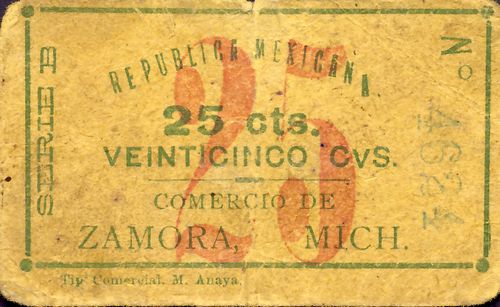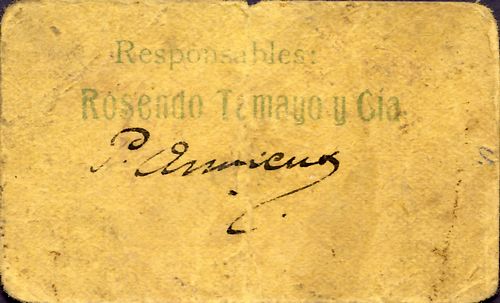 The council later decided that Rosendo Tamayo y Cia. had issued $12,500, which suggests that this second issue was for $10,000. From known numbers we can surmise
series
from
to
total
number
total
value
2c
A

25,000

$ 500
5c
A

10,000

500
B
includes number [ ]1904
10c
A

5.000

500
includes number 3245
B
includes number 3606
20c
A

2,500

500
B

2,500

includes number 245[ ]
25c
B
includes number 4624
50c
A

1,000

500
B
includes number [ ]1342

CNBanxico #5281

$12,500.00
"Tamayo y García"
The "Tamayo y García" issue was put into circulation on June 1915. These were also printed by the Tipografia Comercial of M. Anaya.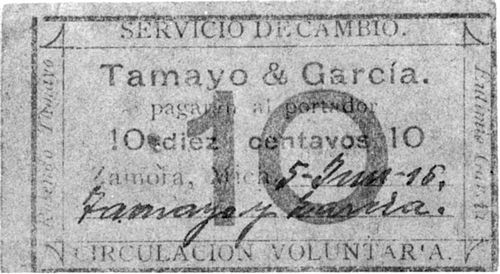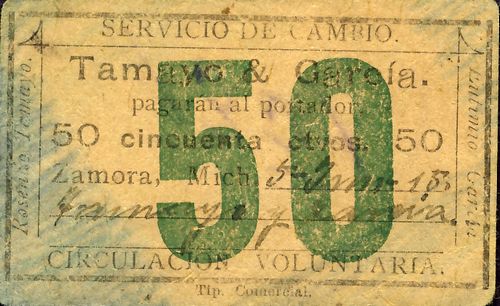 Over this time the military forces intervened in the company's affairs and confiscated goods, so in January 1917 it no longer had any documentation but believed that between $400 and $500 was still outstanding. The town council had told it to redeem its notes at 25% so it made an original deposit of $100 in coin.
Antonio Méndez Padilla
In May and June 1915 Antonio Méndez Padilla issued fichas for 5c[image needed], 10c[image needed], 20c[image needed] and 50c[image needed] to help in paying wages and facilitating transactions (the Villista dos caritas of $1 and more were in circulation for larger sums). The printer, Miguel Anaya produced the following:
| | | |
| --- | --- | --- |
| | Number | Value |
| 5c | 3,620 | $ 181.00 |
| 10c | 6,200 | 620.00 |
| 20c | 4,500 | 900.00 |
| 25c | 500 | 125.00 |
| 50c | 3,278 | 1,639.00 |
| | | $ 3,465.00 |
Antonio Méndez Padilla was a member of the Junta de Administración of the Zamora branch of the Banco de Guanajuato from its establishment on 20 September 1903Memoria de las Instituciones de Crédito, correspondiente al año 1903 until he resigned in October 1912AGN, SC224, Antiguos Bancos de Emisión, caja 8, libro 13.

He was Regidor propietario of the town council in 1895-1896, 1900-1901, 1904-1905, 1908-1909 and 1910-1911 and Presidente Municipal from March to May 1901.

In January 1908 he was a member of the Club Reeleccionista Morelos of Zamora.
On 11 December 1916 Méndez wrote to the town council asking them to fix a rate of exchange and to give him longer to effect the redemption. On 27 December the town council decided that the rate should be 25% in oro nacional and that Méndez should deposit the necessary sum in the Municipal treasury. Mendez deposited $50.
On 2 January 1917 the council wrote to Tamayo y García with the same decision but setting the rate at 50%. Tamayo y García agreed to the 50% for the "Rosendo Tamaya y Cia." issue but said that it had already redeemed most of the notes for which it was responsible and told the council to contact the others. It asked for a better exchange rate for the "Tamayo y García" notes and the council on 13 January agreed to 25%.
On 14 January the council wrote to Pablo Armieux, Miguel and Emilio García López asking them to tell how much was still outstanding and and to deposit the equivalent amount in the TreasuryAMZam, sección Secretaría, caja 58, exp. 31.
Compañía de Luz y Fuerza Eléctrica de Zamora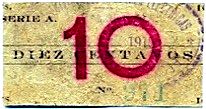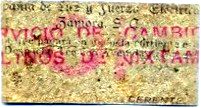 series
from
to
total
number
total
value
10c
A
includes number 971

CNBanxico #5282
A 10c note signed by the manager (gerente). On the reverse is an overprint "SERVICIO DE CAMBIO / MOLINOS DE NIXTAMAL".
"La Cruz Verde"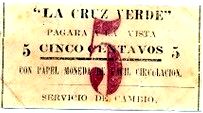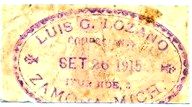 A 5c note, dated 26 September 1915, specifically issued to facilitate change, with the stamp of Luis G. Lozano.
El Comercio de Zamora
On 4 July 1916 the town council authorised[text needed] a group of storekeepers, consisting of Agustín Méndez Macías, Antonio Méndez Bernal, José María Arceo, Eudoxio Vaca, Serafín Chávez, Luis Cornejo, Antonio Herrera and Luis G. Hernandez, to issue a series of cartones in infalsificables, under the title "El Comercio de Zamora".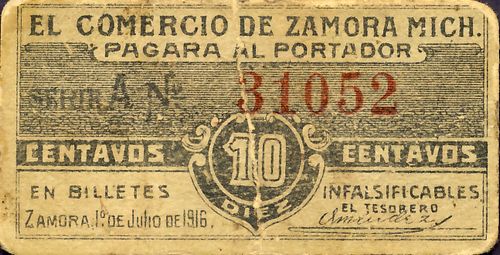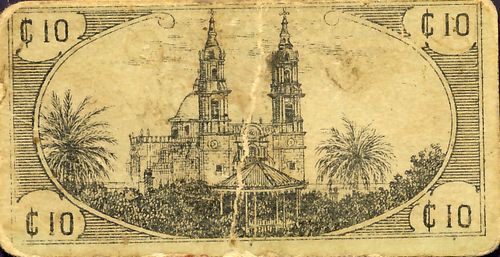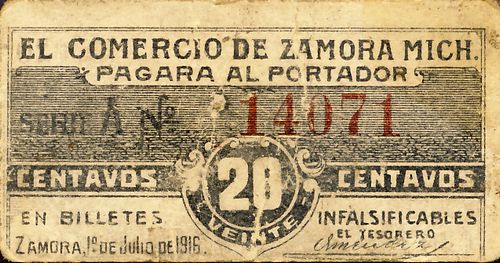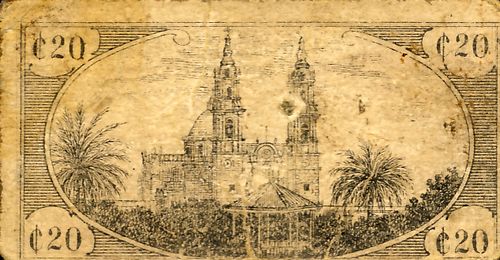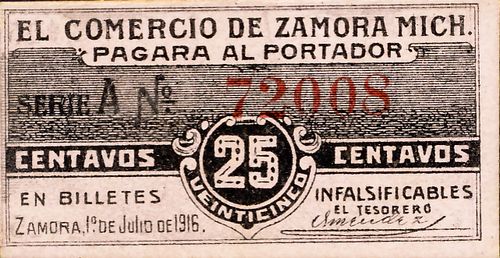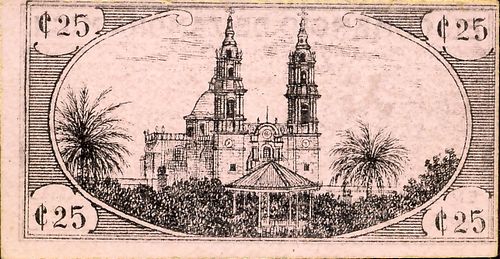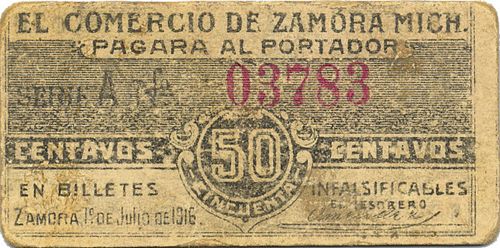 series
from
to
total
number
total
value
10c
A
includes numbers 30526

CNBanxico #5284

to 87569

CNBanxico #11606

20c
A

00001

99999

100,000

20,000

includes numbers 14071 to 99672

CNBanxico #5287

25c
A
includes numbers 17086

CNBanxico #5290

to 72012

CNBanxico #5288

50c
A
includes numbers 03783

CNBanxico #11609

to 7579

CNBanxico #5291
The notes carried the date 1 July 1916 and the signature of Agustín Méndez Macías as Tesorero.
Agustín Méndez Macías

After the Revolution Méndez Macías led the liberal faction in Zamora, a group of small businessmen, lawyers, journalists and ranchers, who opposed the Porfirista elite and enthusiastically supported the Callista fight against the Catholics. He was presidente municipal in 1923-1924, and a federal deputy in 1926-1928.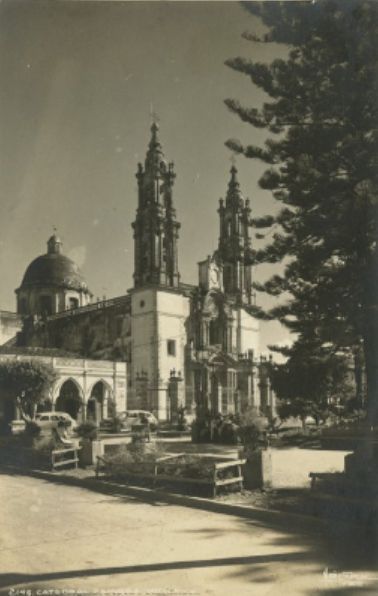 The image is of the Catedral de Nuestra Señora de Guadalupe, the gothic revival cathedral, where the towers reach a height of 107.5 metres, making it the tallest church building in Mexico. In 1916 it was still under construction. The cornerstone had been laid on 2 February 1898 but only half of the projected cathedral had been completed when construction was suspended in 1914 due to the revolution and, later, the Cristero War for an indefinite time. Unfortunately, due to the continuing conflict, the original drafts were lost; all that remained were a drawing of the original facade and a general plan of construction. After many fits and starts, work was recommenced in 1988.
On 6 July 1916 a group of citizens from Zamora wrote to Carranza, telling him that, although private fichas has been banned since the Veracruz notes started to circulate, the Presidente Municipal had allowed Agustín Méndez, a señor Gutiérrez and others to make such an issue, and they had sent Agustín Méndez to Guadalajara to arrange the printing of $100,000, with which they were to be paid. They asked Carranza to order the governor to prohibit the fichasCEHM, Fondo XXI Venustiano Carranza, carpeta 87, legajo 9754. $100,000 seems a large figure and the complainants may have exaggerated to stir Carranza into action.
Withdrawal
On 16 October 1916, at 11:10 o'clock, a meeting took place in the casa commercial owned by Agustin Méndez Macías, situated at 67 calle Hidalgo, Zamora, between José Aviña Vaca, the Regidor in charge of the town council, representing the municipality, José Méndez Macías (representing his brother Agustín), and Antonio Méndez Bernal, José María Arceo, Eudoxio Vaca, Serafín Chávez, Luis Cornejo, Antonio Herrera and Luis G. Hernandez, to discuss the destruction of these fichas. José Aviña pointed out that on 14 July the town council had ordered the incineration of the" fichas" that the Treasurer, Agustín Méndez Macías had in his possession. The act had to be done in the presenceof a Public Notary.
The fichas were presented by José Méndez Macías in packages of 100 each, subdivided by values. Aviña, Arceo, Chávez and Cornejo recorded the number in presence of the others, giving the following numbers:
| | | |
| --- | --- | --- |
| | Number | Value |
| 10c | 153,300 | $15,300.00 |
| 20c | 83,100 | $16,520.00 |
| 25c | 68,700 | $17,175.00 |
| 50c | 1,750 | $875.00 |
| TOTAL | 306,850 | $50,000.00 |

The original plan was to incinerate them in the street but, because of the large amount of cartones and the possibility that the value of those that had not been redeemed could be questioned, they decided to burn them in the very same house. They lit a fire and added petroleum and other fuels. By 14:30 all of the cartones had turned to ashes, and the minute of the meeting was signed by all of the parrticipants.
On 3 June 1917 a Morelia newspaper reported that as some merchants in Zamora had issued tokens or cardboard currency (fichas o cartón moneda) to facilitate commercial operations, but stopped when the metallic system returned, the state government had issued its orders that any outstanding notes (five or six thousand pesos) should be redeemed within two months, at the end of which any remaining guarantee should be applied to the municipal fundsArgos, Morelia, tomo 1, núm. 1, 3 June 1917.
The rarity of these cartones nowadays is explained and documented in this very act of incineration. A very small amount of them had survived, with the 25 centavos the most common and 50 centavos the rarest of them all.
(information from "A tale of incineration: the cartones of "El Comercio de Zamora" by Ricardo Vargas in USMexNA journal, September 2020)