Commercial concerns (central Michoacán)

Huetamo
In March 1914 because of the lack of small change local businesses resorted to a series of typewritten notes, on paper of different colours, for 5c, 25c, 50c and $1, with the stamp of three of the principal casas comerciales. These were reissued every fortnightEl Diario, 6 March 1914.
Pátzcuaro
La Bahia de Veracruz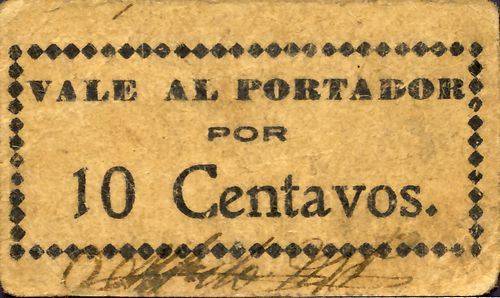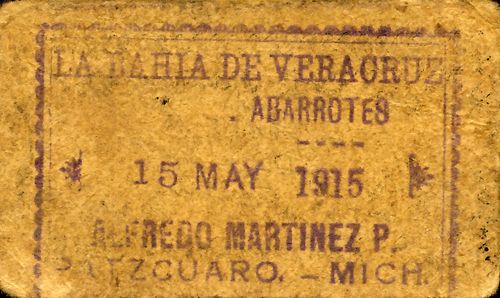 This grocery, run by Alfredo Martínez P., issued notes in May 1915.
La Casa Buitron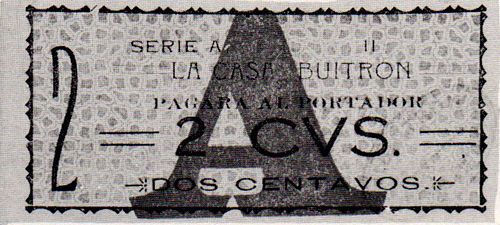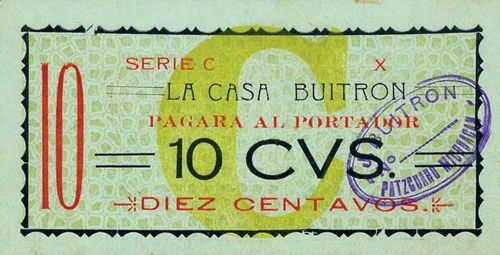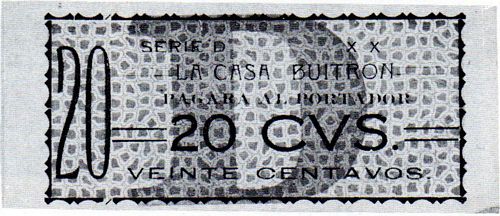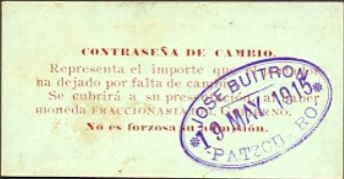 series
date on note
from
to
total
number
total
value
2c
A
30 May 1915
5c
B
10c
C
20c
D
30 May 1915
50c
E
19 May 1915
La Casa Buitron appears to have been a hardware store (ferretería) in the calle Zaragoza, run at some time by a señor Leal.
José Buitron had a printshop, tipografia J. Buitron, situated in the plaza principal, that as well as these notes (judging from their multicoloured appearance) also printed the notes for the Hacienda de Tepenahua y Anexas.
Huiramba
La Confianza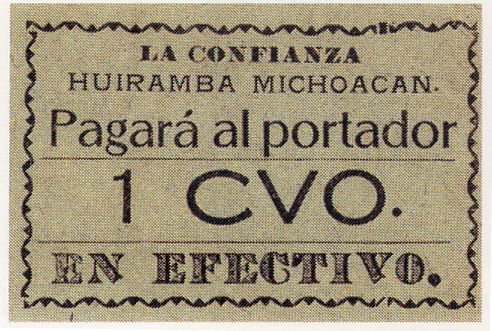 Cayetano Gutiérrez
Taximaroa/Villa Hidalgo
Taximaroa (then Villa Hidalgo and now Ciudad Hidalgo)
Victor Barajas
In 1903 Victor Barajas is listed in charge of a wholesale grocery store (almacén de abarrotes nacionales y extranjeros). He served as a regidor in 1905.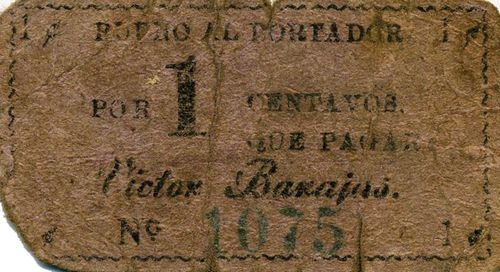 The 1c note numbered 7427 is dated 20 December 1914.
from
to
total
number
total
value
1c
includes numbers 1075

CNBanxico #11584

to 7427
Lamberto Barajas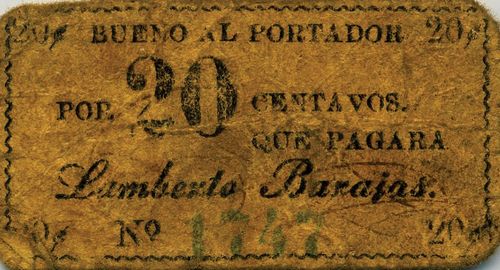 The 20c note numbered 1061 is dated 3 February 1915.
from
to
total
number
total
value
20c
includes numbers 1061 to 1747

CNBanxico #11585
E. Alanis Sucesores & Cía.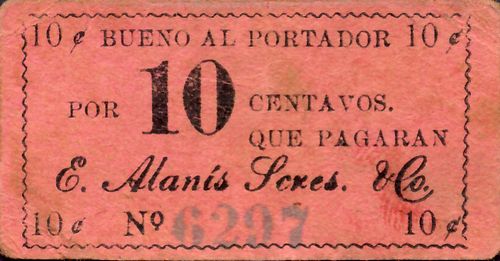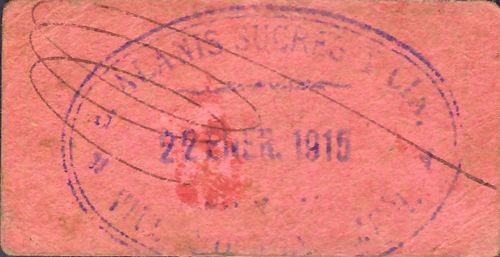 from
to
total
number
total
value
10c
includes numbers 1966

CNBanxico #11586

to 6297
Maximo Martínez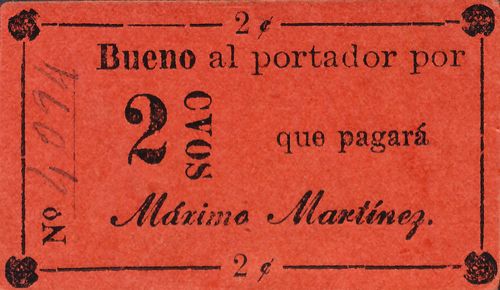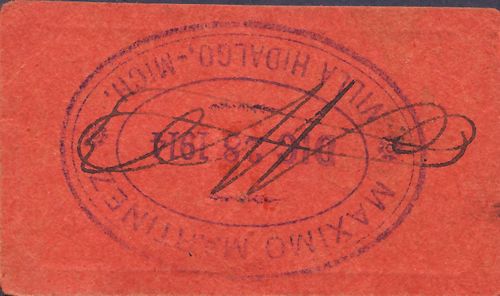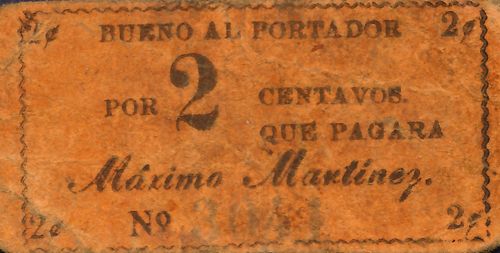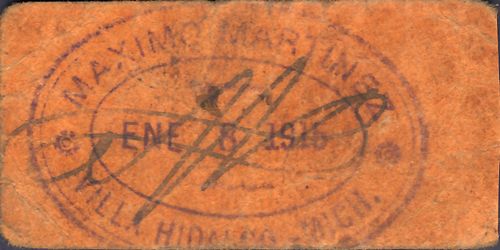 from
to
total
number
total
value
2c
number horizontal
includes numbers 3051 to 5164

CNBanxico #11587

number vertical
includes number 4074
Tancítaro
Eligio Daza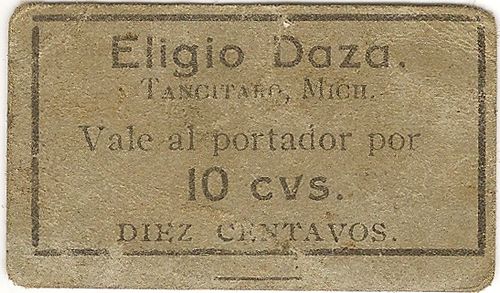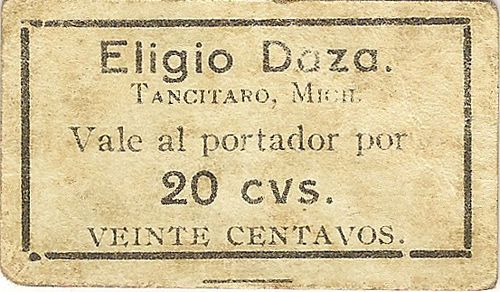 Enrique Chávez Barragán
Parácuaro
"El Cambio Mercantil"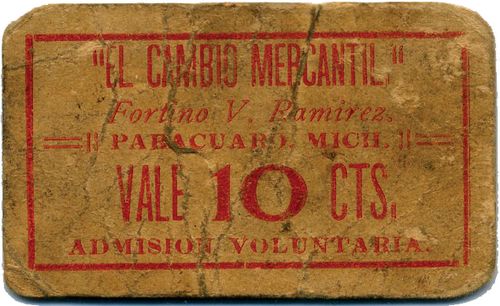 Fortino V. Ramirez
"La Guadalupe" Molino de Arroz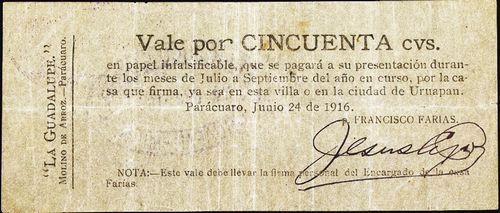 This note was dated 24 June 1916 and was redeemable in infalsificable from July to September, either in Parácuaro or in Uruapan, and as such is on a par with similar issues from Uruapan, Fernández y Cía., Hurtado y Cía. and La Camelia. it was signed by [ ][identification needed] on behalf of the casa Francisco Farías.
Tacámbaro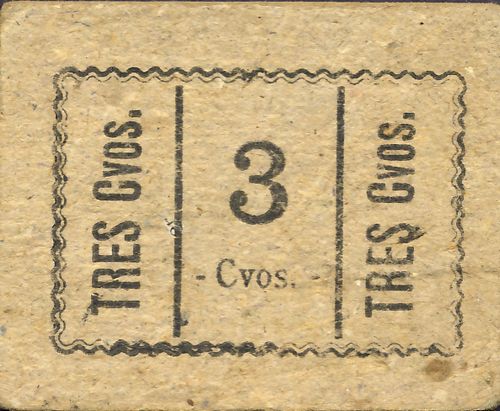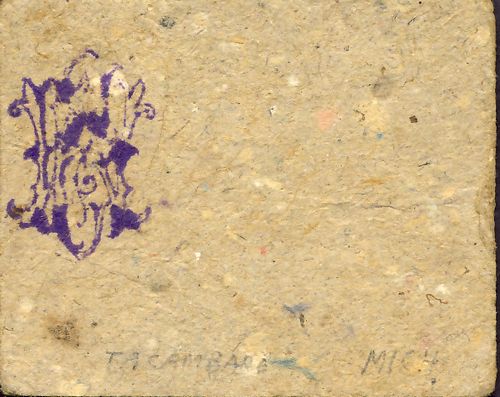 Unknown origin
Leopoldo Guido