Commercial concerns (Uruapan)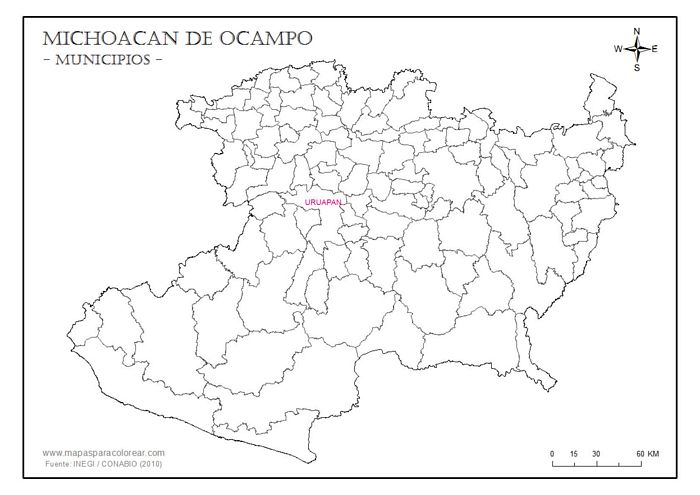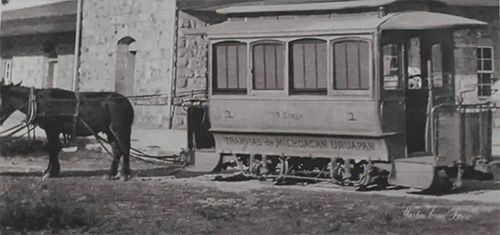 Uruapan
In the beginning it seems that various businesses issued cartones of similar design and for voluntary acceptance.
Los Dos Mundos
The Los Dos Mundos store was established in the southern corner of portal Zaragoza (on the east side of the Plaza Juárez (today part of the Plaza Monumental Morelos)) in the 1880s and offered clothing, lingerie, footwear, glassware and boneware. In 1915 it was managed by Juan Álvarez C.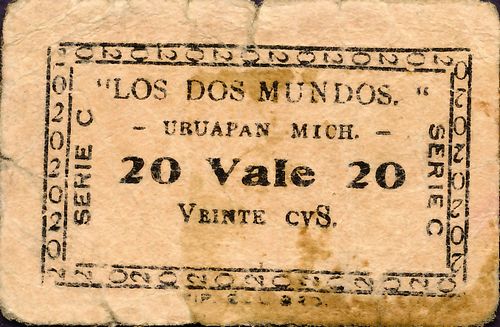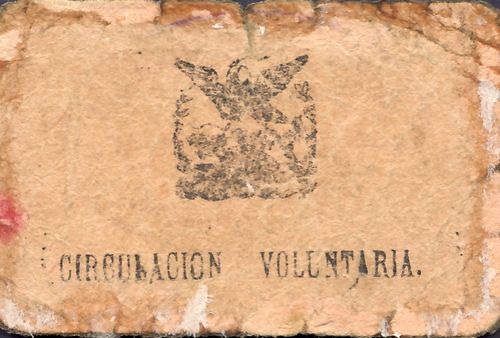 La Isla de Cuba
The Isla de Cuba store was also located in the portal Zaragoza and in 1898 owned by Carlos Melgoza. In September 1898, Melgoza, then 27 years old, witnessed the sale of a plot of land to the Compañía del Ferrocarril Nacional Mexicano.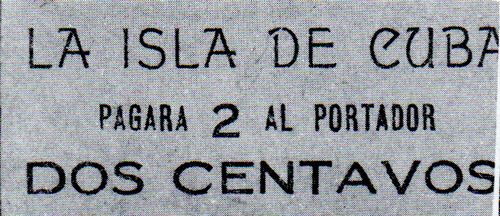 We know of a 2c green cartón.
El Negro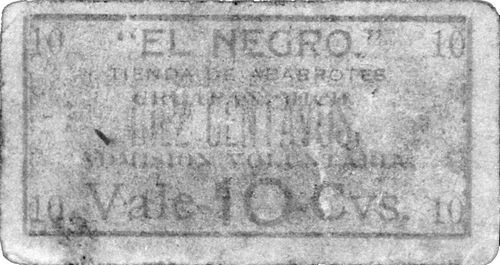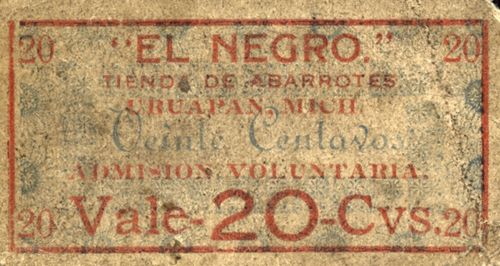 This grocery store was run by Jesús D. Cendejas.
Meson Reforma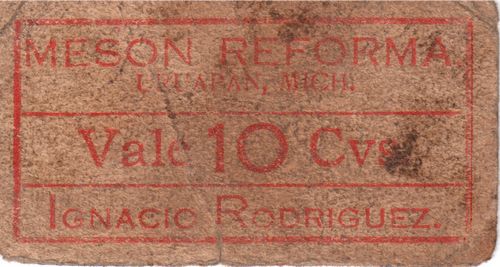 the Meson Reforma was operated by Ignacio Rodríguez.
La Victoria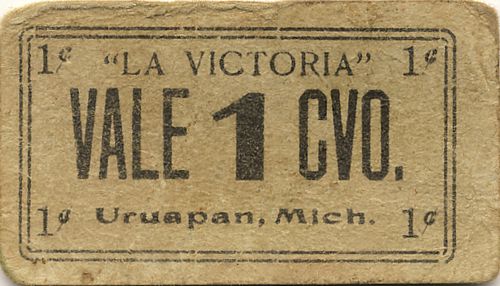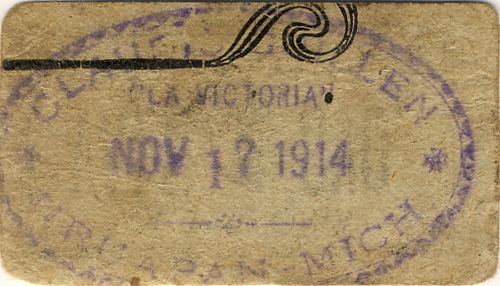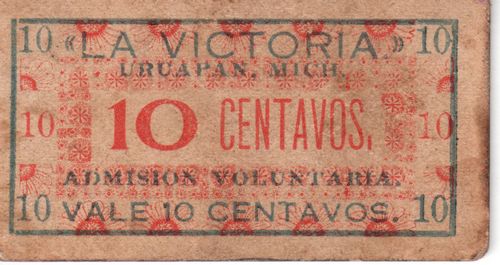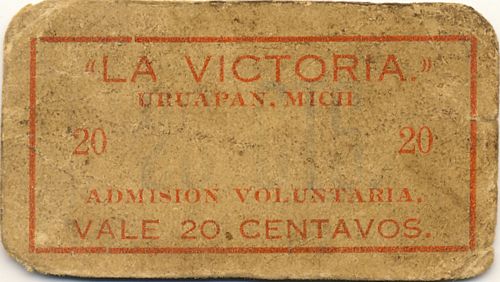 These three notes might come from different series.The 1c note datestamped 17 November 1914 does not have the legend 'ADMISION VOLUNTARIA'. The handstamp is of Claudio Guillén.
Hotel San Francisco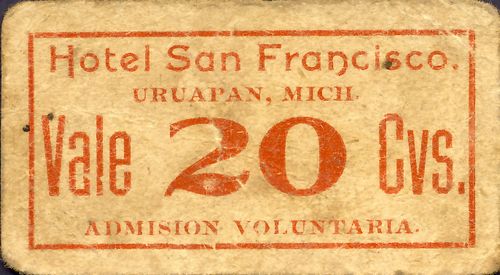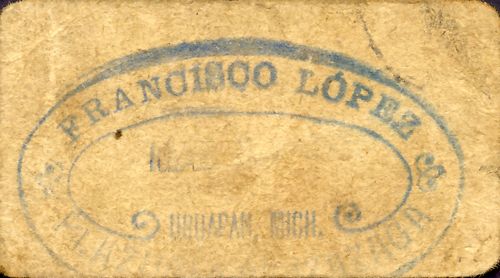 TThe handstamp is of Francisco López.
"La Primervera"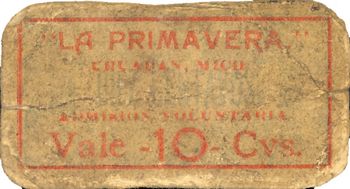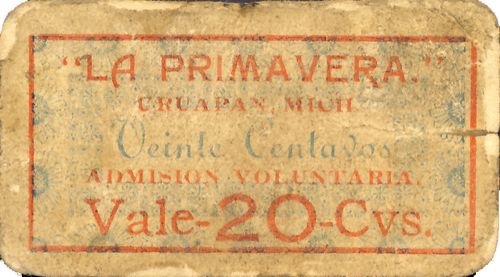 "La Ciudadela"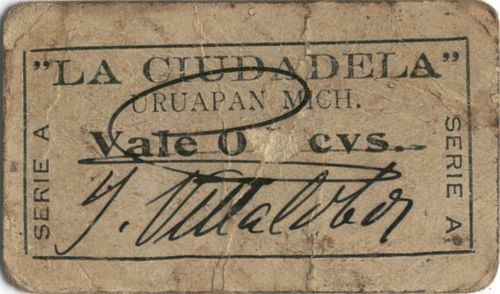 This note has the signature of Isidro Villalobos Cerda .
Isidro Villalobos Cerda owned La Ciudadela, a grocery store (tienda de ultramarinos) and in 1913 built the Hotel Progreso (a name that signified the prosperity of the town and recalling its oficial name, Uruapan de Progreso) in calle de la Unión (today calle 5 de Febrero, núm. 7).

Villalobos, with his brother Juan, was the major shareholder in the local streetcar company.

In 1909 there was tension in Uruapan between the authorities and the general population because of a shortage of corn. Villalobos help the prefecto Salvador Gutiérrez solve the problem by buying grain from haciendas and selling it on at costEl Heraldo, Zamora, Tomo VI, Año VI, Núm. 23, 13 June 1909.
Bejarano y Alvarez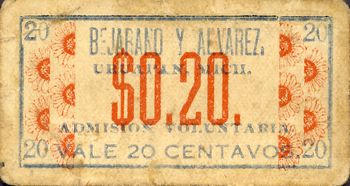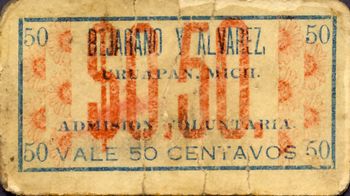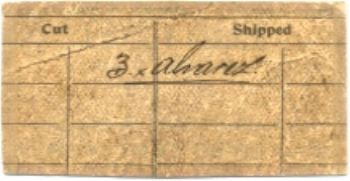 Comerciantes de Uruapan
By August 1915 businesses had agreed a commmon plan and issued a series of notes guaranteed by a deposit of legal tender and therefore acknowledged as of forced circulation within the city. The higher value notes had the printed names of Francisco Armella as Depositario, Othon Fernández as Pagador and Rafael Cano as Presidente Municipal (and Interventor overseeing the project).
| | |
| --- | --- |
| Francisco Armella | |
| Othón Fernández was prefect of the district of Jíquilpan from 1899 to 1900. | |
| Rafael Cano was federal deputy for Uruapan from 1917 to 1918 and alternate for that of Pátzcuaro from 1920 to 1922. | |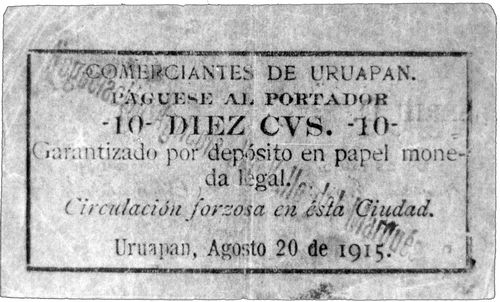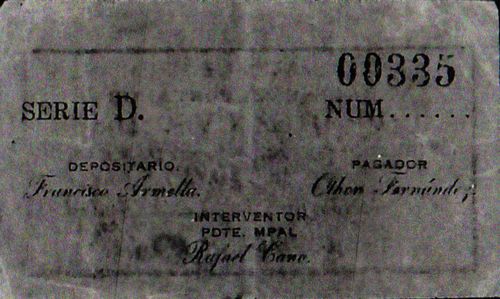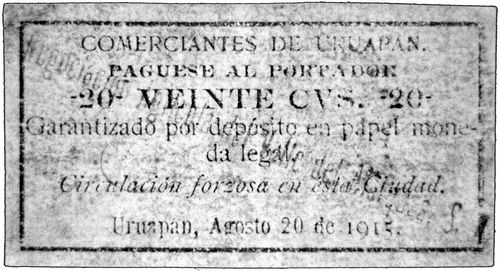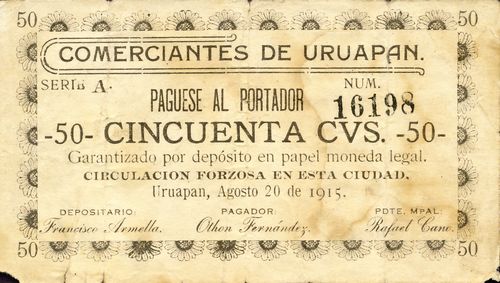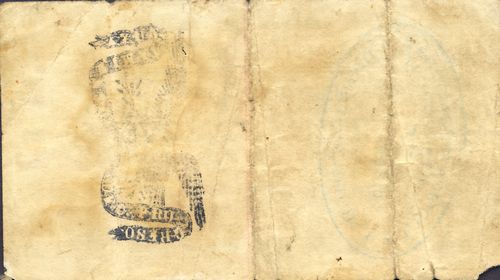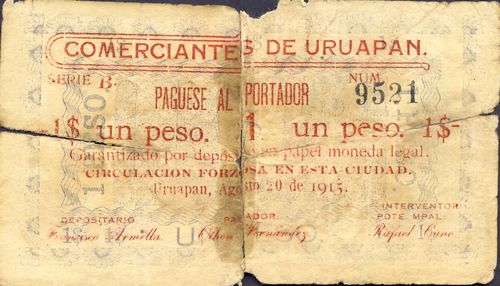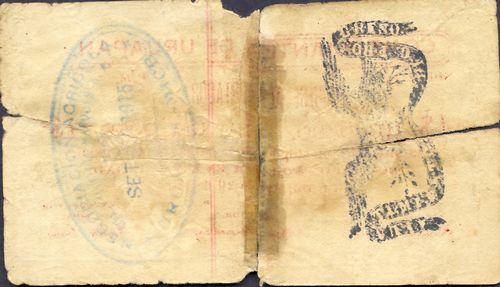 series
from
to
total
number
total
value
10c
D
00001
includes number 00335
20c
C
includes number 01222
50c
A
includes numbers 6803

CNBanxico #5258

to 16198
$1
B
includes numbers 7053

CNBanxico #5259

to 9521
In June and July at least three companies were paying their workers with vales that could be accepted by local businesses and would be redeemed weekly in quantities of not less than ten pesos for infalsificable money. The Fernández notes asks the businesses not to reuse the notes as change, and both set a timelimit of September 1916, by when, presumably, they expected the shortage of currency to be resolved.
Fernández y Cía.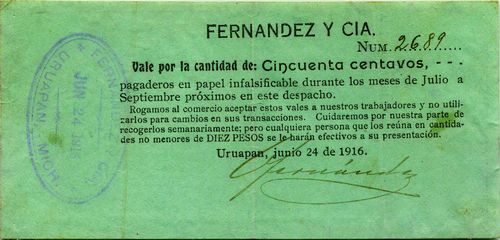 from
to
total
number
total
value
50c
includes number 2689

CNBanxico #11604
J. Fernández y Compañía were seed merchants.
Hurtado y Cía.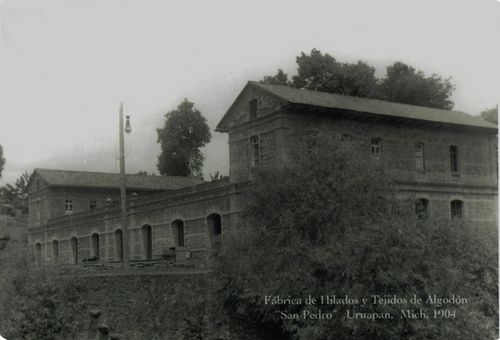 In 1896 the state government gave approval to a small group of landowners and merchants to install a factory in Uruapan for cotton yarns and fabrics, wool, linen and other textiles. The company had been incorporated between 1892 and 1894, under the name of "Hurtado, Cerda y Compañía" and directed by Nabor and Leopoldo Hurtado y Espinosa, Wenceslao Hurtado, Silviano Martínez and Silviano Hurtado. The partners agreed to name the factory "Fábrica de Hilados y Tejidos San Pedro". By 1897 the new factory was in full service and operated with machinery imported from England. Within a few years, the company was increasing its capital and in later years, one of the largest shareholders, Leopoldo Hurtado y EspinosaLeopoldo Hurtado y Espinosa was born on 15 November 1857 in Purépero, Michoacán. The childhood of the future businessman and prominent politician was difficult, because when his father died he had to take care of his mother, three sisters and two brothers. In order to improve the economic situation of his family, he decided to go to Mexico in search of work and worked in a commercial house of his distant relative, Jesús Silva. There he worked for a few years, then wanted to become independent, and with the help of his former employer, he opened "La Colmena", where he sold sarapes, etc. A few months later, he met Santos de Letona, one of the most important sellers of blankets and fabrics in the centre of the country, who lent him, perhaps in merchandise and cash, two hundred thousand pesos, with which he extended his activities.
Leopoldo was elected Federal Deputy in the XXVI legislature for Uruapan but while participating in his political office, he did not cease to be involved in La Colmena and the Fábrica de San Pedro. He identified with the principles and ideals of Maderismo and immediately joined in the uprising. He socialised with Madero at his home in Tlalpan and was one of the four deputies, the representative of the District of Uruapan, who did not accept Madero and Pino Suárez' resignation. He met Villa and Zapata, but was no friend of either, but did have a friendship with Alvaro Obregón. He died on 13 March 1927, when he was eight months away from his 70th birthday. became the sole owner.
The facilities of the factory were considered one of the most modern and effective in Mexico, to such an extent that around 1911 the Italian Adolfo Dollero in his book México al Día refers to it in detail: "We have gone to see the factory of San Pedro whose yarns and fabrics are undoubtedly the best that are made in the Republic ... The machines were modern, and American, German and English. We count about six thousand spindles and two hundred looms. We observe the great variety of fabrics in general, and the excellent imitations of English fabrics that constitute the specialty of the factory. Egyptian and American cotton is used".
The offices of the factory, where for two hours each day these notes of Hurtado y Cía. could be redeemed, were at the northern end of Portal Zaragoza.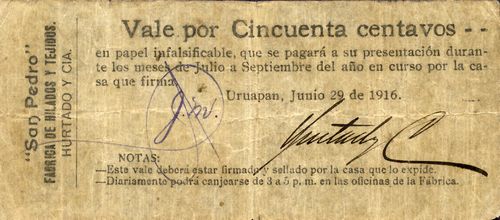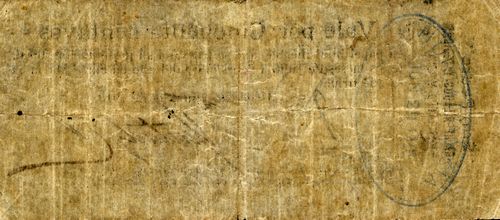 La Camelia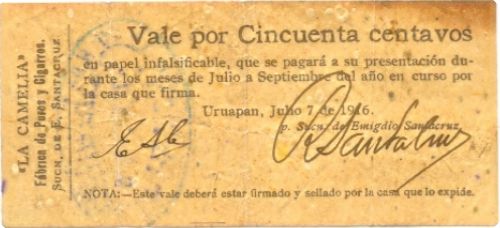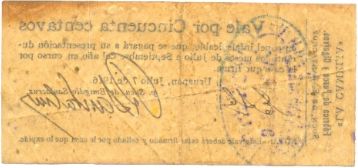 This cigar factory at this time was run by the Sucrs. de Emigdio Santacruz. The minimum salary in 1919 was $1.75 for men, 60c for women and 35c for childrenAGN, DT, caja 164, exp. 12, f.2 Cuestionario para el Censo Obrero de la fábrica "La Camelia", December 1919.
It issued a 50c note, dated 7 July 1916, signed by [ ][identification needed] and R. Santacruz.
| | |
| --- | --- |
| | |
| R. Santacruz | |