50c and $1 notes of the Banco de Nuevo León
50c proof

Following Huerta's decree of 30 March 1914 allowing banks to issue 50c notes the ABNC produced a proof of such a denomination, pending an order for 200,000 notesABNC, letter to Charles Blackmore, Resident Agent, Mexico City, 3 April 1916, but the order did not materialise and no notes were printed.
$1 note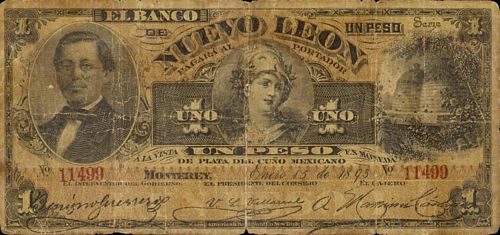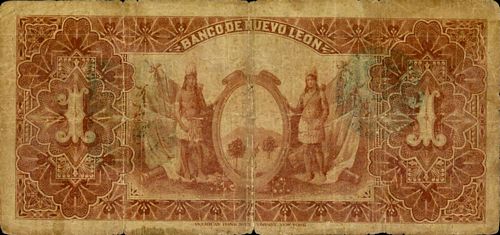 The vignettes are of General Zaragoza and the goddess Minerva.
Date of issue
Date on note
Series
from
to
Interventor
Presidente
Cajero


12 January 1892
O
5 February 1893
15 January 1893
Guerrero
Villarreal
Martínez Cárdenas
includes number 8608

CNBanxico #11687

includes number 22101

CNBanxico #11698

O-26
25001
26000
5 February 1893
O-33
32001
33000
Guerrero
Villarreal
Martínez Cárdenas
O-34
33001
34000
O-35
34001
35000
O-36
35001
36000
O-37
36001
37000


5 May 1893
50000
All 50,000 notes were issued by 1 April 1897.
These appear to have additional codes. 22101CNBanxico #11698 and 25682 had a large red P twice, 32422 had a red M twice, 37631 had a large blue S.
In 1897 the Ley General de Instituciones de Crédito prohibited banks from issuing notes in denominations below five pesos and banks had to withdraw any outstanding notes within two years so these were called in. 40,000 of these notes were incinerated on 2 January 1900report of interventor Camacho, 21 January 1900, Memorias de las Instituciones de Crédito correspondientes a los años 1897-1898-1899, tomo I. By then end of 1902 another 5,504 had been collectedinforme of interventor Camacho, 20 January 1903 Memorias de las Instituciones de Crédito correspondientes á los años 1900-1902, vol. I.
Then when in November 1913 Huerta removed this restriction the bank of Nuevo Leon placed a new order with the American Bank Note Company.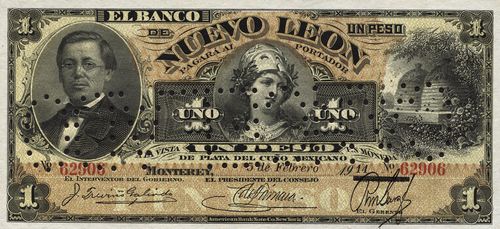 Date of issue
Date on note
Series
from
to
Interventor
Presidente

Cajero


Gerente


5 February 1914
A
50001
Treviño
de Tárnava
R. M. Garza
includes number 62901

CNBanxico #11699

includes numbers 62906 to 71214 needleprinted AMORTIZADO