The Liga Nacional Defensora de la Libertad Religiosa
These are not paper currency but included as they currently appear in the main catalogues.
The Cristero Rebellion (1926–29) was a widespread struggle in many central-western Mexican states against the secularist, anti-Catholic and anti-clerical policies of the Mexican government. The rebellion was set off by enactment under President Calles of a statute to enforce the anti-clerical articles of the Mexican Constitution of 1917.
The Liga Nacional Defensora de la Libertad Religiosa (LNDLR) (National League for the Defense of Religious Liberty) was a religious civil rights organization formed in March 1925 that played a crucial role in the Cristero Rebellion. The League had by June of its founding year about 36,000 members and chapters in almost every state of the country.
The LNDLR, along with the Catholic hierarchy, initially advocated peaceful resistance to the Calles Laws including a boycott of tax payment and nonessential goods and a petition drive to rescind the offending constitutional provisions. When the Church failed to obtain a compromise from Calles, the Mexican hierarchy ordered the priests to go on strike beginning 31 July 1926, the day the Calles Law was to go into effect.
Delegación Regional en el Estado de Nuevo León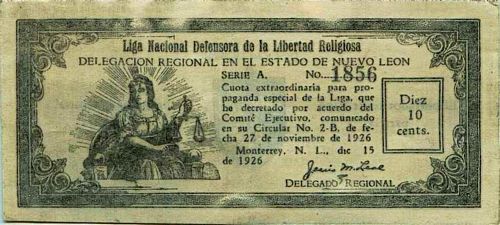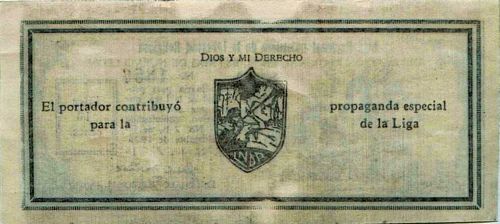 from
to
total
number
total
value
10c
includes number 1856
This is a issue from Monterrey, Nuevo León, agreed by the Executive Commitee (circular num. 2-B[text needed] of 27 November 1926), dated 15 December 1926 and signed by the regional delegate, Jesús M. Leal.
| | |
| --- | --- |
| Jesús M. Leal was president of the Unión Arquidiocesana of the Asociación Católica de la Juventud Mejicana in Monterrey and a regional delegate to the Liga though he resigned in October 1925 to pay more attention to the Asociación Católica. However, at a meeting in July 1926 he assumed the leadership of the Delegación Regional of the Liga and in a little time the group had ten thousand supporters who made the Liga's economic boycott a success in the state. | |
Soon after the clerical strike began sporadic popular uprisings began and beginning in September 1926 the LNDLR began to discuss revolt, but they maintained the policy of boycott. As the popular uprisings continued, especially in Jalisco and Colima, despite the lack of formal support from the bishops, the LNDLR advocated, on 1 January 1927, open rebellion to overthrow the regime and institute a new constitution with guarantees of religious freedom.
In 1927, the LNDLR reorganized the rebellion in the west and, in August 1928, gave the rebellion its first military leader, the well experienced General Enrique Gorostieta. The Cristeros began to engage in large scale military assaults.
Other Cristero issues were made in the Federal District and in Guadalajara.