Patricio Milmo
Patricio Milmo was born in Ballisodare, County Sligo, Ireland on 27 September 1826. In 1845 he emigrated to Mexico and in 1848 established himself in Monterrey.
As befits a rags-to-riches story, it is said that Milmo had scarcely a cent in his pocket when he arrived in Mexico but a fortunate train of circumstances soon brought him to prominence. He met General Santiago Vidaurri Valdez, the strongman of northeast Mexico during the 1850s and 1860s, who became his firm friend, pushing him ahead at every opportunity. Milmo took to raising cattle, an industry which at the time had been little developed, and made money from the very start.
In 1848 he established the first banking agency in the north of Mexico under the name Casa Milmo with branch offices in Matamoros, Eagle Pass, Laredo, Texas and later Torreón.
On 23 April 1857 he married María Prudenciana Vidaurri Vidaurri, the daughter of Santiago Vidaurri, a marriage that brought him even greater social prominence. He expanded his businesses to cotton, mining, transportation, steel production, cattle and sheep raising. He acquired several ranches and shares in the furniture factory "La Industrial" and in the soap factory "La Esperanza" of Lerdo. He also had a partial interest in the national railway to transport his coal and became "coal partner" in La Fundidora steel company. In 1863 he opened the Milmo Bank in Monterrey.
Milmo fought in Maximilian's Legión Extranjera, commanded in Monterrey by Lorenzo de Castro, and profited from dealing with the Confederates during the American Civil War. At Juárez' triumph his father-in-law was executed and Milmo imprisoned, but he manage to rehabilitate himself. He was a firm friend of President Díaz. His ranch, known as Mesa de Cartujanos, became famous throughout Mexico and consisted of 75,000 acres situated on a tableland. It became the finest estate in Mexico, and Milmo one of the richest men.
In 1882 Patricio Milmo and Daniel Milmo purchased the land for the establishment of a new bank, "Milmo National Bank of Laredo", and received the federal bank charter from the U. S. government in July of the same year.
He died in Monterrey on 15 February 1899.
The notes of El Banco de Patricio Milmo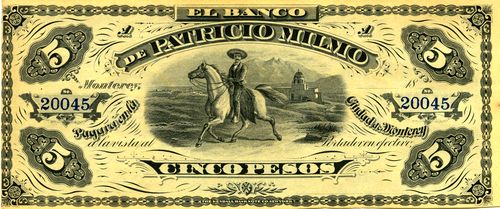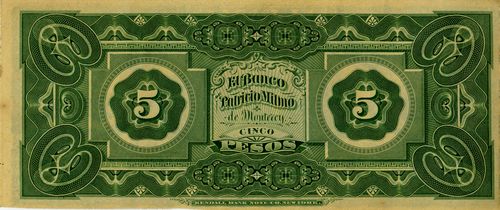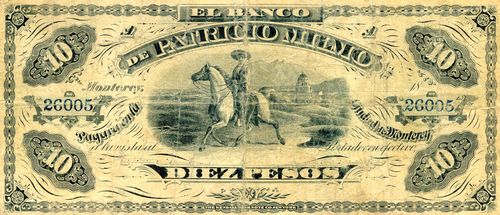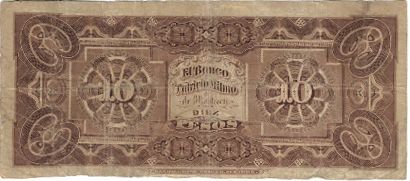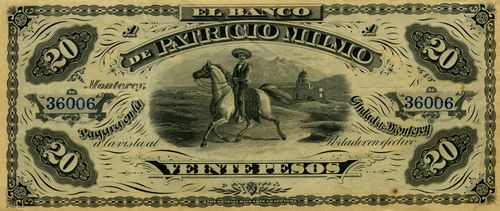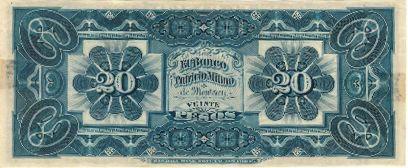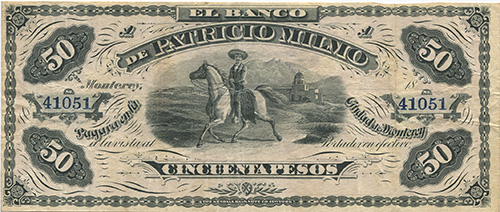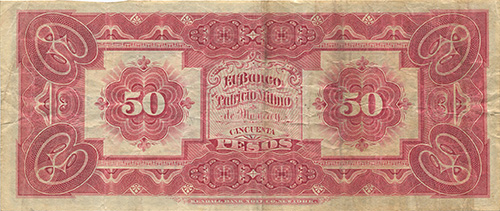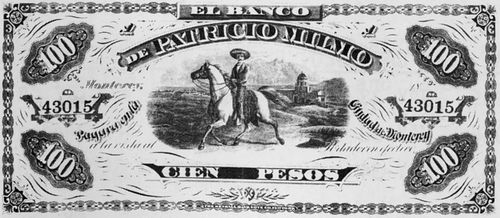 series
from
to
total
number
total
value
$5
A

20001

includes numbers 20001 to 20110
$10
A

26001

includes number 26005

CNBanxico #11694

$20
A

36001

includes numbers 36006 to 36063
$50
A

41001

includes numbers 41010 to 41051
$100
A

43001

includes number 43015
These notes date from the 1880s when there was a growing demand for currency in the booming northern states and as yet little federal regulation. They are payable on demand in cash. Given their denominations they would have been used by local businesses for commercial transactions rather than to pay wages or make regular purchases.
These notes were printed by the Kendall Bank Note Company of New YorkGeorge H. Kendall founded the company in 1877 and changed its name to the New York Bank Note Company in [ ]. The central vignette was especially commisioned as it includes the Obispado and the iconic Cerro de la Silla, which provides a backdrop to the city of Monterrey, in the background.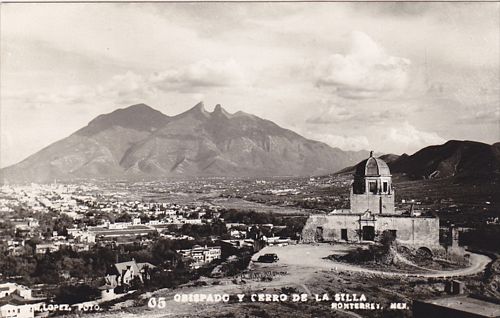 The image was incongruously used later for a $1 note of the Banco Occidental in El Salvador.