El Banco de Centenario
On 24 April 1907 a Comisión Nacional del Centenario de la Independencia was formed to organise the celebrations for the centenary of Mexico's Independence. Once the national Comisión was established, the members nominated delegates to set up statewide and municipal commissions in the individual states. The delegate from Querétaro was Carlos M. Loyola, who summoned a meeting at which the following appointments were made:
Presidente honorario, Francisco González de Cosío, governor of the state
Presidente, Carlos M. Loyola.
Vicepresidente, Adolfo de la Isla.
Tesorero, Isauro Gutiérrez.
Secretario, Amador E. Ugalde.
Prosecretario, Jesús M. Loyola.
Vocales, Desiderio Reséndiz, José M. Rivera, Rosendo Rivera, José García y José M.CarrilloLa Sombra de Arteaga, Núm 22., 2 June 1907; Núm. 4., 5 February 1908.
In August 1907 after considering various suggestions the Comisión Central decided to commemorate the centenary by erecting a statue of Josefa Ortiz de Domínguez, "la Corregidora", at a cost of around $40,000. On 15 September 1908 they held a pageant in the Gran Teatro Iturbide, where they chose the architect and set about raising funds.
This note, dated a few days later, must be one of the first efforts to raise donations.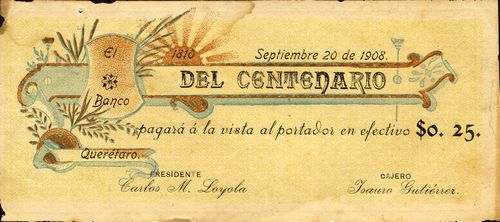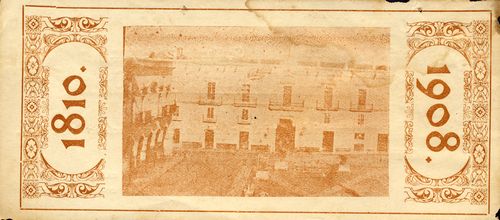 As such it is not paper money but with its appealing title 'El Banco del Centenario' deserves mention. It has the names of Carlos María Loyola as Presidente and Isauro Gutiérrez as Cajero.


Carlos María Loyola was born in 1859.

In May 1899 Carlos and his brother, Jesús, inherited from their father, Antonio M. Loyola, the casa de comercio "La Concepción" that had been operating for around 30 yearsLa Sombra de Arteaga, 17 February 1907.

In 1900 Antonio M. Loyola ran a steam engine in the ex-covent of San Antonio that provided electricity for a few houses in Querétaro, but the Compañía Hidroeléctrica Queretana S.A. was formed in June 1903 to supply electricity to the whole city, with Carlos as managerEl Mundo Ilustrado, 30 September 1906. On 15 September 1906 the state governor and president of the company, Francisco González de Cosío, turned on the company's hydroelectric plant at Las Rosas and so lit up the city.

Carlos was involved in other businesses, e.g. in 1903 he had the agency for the Banco de Guanajuato Miguel M. Lámbarri, Directorio General de la Ciudad de Querétaro, 1903 and he as Secretario of the Sociedad Minera Queretana La Magdalena, S. A. in January 1905La Sombra de Arteaga, 11 January 1905, and in important social circles.

When Porfirio Díaz resigned in 1911, González de Cosío, who had been the governor of Querétaro for 27 years, also resigned and Carlos was elected governor. When Huerta took over after the decena trágica, Loyola recognised his rule but Huerta later forced him out and imposed his friend, General Joaquín F. Chicarro, onto Querétaro as governor, from 2 October 1913 until 14 July 1914.

Isauro Gutiérrez