La Primera División de Caballería
This note has appeared in the catalogues since Gaytan as of unknown origin from the state of Durango. However, it is more likely from either Sinaloa or Tepic.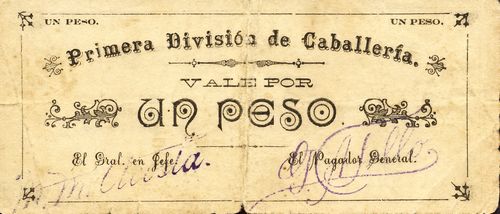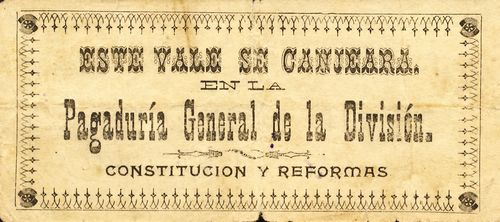 These $1 notes are signed by M. M. Acosta as General en Jefe and [ ][identification needed] as Pagador General.
Miguel M. Acosta Guajardo was born in Chihuahua on 16 September 1891. He took part in Madero's uprising and then in 1912 fought against the Orozquistas in the states of Durango, Coahuila and Zacatecas. He became a Mayor de caballería in February 1913 when he supported Carranza's rebellion, was captured by the Federals whilst blowing up railway lines in San Luis Potosí but later escaped and joined Carranza in Hermosillo, Sonora.

Carranza placed him under the direct command of General Lucio Blanco in Alvaro Obregón's Ejército del Noroeste, and he fought with this corps from 15 November 1913 until 14 November 1914. As a Teniente Coronel de caballería, he took part in the capture of Sinaloa and Tepic, taking Acaponeta on 5 May and Tepic on 15 May. In June 1914 he took command of the División de Caballería of the Ejército del Noroeste and began the advance on Jalisco.

He subsequently had a long and successful military career.
The legend 'Constitución y Reformas' date these notes to after 14 February 1914, the date of Carranza's decree núm. 20 establishing this phraseology.