A bond issue in 1862
Benito Juárez's government, in a circular of 24 July 1862[text needed], demanded a contribution towards the costs of the Ejército de Oriente which was opposing the French intervention. In San Luis Potosí, the military commander of the state, General Jesús González Ortega, in a decree of 6 August 1862 [ ][text needed].
Therefore, to meet his state's obligation, on 17 December 1862 the governor of San Luis Potosí, Sóstenes Escandón Sóstenes Escandón Martínez was born in the hacienda of Diego Ruiz of the mission of Pastora de Rioverde and was baptized on 4 April 1819. He married Flora Pando, daughter of a rich Spaniard, José de Pando, the owner of the hacienda of San Rafael, between San Ciro and Lagunillas. From a very young age he dedicated himself to trade managing to make a regular fortune. In 1853 he was president of the Ayuntamiento of Rioverde and in 1856 affiliated with the Liberal party. He was elected governor of the state on 14 October 1960, a position he held until 3 January 1862 when, because of the state of siege, he was replaced by the comandante militar, Jesús González Ortega, and then resumed when the state of siege ended. He returned to be governor of the state from 15 December 1869 to 2 August 1870. He retired to Rioverde, San Luis Potosí, where he died on 3 October 1876, of cirrhosis. authorised the issue of $10,000 in $1 bonds.
The bonds were to be sent to the various political authorities, according to a quota set by the state government. In the first two weeks of every month the local authority would collect the amount levied on each individual, giving bonos in exchange, and in the final two week it would remit the amount collected, and the state government would, in turn, remit the $10,000 to the central government.
So far, it appears that these were merely the record of a forced loan and, as such, not paper money. They were finally redeemed, as indicated by the endorsement on the example below, which states that it was registered (Registrado á fojas 7 del libre respectivo para ser convertido) on 6 October 1889. However, one wonders why the state resorted to the printing of 10,000 individual pieces of paper unless it envisaged them being negotiable in some way.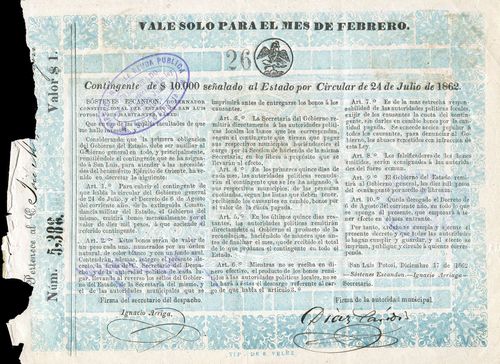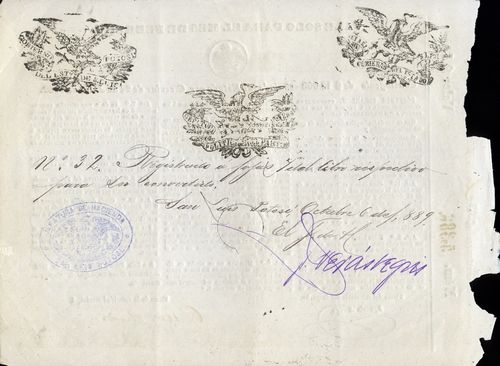 Date on note
from
to
total
number
total
value


February
includes number 5388
$10,000
The bonds carry the signature of Ignacio Arri(a)ga, the Secretario del Despacho, and that of the representative of the municipal authority to which the bond was assigned.
Ignacio Arriaga Ramírez was the illegitimate son of the patrician Ponciano Arriaga Leija. He studied law at the Colegio de San Ildefonso in Mexico City, under Sebastián Lerdo de Tejada, and had a successful career as a lawyer, In October 1862 he joined the Battallón Indepencia of the National Guard with the rank of captain and in the same month governor Sóstenes Escandón appointed him jefe político in San Luis Potosí and then Secretario General del Gobierno.

Ignacio was a distinguished and incorruptible district judge, member of the Junta Directiva in 1862, a professor and in 1875 the Director of the Instituto Científico y Literario of San Luis Potosí ((now the Universidad Autónoma Potosina). He was a member of the fifth (September 1873 to September 1875) and sixth (September 1875 to March 1877) constitutional legislature of San Luis Potosí.

He died in San Luis Potosí on 13 June 1884.

Díaz Ca[ñedo]