Comercio de Matamoros
A series of three notes (50c, $1 and $2) from January 1915.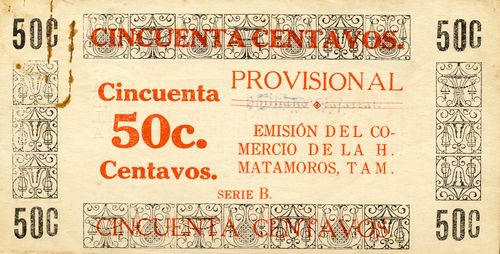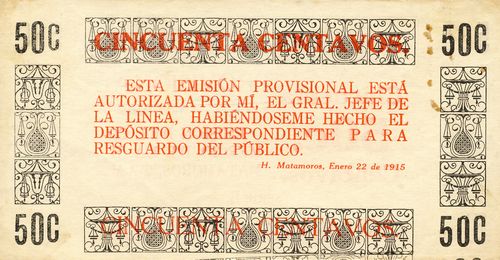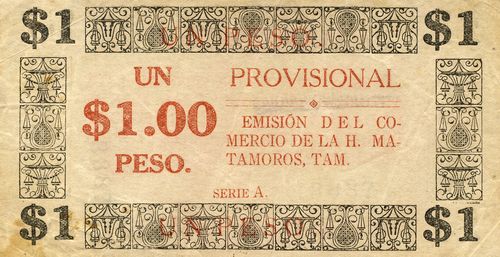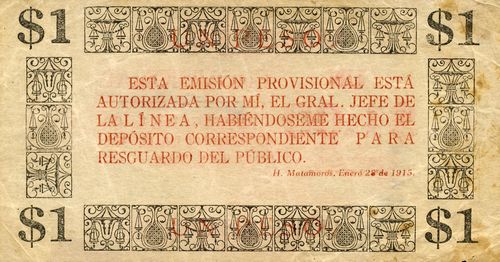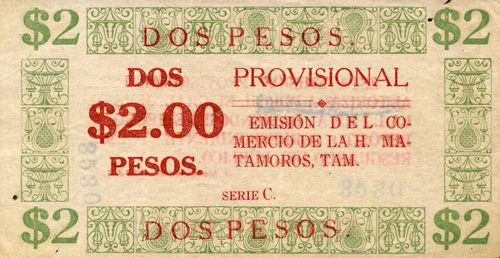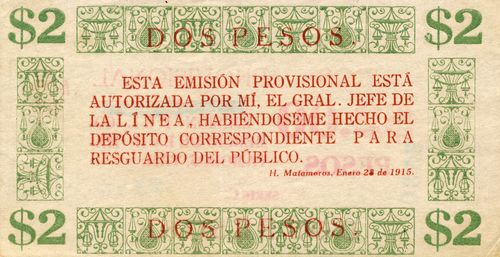 series
from
to
total
number
total
value
50c
B
$1
A
includes numbers 3064 to 3887
$2
C
includes numbers 336 to 3530
The text on the reverse state that this provisional issue was authorized by the General Jefe de la Linea (Fronteriza). They are known with a facsimile signature of General Emiliano P. Nafarrate.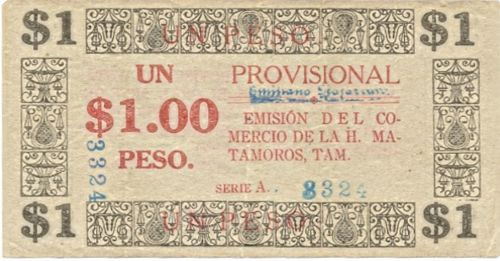 | | |
| --- | --- |
| Emiliano P. Nafarrate had been an adherent of Madero and after the decena tragíca moved from Mexico City to Tamaulipas. A Carrancista loyalist, he fought the Villistas, distinguishing himself in the defense of Matamoros. He was jefe militar de la plaza in Matamoros in 1915. | |
The 50c note is dated 22 January 1915 and the other values 28 January. These will have been issued because of the shortage of small notes. In fact, there is a telegram from General Antonio I. Villarreal in Matamoros to Carranza on the very same day as the 50c note (22 January) stating that $1, $5 and $10 (Gobierno Provisional de México) notes were being hoarded by speculators in the United States, leaving only the $50 and $100 notes, with which it was impossible to pay the troopsAHSDN, exp. XI/481.5/294.
On 28 January the Presidente Municipal, Amado Ch. Gómez, reported that Nafarrate had authorized a small issue of 50c and $1 notesAMMat, Archivo General 1915, exp. 1475 letter Presidente Municipal to , 28 January 1915. Does this mean that the $2 notes were issued at a later date?
One of the $1 placings had a typo (OORESPONDIENTE for CORRESPONDIENTE)