Signatories of the Banco Mercantil de Veracruz
Gerente
Bernabé Ibarguen

In the early 1880s Ibargüen had a commission and brokerage company called "Bernabé Ibargüen y Compañía". He was appointed the first managerLa Patria, México, 9 January 1898 and resigned on 15 November 1901El Correo Español, 16 November 1901.

José María Pardo was contador when the bank opened in March 1898La Patria, México, 3 March 1898 and took over as manager in November 1901El Correo Español, 16 November 1901; AGN, SC224 Antiguos Bancos de Emisión, caja 295, libro [ ], p. 2.
Interventor
José Mirón y Mosquera was a shareholder in the oldest casa comercial in Veracruz, Viya Hermanos Sucesores, originally founded in 1770.

He was appointed interventor on 5 January 1897CEHM, Fondo CDLIV Colección José Y. Limantour, 1a. 1883, carpeta 35, legajo 9320.
Consejero
Esteban J. Pous was a merchant in Veracruz who invested his profits in several sectors of the economy (trade, banking and urban goods) and in urban and rural real estate. He owned three properties known as El Zapotal, Durazno and Palo Miguel, in San Juan Evangelista, Minatitlán and La Rinconada, located in the municipality of Puente Nacional.

Pous was vice-president of the bank in 1899 and when he died in June 1903.

Anselmo Román Zaldo was born in Pradoluengo, Burgos, Spain on 21 April 1863, and emigrated to Mexico to work in Zaldo Hermanos y Cía, the firm founded by his uncle, Bruno Zaldo y RiveraThis was founded around 1867 by Bruno who had come to Veracruz a few years earlier and set himself up as a general merchant and was later joined by his brothers. At the end of the 1870s Antonio Basagoiti founded the private bank Basagoiti-Zaldo with the Zaldos in Mexico City, located at calle de Capuchinas 2½. There is no further information on this bank but in the Directorio de Veracruz of 1880 Zaldos Hermanos appear as bankers, located at Salinas 10. The bank is mentioned in various Zaldo Hermanos adverts up to 1900.

In addition to being a shareholder and manager of Zaldo Hermanos y Compañía and a founding shareholder and president of the Banco Mercantil de Veracruz, he was a director of the Banco Hispano Americano, director of the Tabacalera Mexicana, S. A.La Tabacalera Mexicana was established in 1899 as Basagoiti, Zaldo y Compañía, to set up a cigarette factory. Zaldo Hermanos y Compañía had 25% of the stock (Antonio Basagoiti had another 25%). It was reorganised in 1907 as La Tabacelera Mexicana S. A. and vice-president of the Círculo Español Mercantil of Veracruz.

For his efforts in raising funds for Spain in the Cuban war of independence Anselmo was awarded the Cruz del Mérito Naval and the Collar de la Real Distinguida Orden de Carlos III and Comendador de la Real Orden de Isabel la Católicainformation on the Zaldo family from Rafael Zaldo Hernández, Indianos Ilustres: Familia Zaldo, México, 2013.

Ramón Marure
Ricardo Zaldo was a director of Almacenes Generales de Depósito de México y Veracruz.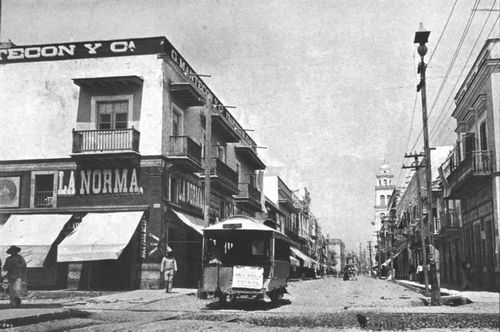 Andrés Armando Deschamps was a member of the political and commercial elite of Veracruz. His company was A. Deschamps y Cía, S. en C.Its members were Armando Deschamps himself as manager, Ricardo Zaldo and Mario Molina. The company was incorporated with a share capital of $45,000 and was created for the operation of "La Norma"., trading as "La Norma", located at Independencia 59 and offering everything related in haberdashery, clothing, luxury goods, silks and satins, and also shoes and boots for ladies and gentlemen.

He was a member of the second Consejo Administrativo in 1899.

Armando Deschamps was a founding member of the Cámara Nacional de Comercio in 1909. Because of his "proven honesty" he was appointed Tesorero General in 1915 and he was also substitute governor in 1919 and 1920.

Federico Gutiérrez y Pico joined the board on 11 June 1903 to fill the vacancy left by the death of Esteban Pous

AGN, SC224 Antiguos Bancos de Emisión, caja 295, libro [ ])

.
Pedro González
Victoriano Llorente

Antonio García de Presno

was president of the bank in 1900-1901 and 1909-1913

Adrian Carranza was from Calleja y Hnos. Cía, a firm founded in 1864. It was situated at Independencia 7 and offered domestic and imported groceries.

Laureano Alvarez
Jacinto Villacieros Benito
Carlos Muñoz

Alfredo Sierra was born in 1872.

From 1 March 1901 he was manager of Casa C. Benito y CíaEl Correo Español, 17 March 1901 which ran "La Soriana", at Vicario 8, offering lingerie, silks and fancy goods.

In April 1916 he was president of the newly-formed Unión Petrolera de Veracruz, S. A.El Pueblo, 11 April 1916. Other board members were Dionisio Román Zaldo, Carlos Muñoz, Antonio G. de Presno boardmembers, and Adrián Carranza was an investor.

Erwin Speckter

In 1906 Speckter was the socio gerente of the casa comercial, M. During y Cia., Sucs, S. en C.La Opinión, 20 July 1906. This casa commercial was founded in the 1860s by H. Von During and was situated in the Portales del Diligencias, facing the Plaza de Armas. It also had ten warehouses to store its stock of equipment and supplies for agriculture and coffee production, fence wire, electrical goods, paint, oil and varnishes. It also exported wood, coffee and tobacco, and besides Veracruz covered the states of Tabasco, Yucatán, Oaxaca, Guerrero and Chiapas.

Speckter was consul for the Netherlands.

C. Pardo y Sainz

Dionisio Román Zaldo was Anselmo's brother. He was born in Pradoluengo, Burgos, Spain on 21 May 1878.

As well as being a director of the Banco Mercantil de Veracruz, he was president of the Banco de Tabasco, S. A., a shareholder and manager of Zaldo Hermanos y Compañía, director of the Tabacalera Mexicana, S. A. and of the Compañía Petrolera Cuauhtémoc, S. A. and president of the Iberia football team. He was president of the Círculo Español Mercantil of Veracruz in 1913 – 1914.

Antonio Palomo was the primer vocal propietario in 1899.

was president of the bank in 1901-1903