Cartones of Veracruz
A local issue?
On 14 October 1914 El Dictamen reported that, because of the difficulties caused by the lack of small change in the port of Veracruz, for the past ten days General Cándido Aguilar had sent various business houses more than $30,000 in cheques (over $10,000 in 5c cheques and $20,000 in 20c cheques). Speculators were trying to buy up these in quantities of $500 or $1,000 and then selling them on at a premium, but the authorities were putting a stop to these attemptsEl Dictamen, Año XVI, Núm. 1299, 14 October 1914.
To what issue doe this refer?
There were two series of cartones issued in Veracruz, both with the same overall theme (5c Francisco I. Madero/coat of arms of Xalapa, 10c Benito Juárez/coat of arms of Orizaba, 20c Miguel Hidalgo/coat of arms of Veracruz). The red overprint is a monogram of EVLL (Estado de Veracruz Llave Libre) and the signature of A. Deschampes.
More information is required on the timing and sequence of these issues.
First issue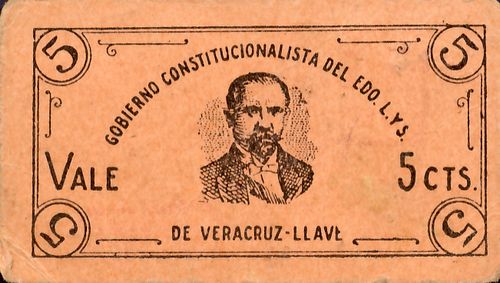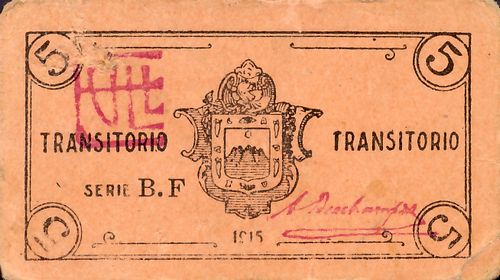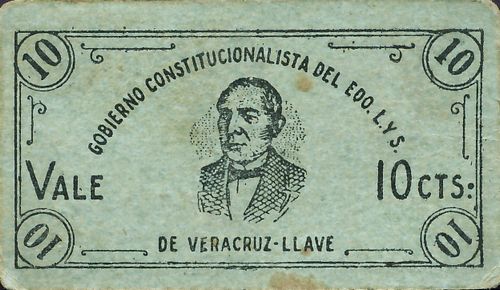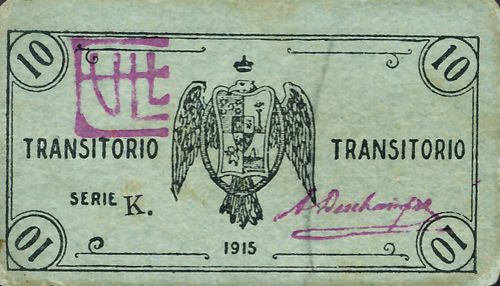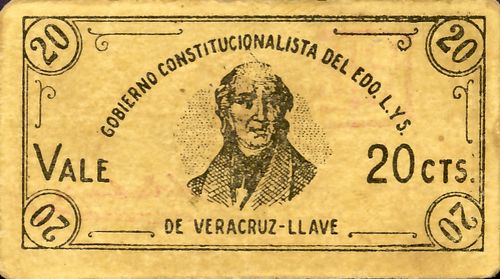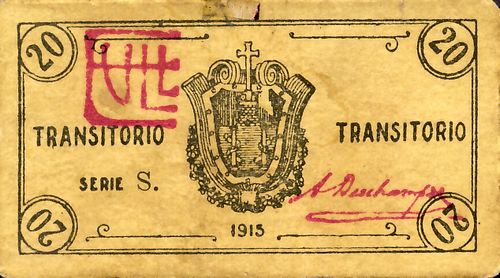 On 15 August 1915 it was reported that for some days the Tesorería General de la Federación had been introducing the new 5c and 10c cartones that had been ordered to be issued. So far $100,000 had been put into circulation. These were of a new design and their design was the work of Alvaro Pruneda, Inspector Técnico de la Oficina Impresora de Billetes, who was also in charge of the new note that would soon be put into circulation. The new cartones had an invisible contraseña, to counter being forged, and were unnumberedEl Dictamen, Veracruz, Tomo XVII, Num 1584, 15 August 1915. They were printed on cartoncillo satinadoEl Demócrata, México, Tomo I, Núm. 266, 20 August 1915. Known series are:
| | |
| --- | --- |
| | Series |
| 5c | B. F. |
| 10c | K. |
| 20c | S. |
Second issue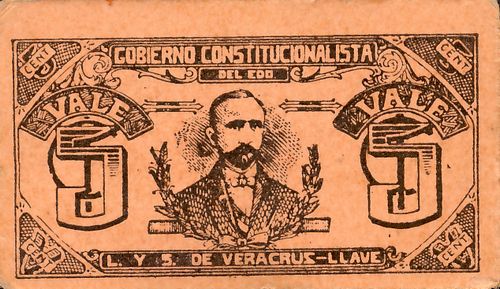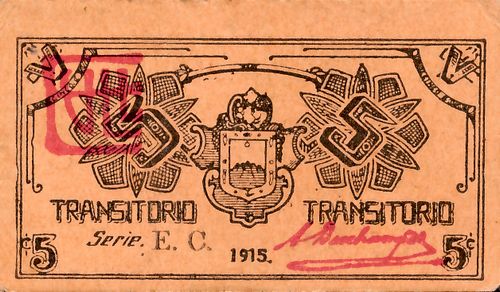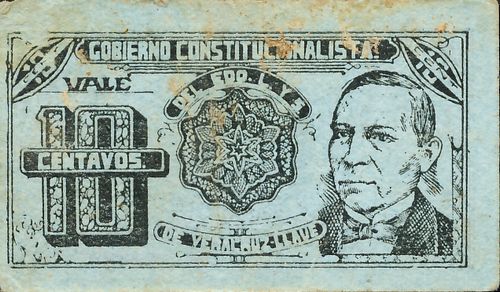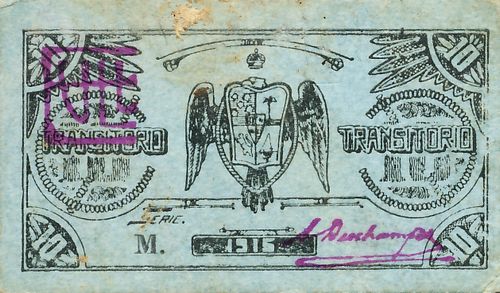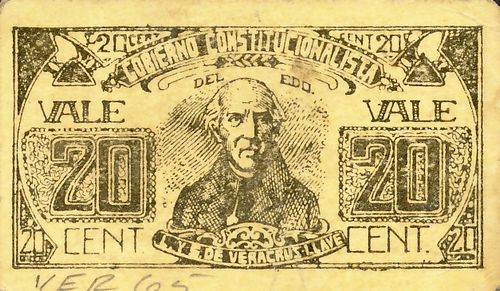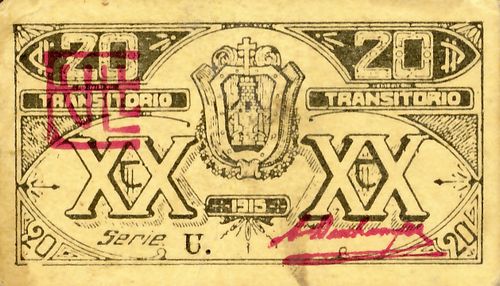 On 2 September 1915 Carranza gave Candido Aguilar, governor of Veracruz, permission to issue some more fractional currency and so on 15 September the governor, in his decree núm. 39, authorised an issue of $1,500,000 in cartones of 5c, 10c and 20c. The new currency had to be accepted in all transactions, up to a total amount of five pesos. Once the cartones were printed the Tesorero General would hand over the plates to the Secretaría de Hacienda y Crédito PúblicoGaceta Oficial, Tomo II, Núm. 130, 18 September 1915.
The new cartones entered circulation on 20 September. To avoid 'coyotes' people could obtain them from the Tesorería from 9.00a.m. to 11.00a.m. on every Tuesday, Thursday or SaturdayEl Dictamen, Tomo XVII, Num. 1616, 21 September 1915. Known series are:
Series
5c
B. C.
B. D.
B. G.
E. C.
10c
M.
Y. P.
Z
20c
Q.
R.
S.
T.
U.
Z. S.