Sociedad cooperativa de consumos "Obreros Federados"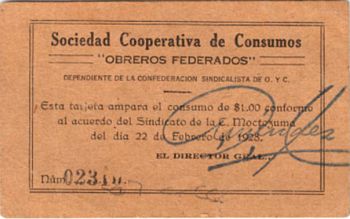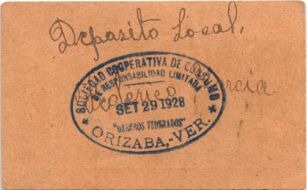 from
to
total
number
total
value
$1
includes numbers 02175 to 02310
This worker's co-operative in Orizaba issued this note in September 1928. The text reads 'This card is worth $1 in accordance with the agreement made by the Moctezuma Brewery Union on 22 February 1928 (Esta tarjeta ampara el consumo $1 conforme al acuerdo del Sindicato de la C. Moctezuma del dia 22 de Febrero de 1928)' so these may have been in use for several years.
The signature is of the Director General, [ ]dez[identification needed].