Avelino Montes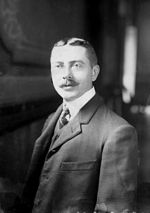 Avelino Montes (1868- 1956), came to the Yucatan in 1886 and four years later married the daughter of the leading hacendado Olegario Molina, who was part of the oligarchic clique that controlled the henequen trade and ruled in Merida until the arrival of the Carrancista general Salvador Alvarado in 1915. In 1915 Montes was manager of the house of O. Molina y Cía.
In April 1915 it was reported that Montes had bought $2,000,000 in counterfeit notes in the United States at a ridiculously low price and put these into circulation in Yucatán, particularly in MéridaEl Demócrata, Veracruz, Tomo I, Núm. 176, 28 April 1915. In May the state government announced that it was going to collect and exchange the bogus $10 notes, that had been issued by Montes' banking house (lanzados por la casa del banquero falsario Avelino Montes). It reported that it was not possible to know the exact amount of forgeries in circulation, as Montes refused to say, saying that he did not know but offering to communicate with the concern that had sent them. Montes asked for the notes to be deposited with him but the local government decided that they should be sent to the Secretaría de HaciendaEl Pueblo, Veracruz, 4 May 1915. The governor sent $150,000 to the Tesorería for the exchange El Dictamen, Tomo XVII, Num 1492, 3 May 1915.
Though Montes escaped virtually unscathed from his episode, on Alvarado's arrival he fled to Cuba until after the revolution.
On 21 July 1915 Villavicencio, the consul in New Orleans, reported that the Casa Montes was using certificates issued by his consulate for consignments of genuine notes to sell counterfeit notes in the United States. Salvador Alvarado, from Mérida, suggested that Carranza send de la Huerta to New Orleans to deal with the matter. Alvarado talked of a fight to the death (una lucha a muerte) with their opponentsABarragán, caja I, exp. 2, f. 67-68 letter Salvador Alvarado, Mérida, to Carranza, Veracruz, 22 July 1915.