$1 and $5 notes of the Banco de Zacatecas
$1 notes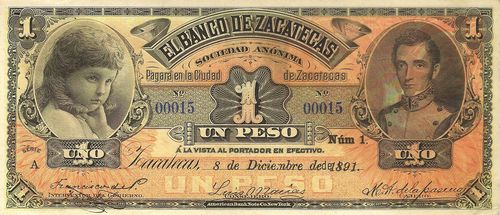 In 1891 the bank issued three thousand $1 notes, all series A with control numbers from 1 to 5 that increased on each group of 600 notes With the enactment of the 1897 Ley General which in Chapter II. Article 20, decreed that only notes with a face value greater than five pesos could be released to circulation, the Banco de Zacatecas withdrew and incinerated their one peso notes.
Date of issue
Date on note
Series
from
to
Interventor
Consejero
Cajero
control
comment
8 December 1891

8 December 1891





A
00001
00600
Zárate
Macias
de la Pascua
Núm. 1
00601
01200
Núm. 2
01201
01800
Núm. 3
01801
02400
Núm. 4
02400
03000
Núm. 5
6 June 1892
20 June 1892
C
03001
XXI
XXII
XXIII
XXIV
12000
XV
12001
50000
never issued and incinerated on 17 August 1899report of Interventor Ibargüengoytia, 30 January 1903, Memorias de las Instituciones de Crédito correspondientes á los años 1900-1902, vol. I
These $1 notes were withdrawn after the Ley General of 1897 prohilbited bank notes with a denomination of less than five pesos.
In 1914 after Huerta relaxed the restrictions of the Ley General the bank arranged for the printing of new $1 notes but these were never finished or put into circulation.
A balance sheet of 31 May 1925 showed that there were two $1 notes in the bank's holdings and 86 still in circulationAGN, SC226 Comisión Monetaria, caja 105.
$5 notes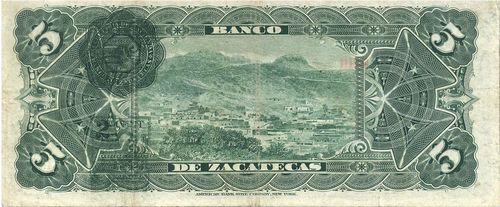 Date of issue
Date on note
Series
from
to
Interventor
Consejero
Cajero
control
comment
8 December 1891
8 December 1891

A
1
Zárate
Macias
de la Pascua
Núm. 6
includes number 00500
Núm. 7
Núm. 8
Núm. 9
6000
Núm. 10
6 June 1892

20 June 1892

C
06001
Zárate
de la Pascua
XXVI
Villalpando
XXVII
includes number 09772
XXVIII
XXIX
15800
Hinojosa
XXX
includes number 12237
21 August 1900

15 August 1900
H
15801
19350
J. Ibargüengoytia

Hinojosa
L. Ibargüengoytia
CIX
19351
22900
von Gehren
CX
22901
26450
Aubert
CXI
26451
30000
Arteaga
CXII
signed by Interventor, 6 June 1906report of Interventor Esparza, 28 January 1906, Memoria de las Instituciones de Crédito correspondiente a los años de 1904-1906, vol. I, tomo 1
issued 25 February 1907report of Interventor, 27 July 1907, Memoria de las Instituciones de Crédito correspondiente al año 1907
2 March 1906

K
30001
31000
Esparza


A. G. García
de Santiago


CXLVI
includes numbers 30427 to 30711

CNBanxico #76077

overprinted AGUASCALIENTES
31001
von Gehren
CXLVII
includes numbers 31561

CNBanxico #76074

to 31574 overprinted LAGOS
Aubert
includes number 31601

CNBanxico #76074

overprinted LAGOS
32000
includes number 31722

CNBanxico #76076

signed by Interventor, 6 June 1906report of Interventor Esparza, 28 January 1906, Memoria de las Instituciones de Crédito correspondiente a los años de 1904-1906, vol. I, tomo 1
issued 6 April 1907report of Interventor, 27 July 1907, Memoria de las Instituciones de Crédito correspondiente al año 1907
32001
Aubert
CXLVIII
includes number 32257
Arteaga
CXLIX
includes number 32438

CNBanxico #12418

34000
Torrres
CL
includes numbers 33518

CNBanxico #75968

to 33750
signed by Interventor, 10 - 14 January 1909report of Interventor Esparza, 19 July 1909, Memoria de las Instituciones de Crédito correspondiente al año de 1909, vol. I
18 November 1908
L
34001
Esparza
A. G. García
Maubach
CLXXI
includes numbers 34033

CNBanxico #76071

to 34686
signed by Interventor, 10 - 14 January 1909report of Interventor Esparza, 19 July 1909, Memoria de las Instituciones de Crédito correspondiente al año de 1909, vol. I
J. L. García
CLXXII
includes numbers 35149

CNBanxico #12419

to 35462

CNBanxico #75977

signed by Interventor, 10 - 14 January 1909report of Interventor Esparza, 19 July 1909, Memoria de las Instituciones de Crédito correspondiente al año de 1909, vol. I
Aubert
CLXXIII
includes numbers 36325

CNBanxico #55970

to 36756

CNBanxico #75973

signed by Interventor, 10 - 14 January 1909report of Interventor Esparza, 19 July 1909, Memoria de las Instituciones de Crédito correspondiente al año de 1909, vol. I
Arteaga
CLXXIV
includes number 36983

CNBanxico #75976

to 37059

CNBanxico #76072

Torres
CLXXV
includes numbers 37391

CNBanxico #75954

to 37786

CNBanxico #75978

signed by Interventor, 20-23 November 1909report of Interventor Esparza, 22 January 1910, Memoria de las Instituciones de Crédito correspondiente al año de 1909, vol. I
22 September 1909
M
Esparza
A. G. García
Reyes
CLXXXVI
includes numbers 38513

CNBanxico #76160

to 40966

CNBanxico #76162

signed by Interventor, 20-23 November 1909report of Interventor Esparza, 22 January 1910, Memoria de las Instituciones de Crédito correspondiente al año de 1909, vol. I

44400

J. L. García
CLXXXVII

includes numbers 41208CNBanxico #76157 to 44370CNBanxico #76131

signed by Interventor, 20-23 November 1909report of Interventor Esparza, 22 January 1910, Memoria de las Instituciones de Crédito correspondiente al año de 1909, vol. I

44401

Aubert
CLXXXVIII
includes numbers 44413

CNBanxico #76158

to 47190

CNBanxico #76130

signed by Interventor, 20-23 November 1909report of Interventor Esparza, 22 January 1910, Memoria de las Instituciones de Crédito correspondiente al año de 1909, vol. I
Arteaga
CLXXXIX
includes numbers 48063

CNBanxico #76161

to 50710

CNBanxico #76141

signed by Interventor, 20-23 November 1909report of Interventor Esparza, 22 January 1910, Memoria de las Instituciones de Crédito correspondiente al año de 1909, vol. I
Torres
CLXXXX
includes numbers 50880

CNBanxico #76125

to 53352

CNBanxico #76149

1 November 1912
N
Esparza
J. L. García
Reyes
CCI
includes numbers 54201

CNBanxico #75955

to 55401
Arteaga
CCII
includes numbers 56332

CNBanxico #75966

to 57791

CNBanxico #75960

60000
von Gehren
CCIII
includes number 58043 to 59558
15 February 1914

Ñ

60001

65000
Esparza
A. G. García
Reyes
CCXVI
includes number 63125

65001

70000
J. L. García
CCXVII
includes numbers 67277 to 68892

70001

75000
Aubert
CCXVIII
includes numbers 71193 and 71249

75001

80000
von Gehren
CCXIX
includes numbers 77108 and 79463
15 May 1914
O
80001

85000

Esparza
A. G. García
Reyes
CCXL
includes numbers 80170 and 82233

85001

90000

J. L. García
CCXLI
includes numbers 88329 and 88818

90001

95000

Aubert
CCXLII
includes numbers 90235 and 92851

95000

100000
von Gehren
CCXLIII
includes number 98278 and 99238
100001
110000
unsigned remainder
includes numbers 105054 to 109400